Scandinavia with a child and a van - Northern Sweden, Östersund, Vildmarksvägen, Sagavägen, Blåvägen
Posted on August 11, 2023 • 10 min read • 1,991 words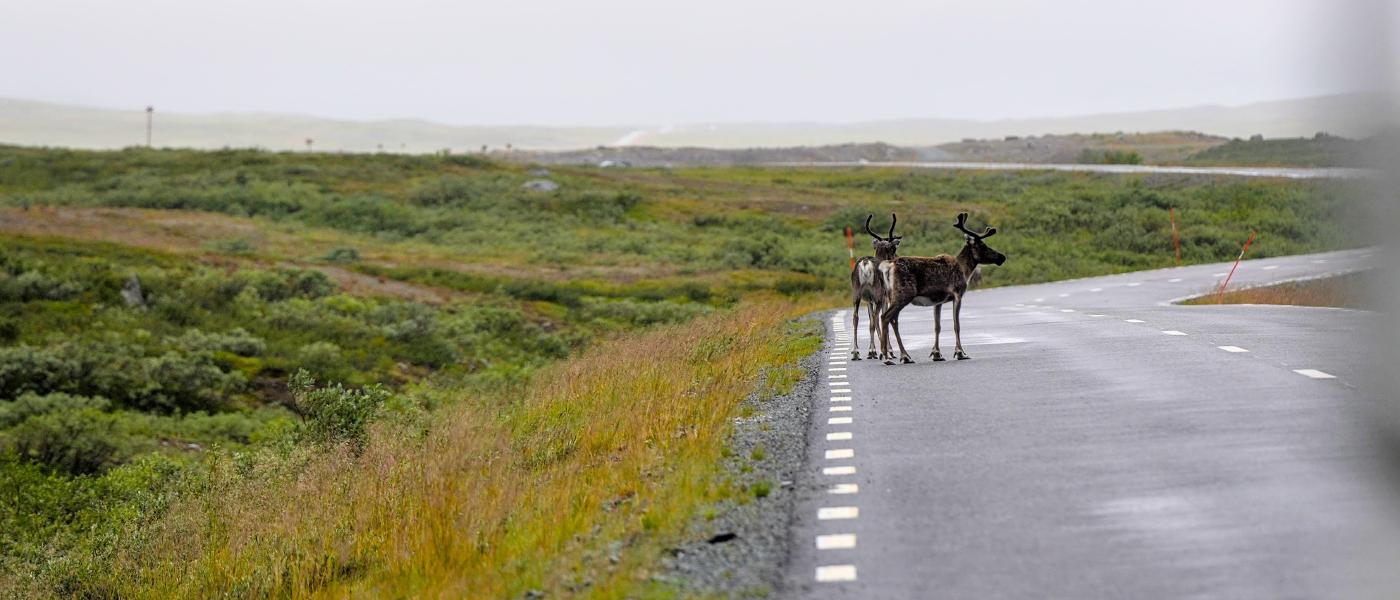 Here we continue with our blog series from Scandinavia. You can read here how the journey started.
Vemdalen
The previous evening we had quickly visited the playground around the corner. Unfortunately, there wasn't enough time to explore everything before dinner, so we went to the playground again the next morning. So now I have time to get the car ready while the little one and Anne pass the time.
We then continue our journey towards Östersund. A blog post that I read yesterday evening recommended the alternative route along road 84 via Vemdalen and not via the E45. Klövsjö is the most beautiful mountain village in Jämtland. So we take this detour (we probably should have done it anyway because of the flooding of the E45) and pass through abandoned ski areas. In the summer there is really nothing going on here. But you can well imagine that there is a lot of activity here in winter. And the landscape must be a magical winter mountain forest. Vemdalen is a very long valley in which there are several ski areas and towns. In summer there are also a few starting points for hikes along the roadside. Overall, there is currently little going on here. Only a few people seem to be on the move.
Klövsjö
To allow for a stopover on our tour, I found the tip for Tomtan Kaffeestuga and the associated Hjembygdsgård in Klövsjö on the Jämtland tourism website. Hjembygdsgårde seem to be in every larger municipality here. These are local history museums that are usually run by a local association. This is also the case in Klövsjö. The open-air museum shows an old farm from the 1700s.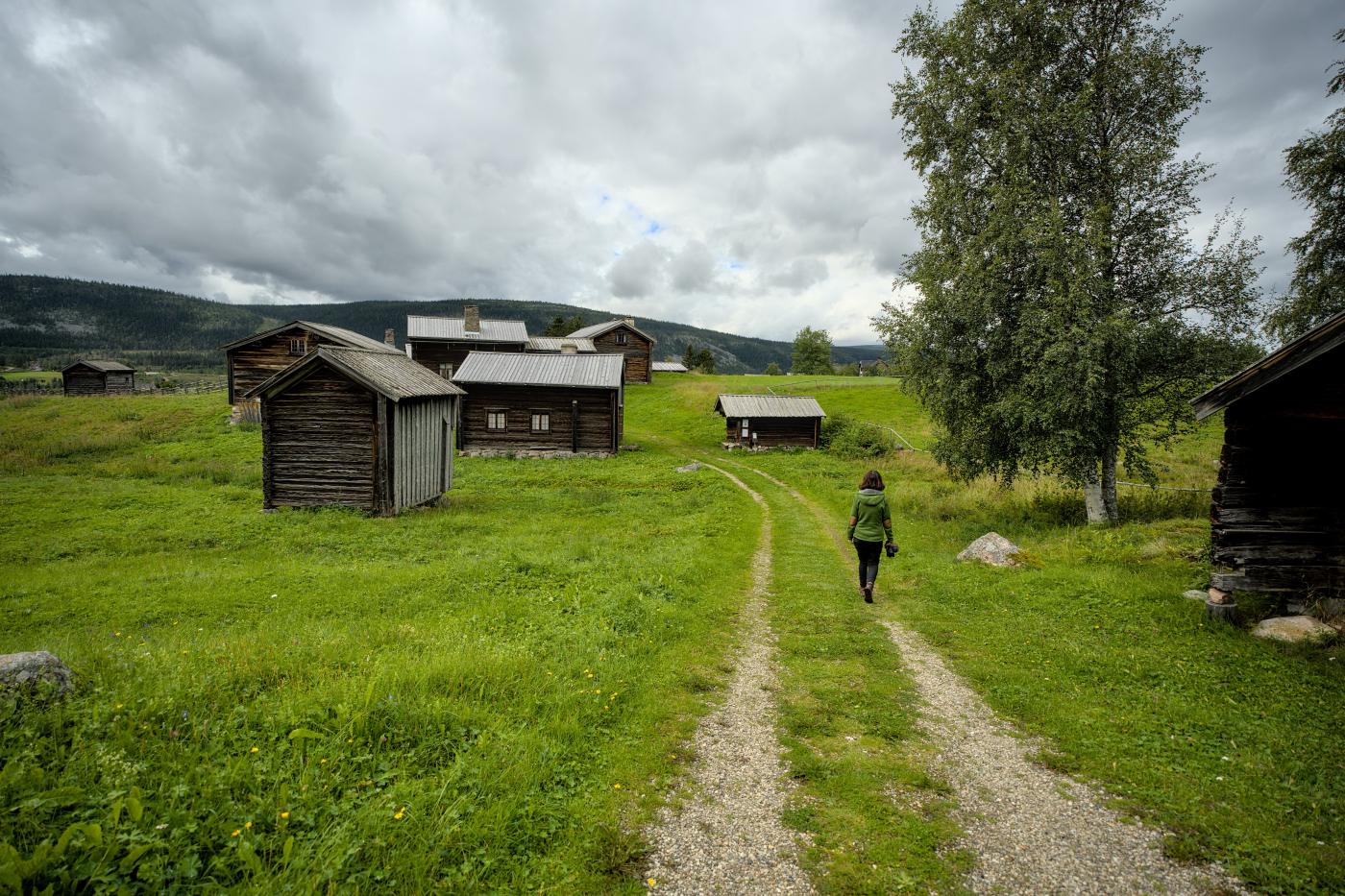 At least the oldest barn that is still standing dates from this time. Here animals and humans lived under the same roof. Our little one is fascinated by the furnishings and can discover something new behind every door.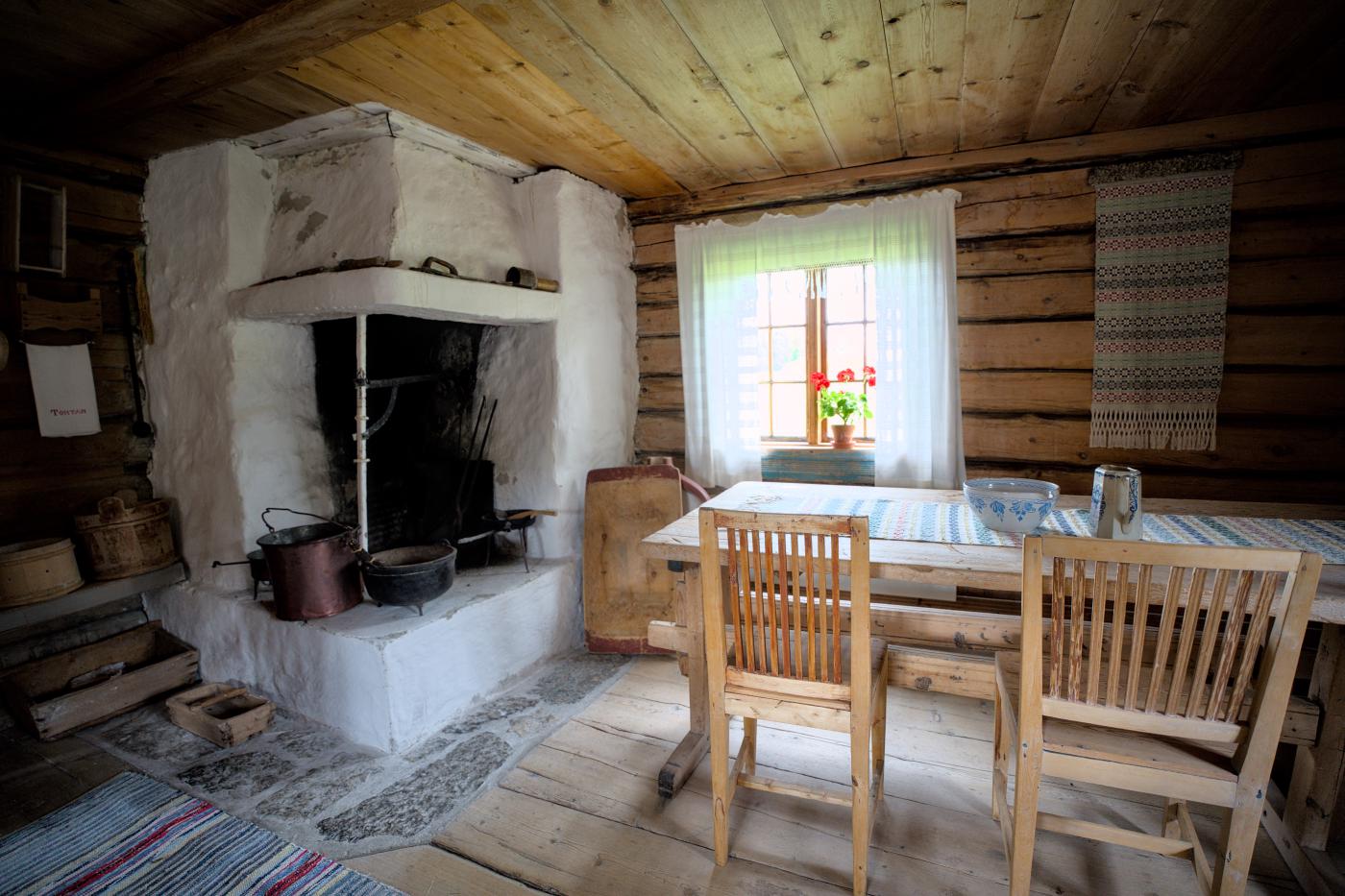 In fact, half a dozen wooden houses are open to visitors without admission. The newest ones were lived in until around 1960 by Olof Johansson — hence the name of the coffee. It must have been a pretty lonely life back then. After all, it took us several hours to get here by car on well-developed roads. I doubt it has worked like this before. Overall, the huts here are reminiscent of shielings in the Alps. A mountain farm is somehow similar in its basic features.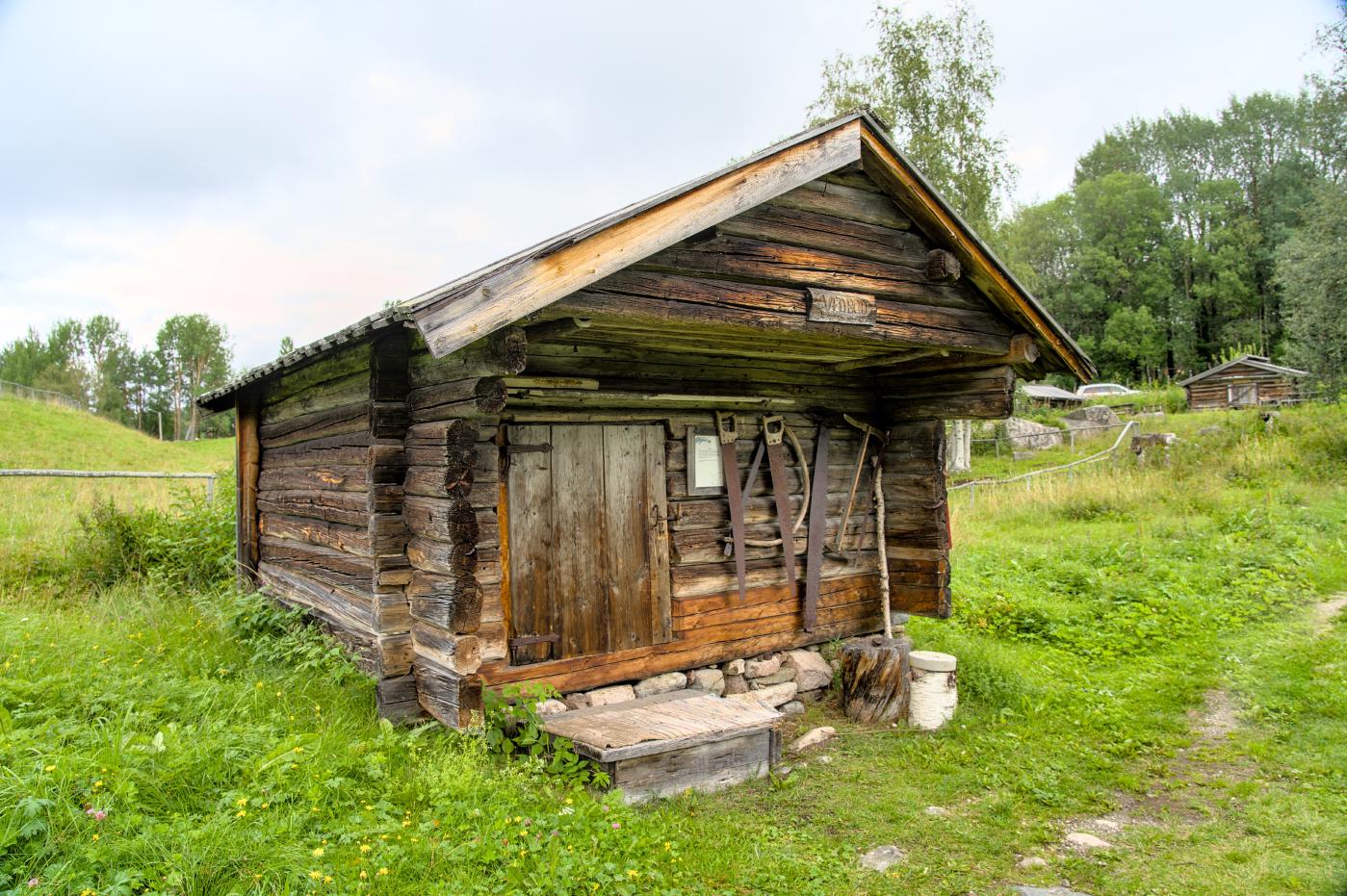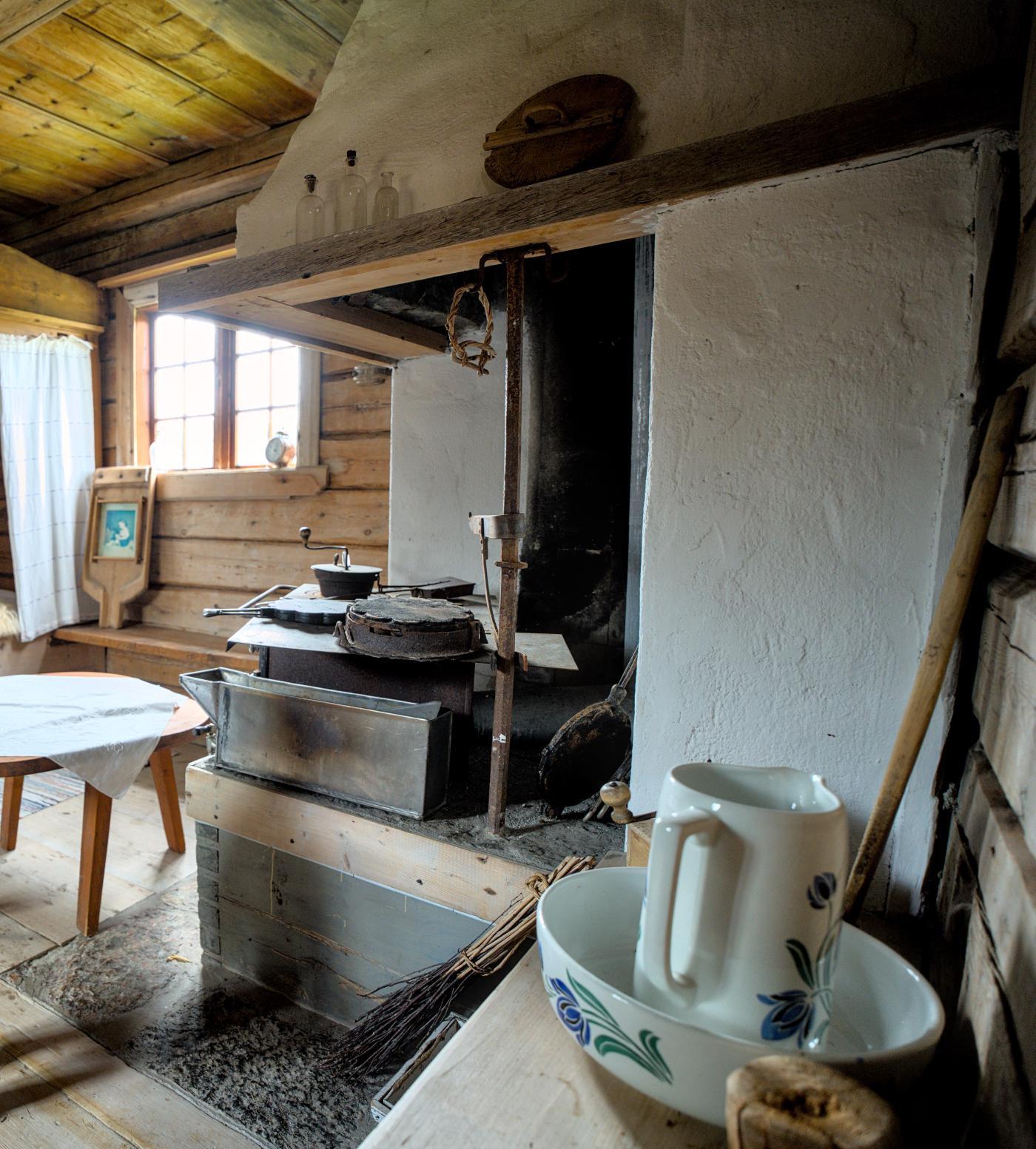 After this exciting discovery tour we treat ourselves to a typical Swedish fika. So again coffee with waffles and this time even outdoors under a blue sky and with a bright sun. It's really enjoyable here. This is also the first time that we can really sit outside in the sun for a longer time during this holiday. Definitely very relaxing.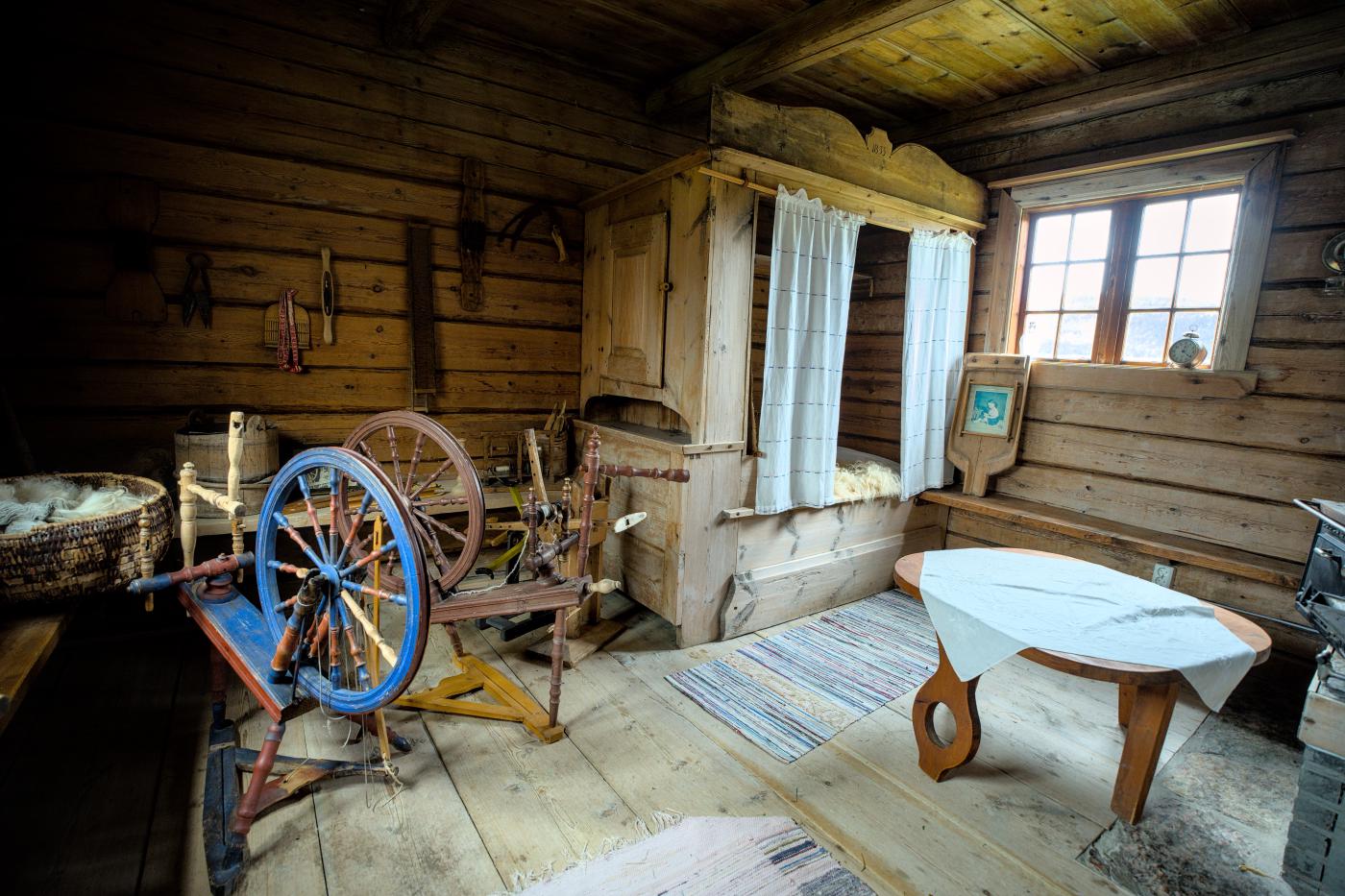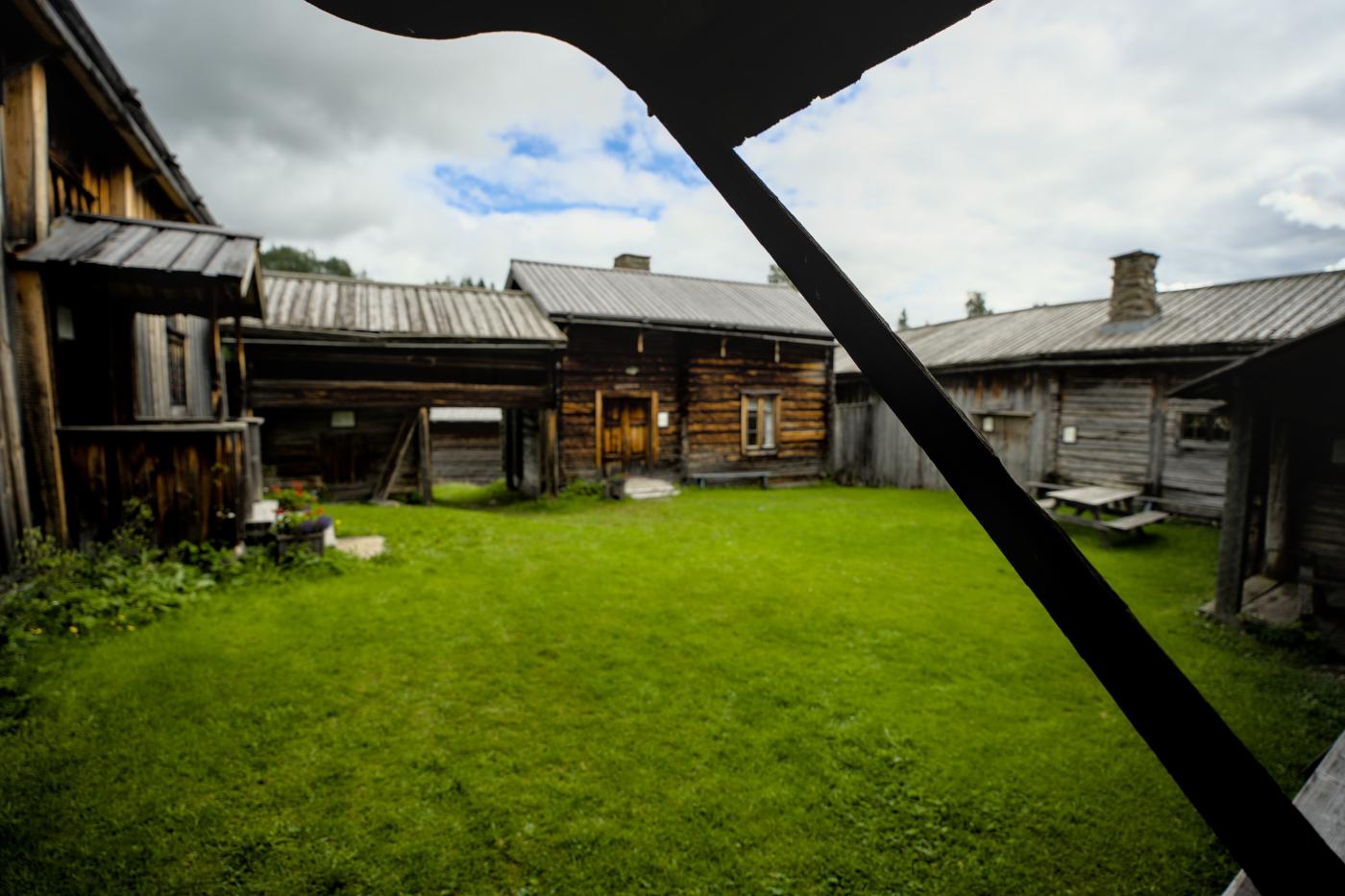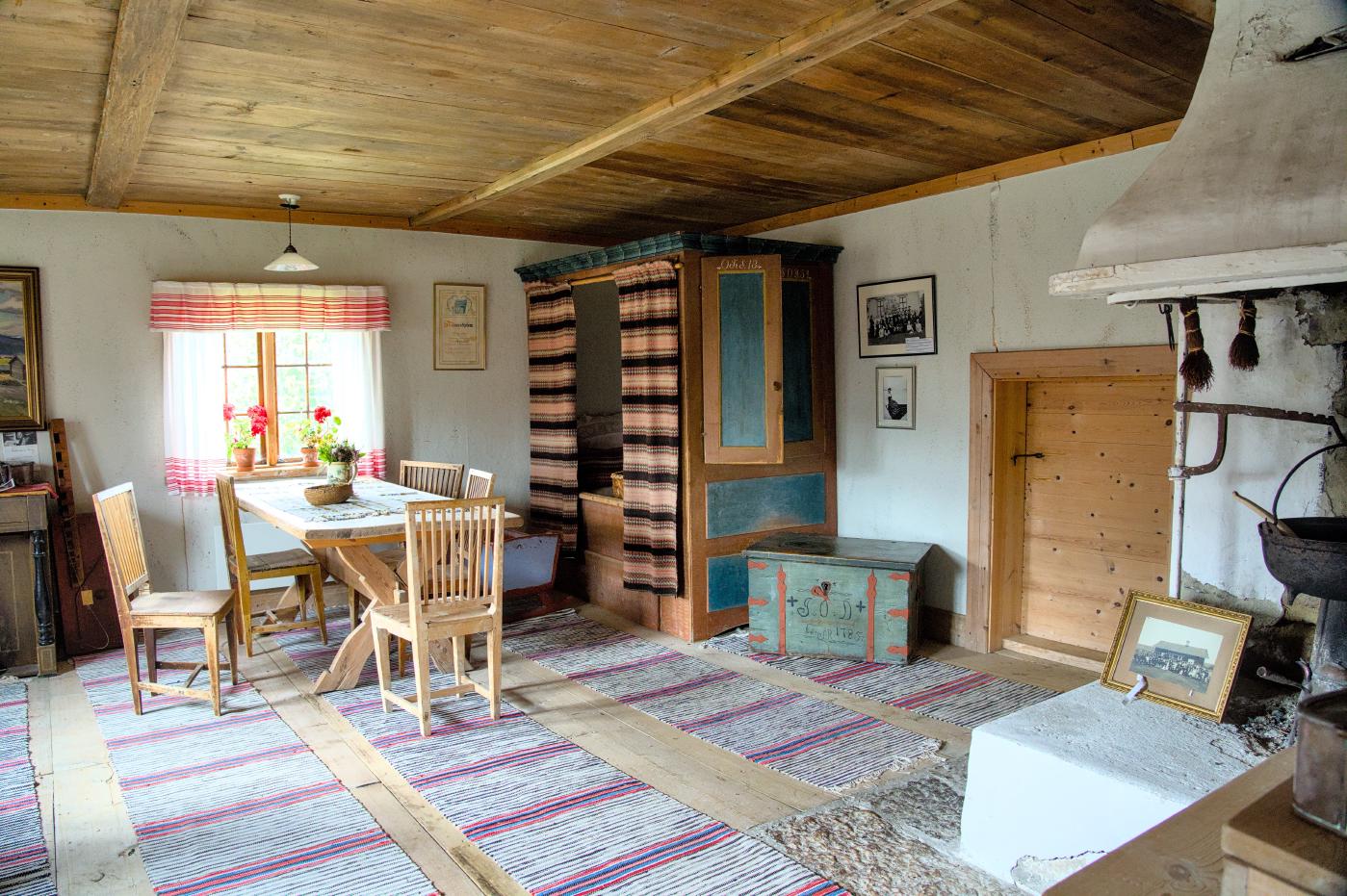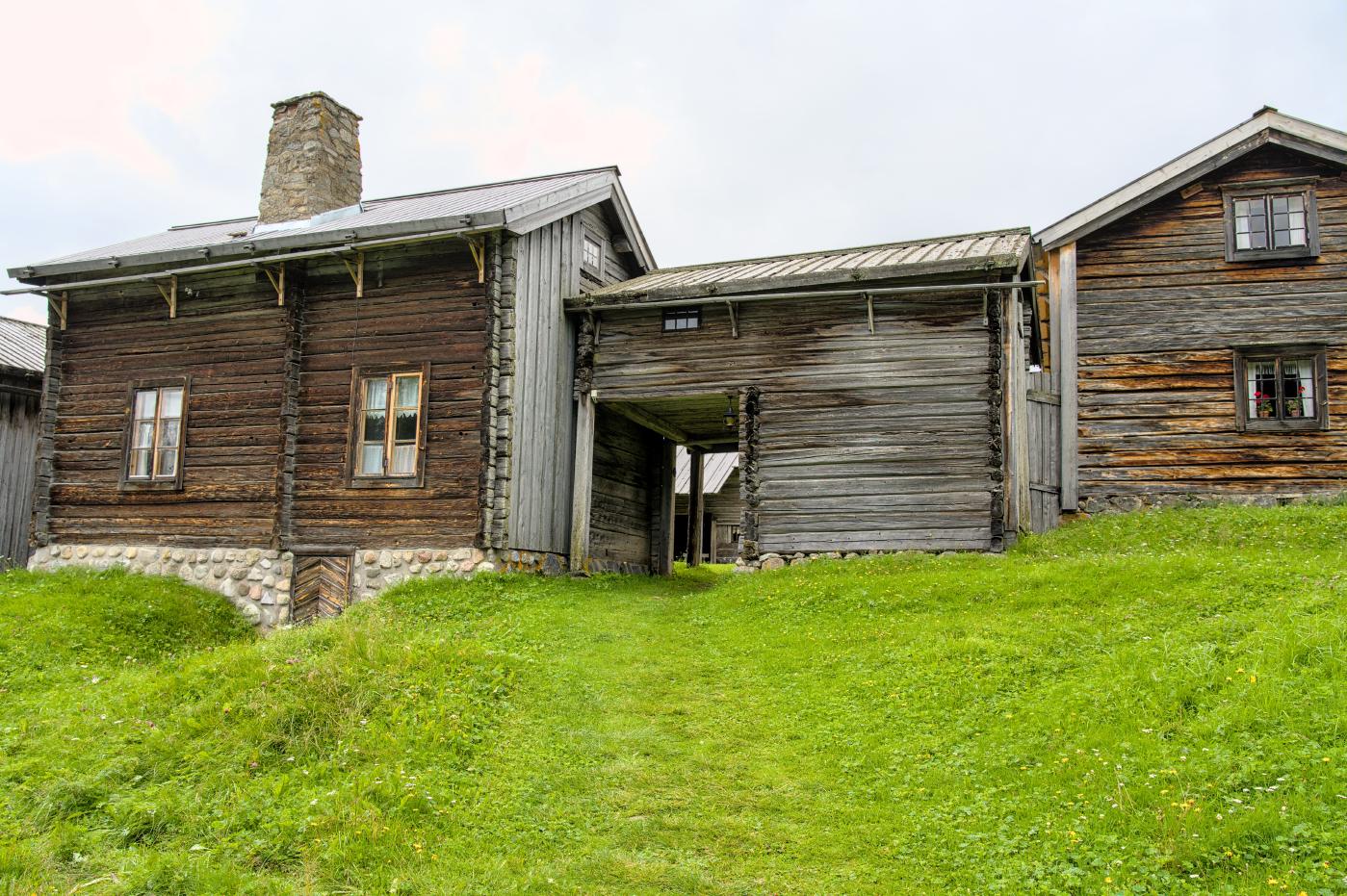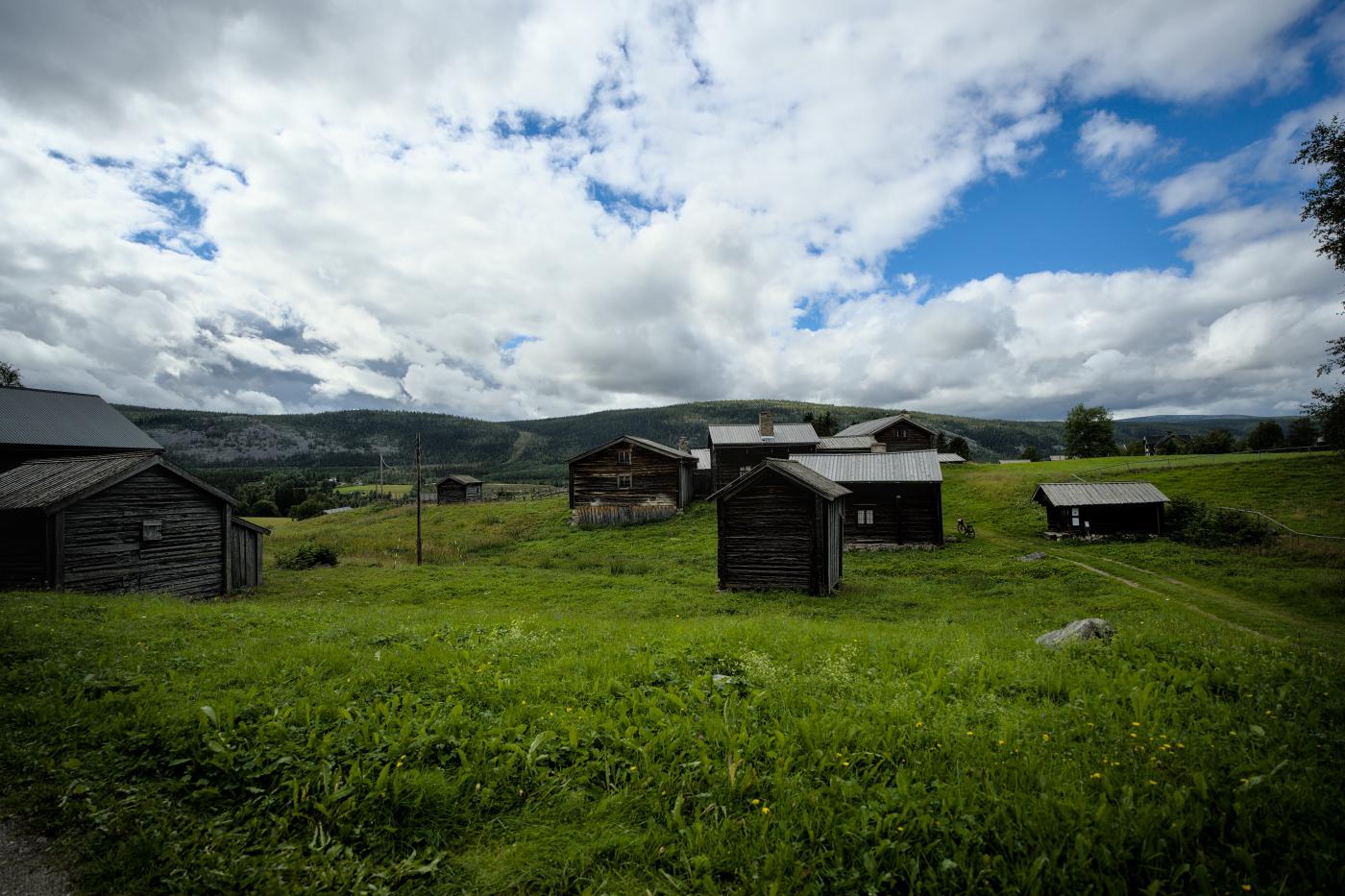 Östersund
After the detour into this beautiful valley, we then come back to the main road E45 and continue straight towards Östersund. The forest thins out here more and more and we often drive through small towns, which now also shine in the sun. We then drive over awesome bridges under the bright sun into Östersund at the harbor. We are delighted when we open the door and realize it's over 20°C here, t-shirt weather and we even pull out our sunglasses. What a blessing!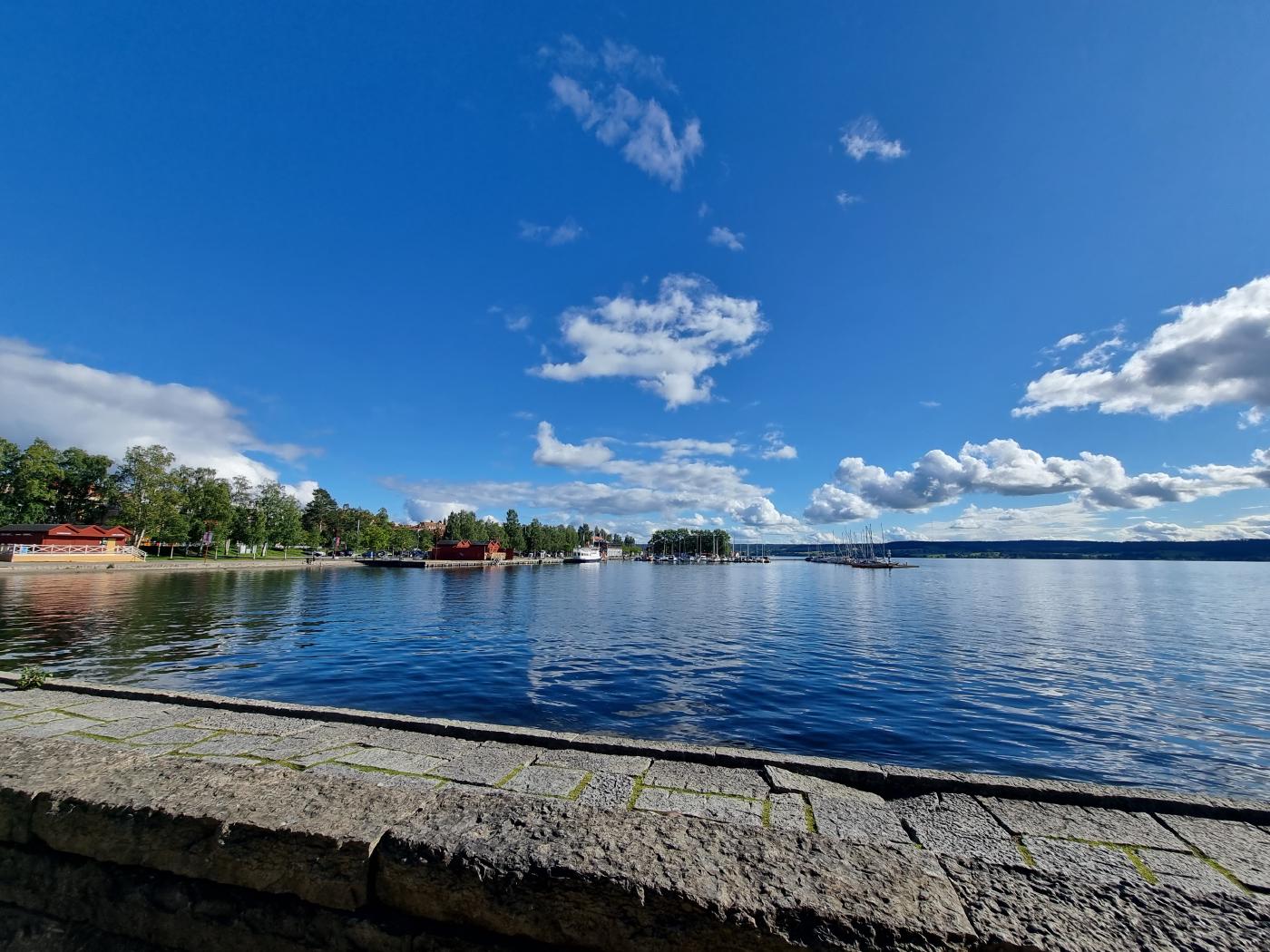 This is exactly the same feeling as when you come from the rainy home country and get off the plane in Palma. Except that we are experiencing the same thing right now at a latitude similar to Denali Park in Alaska or Saint Petersburg in Russia. Quite unexpected and a real reward for our two-day escape from the storm-plagued south of Sweden. The little one's first reaction at the sight of the harbor was: "Boats!" and the playground was spontaneously uninteresting. Luckily that didn't last long and now it's time to go back to the playground with the little one. So we spend the time until the evening playing and romping. With the excellent weather, we want to take a real break today and have pizza served at the Italian restaurant for dinner. With fresh, real Italian pizza outside on the terrace, it feels a bit like Lake Garda. Ok, maybe not quite. But definitely very close.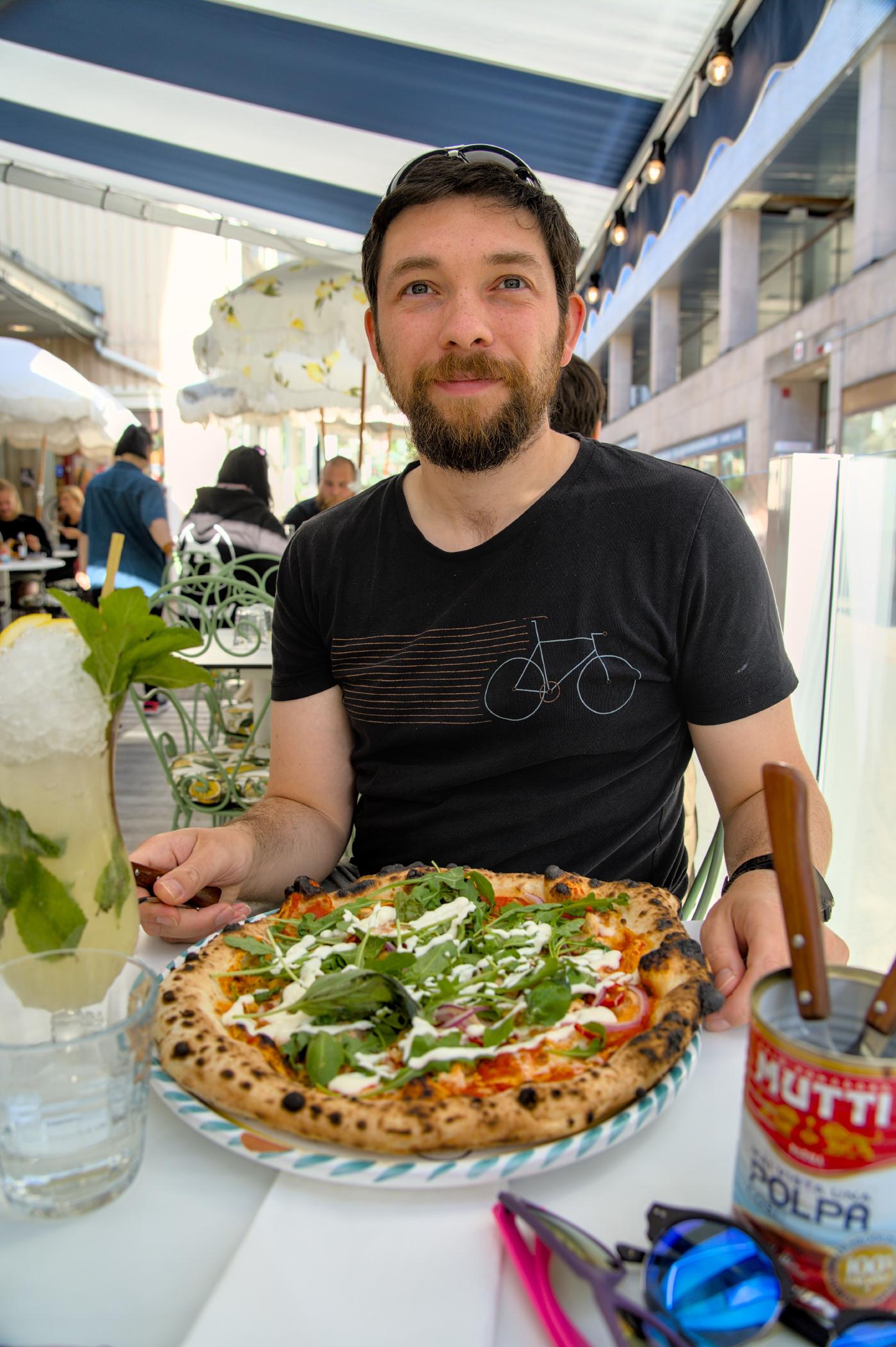 Strömsund
As we head further north, the next stop would actually be Storuman. After only about half an hour's drive, Anne asks me where this Vildmarksvägen is. A quick look at the map reveals that the corresponding turnoff is imminent. Accordingly, we are rescheduling again. Apparently this is now the motto of this trip. In Strömsund we turn onto Vildmarksvägen and only look for a quiet place to sleep at a small rest area near the water after sunset. Since today was a long day, we just fall into bed quickly afterwards and the little one is asleep before we've even finished changing.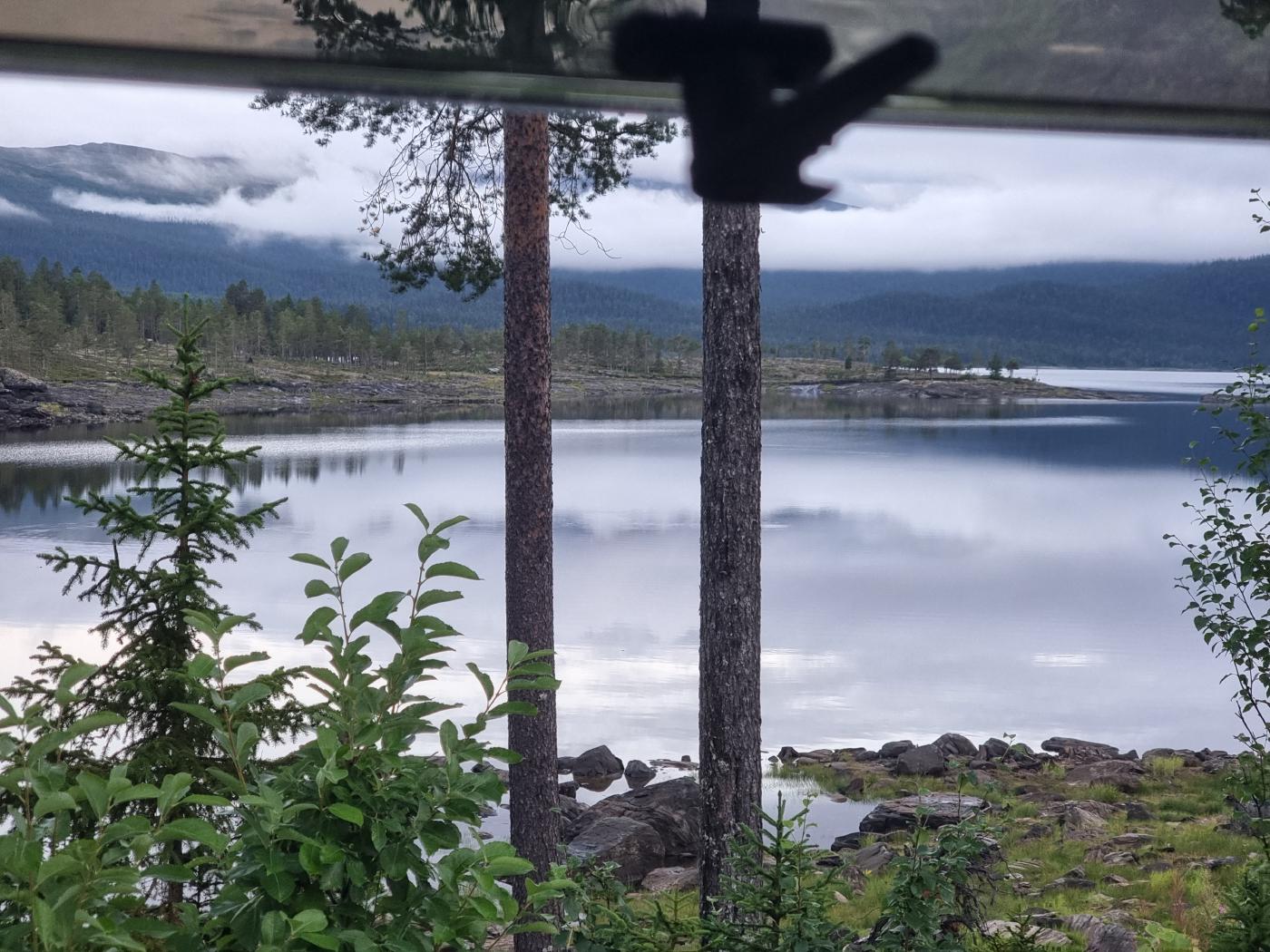 Hällingsåfallet
The next morning we had just a quick breakfast. We need about half an hour to the next waterfall. At least that's what we thought. When I turn on the navigation system, it suddenly claims, contrary to the previous evening, that the journey would take another hour. Anyway, in any case, we're leaving now. After only two minutes we are already turning onto the target road that is supposed to take us to the waterfall. This is only a gravel road and we realize why the remaining 30 km should now take almost three quarters of an hour. Luckily it doesn't take that long in the end and after a total of about 40 minutes we are at the hiking car park of the Hällingsåfallet waterfall.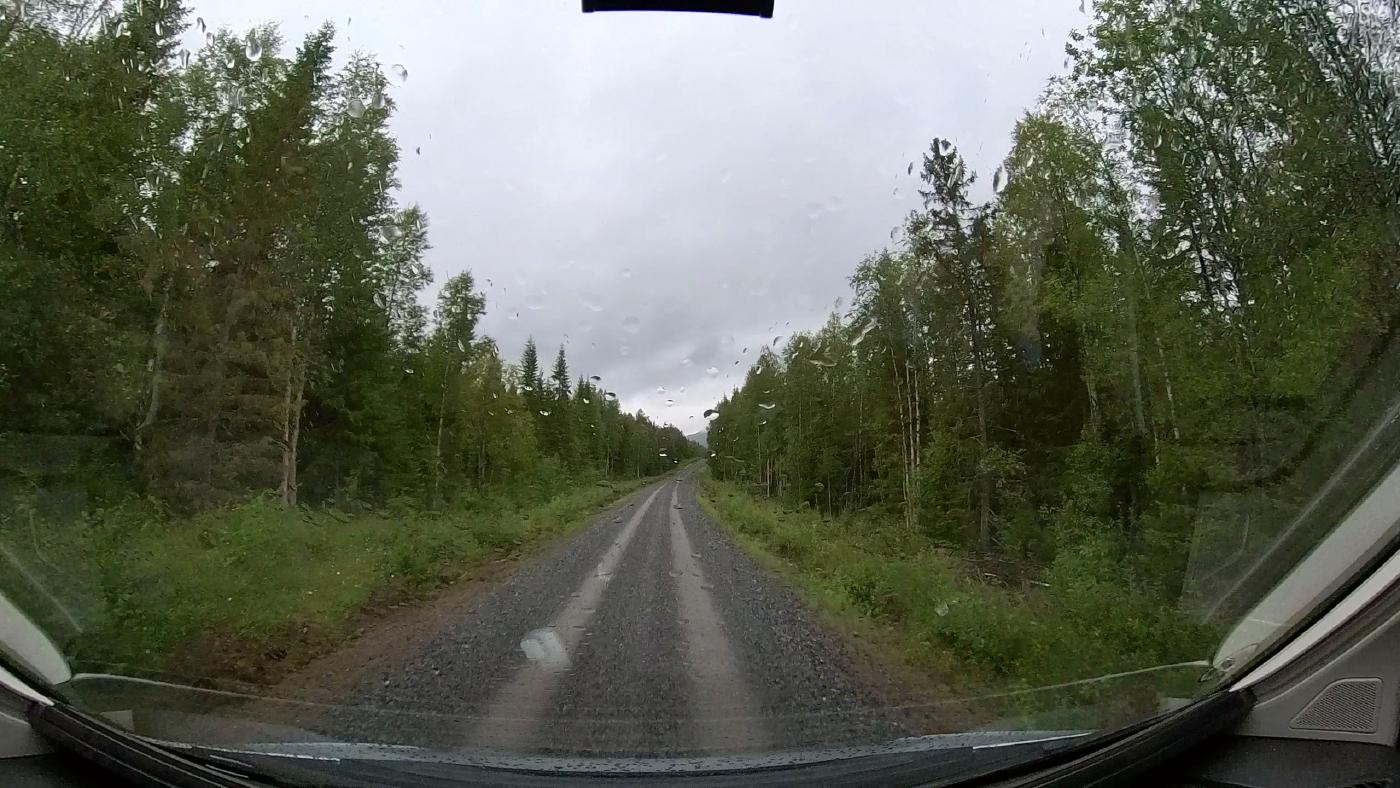 Unfortunately, the rain is starting again. By now however, that no longer deters us and we pack the little one into the carrying frame under its rain cape and put on our rain jackets. So we can start on the next hike to the waterfall. The path is quite easy and after only about 150m we reach the first view point of the waterfall. Of course, there has also been a lot of rain here in the last few days and so the waterfall is also significantly larger than usual.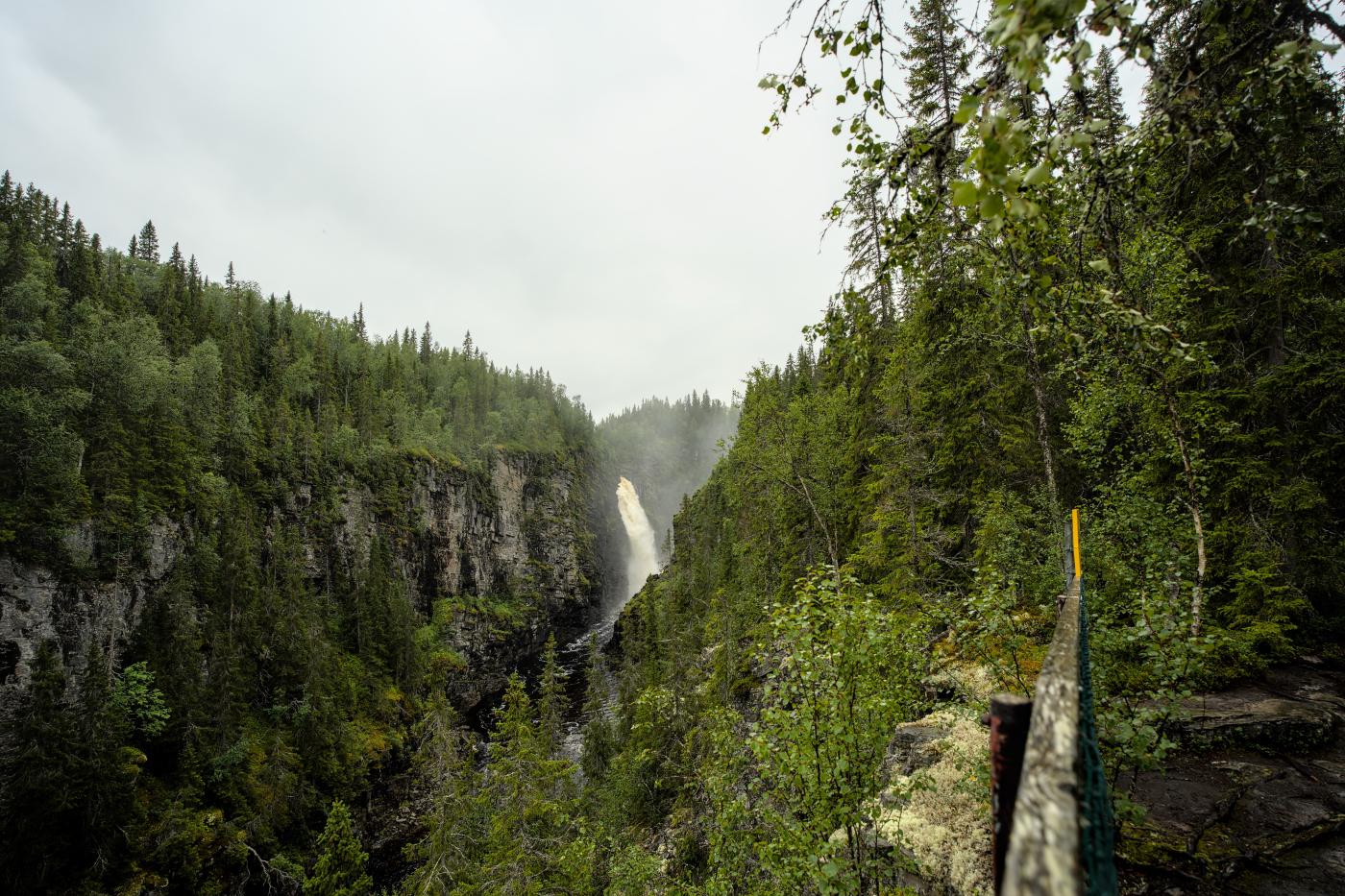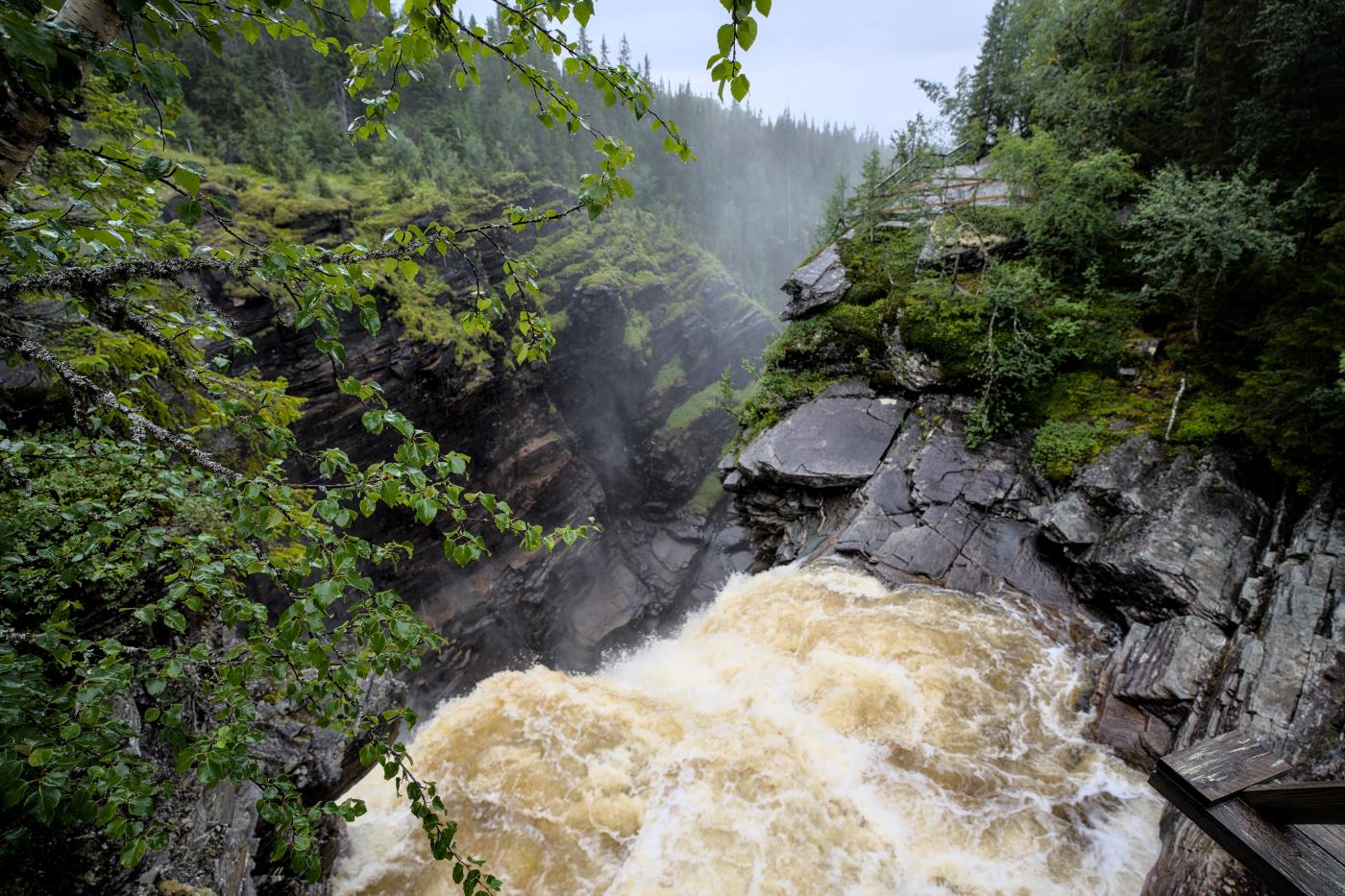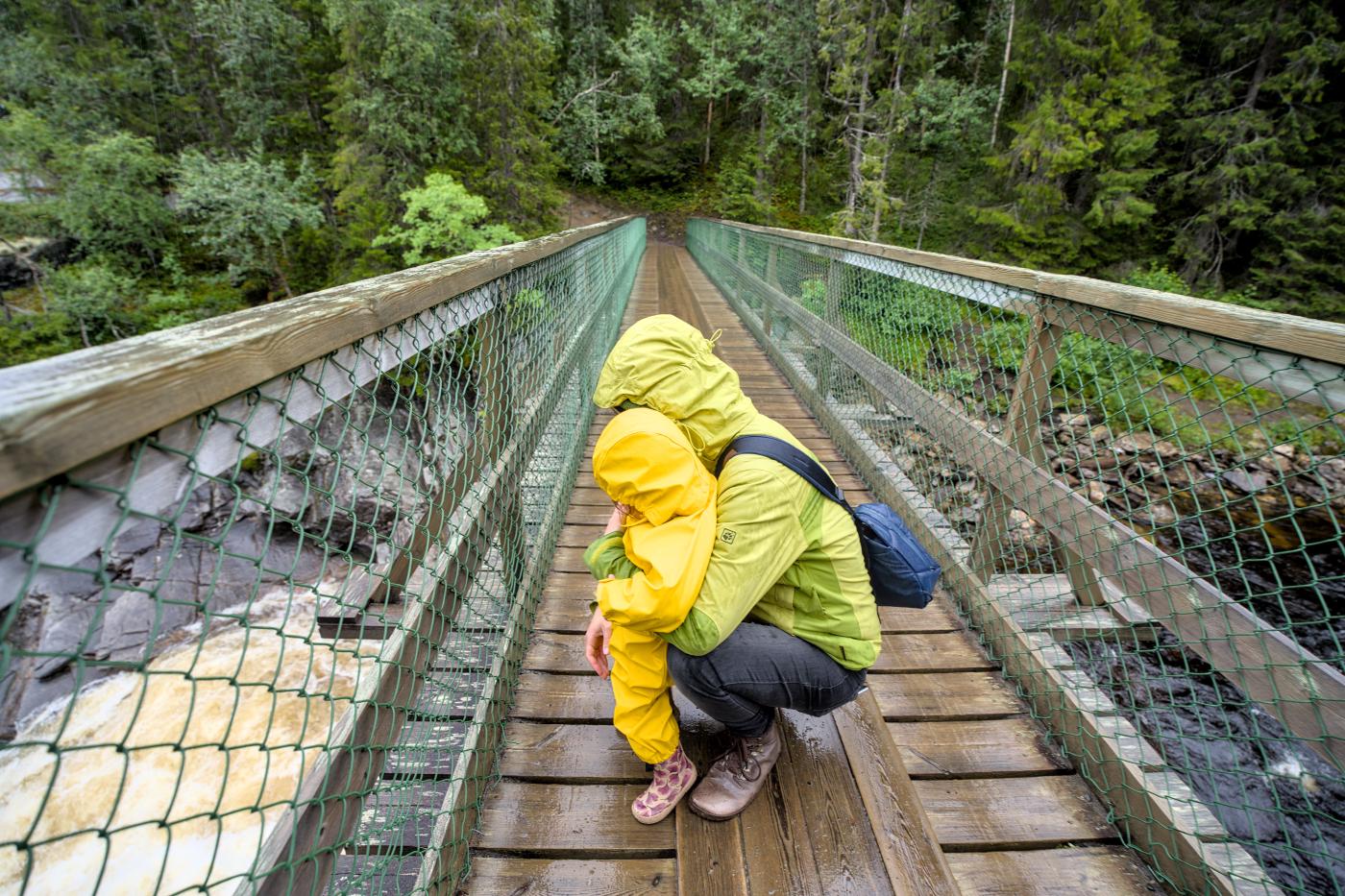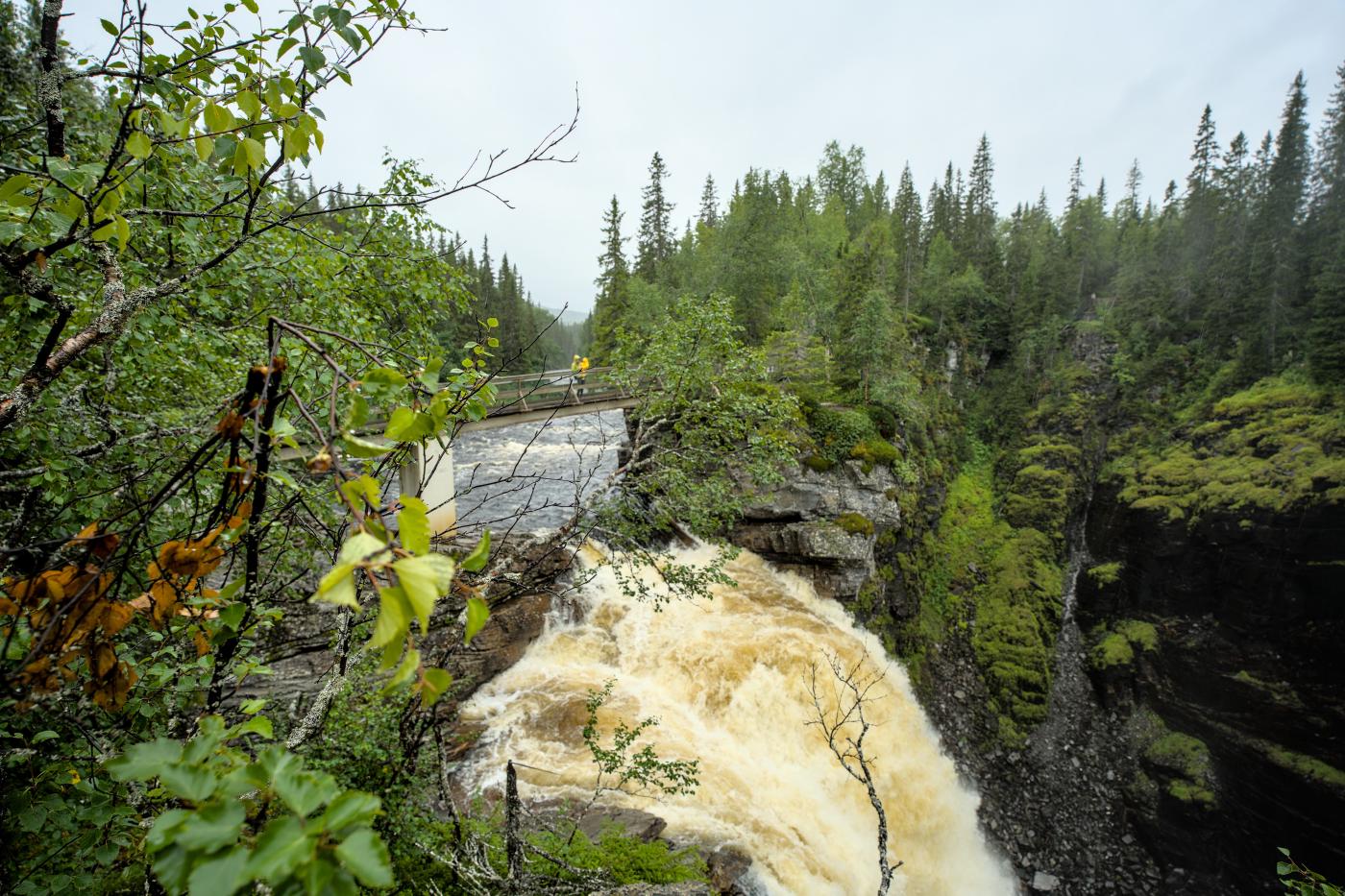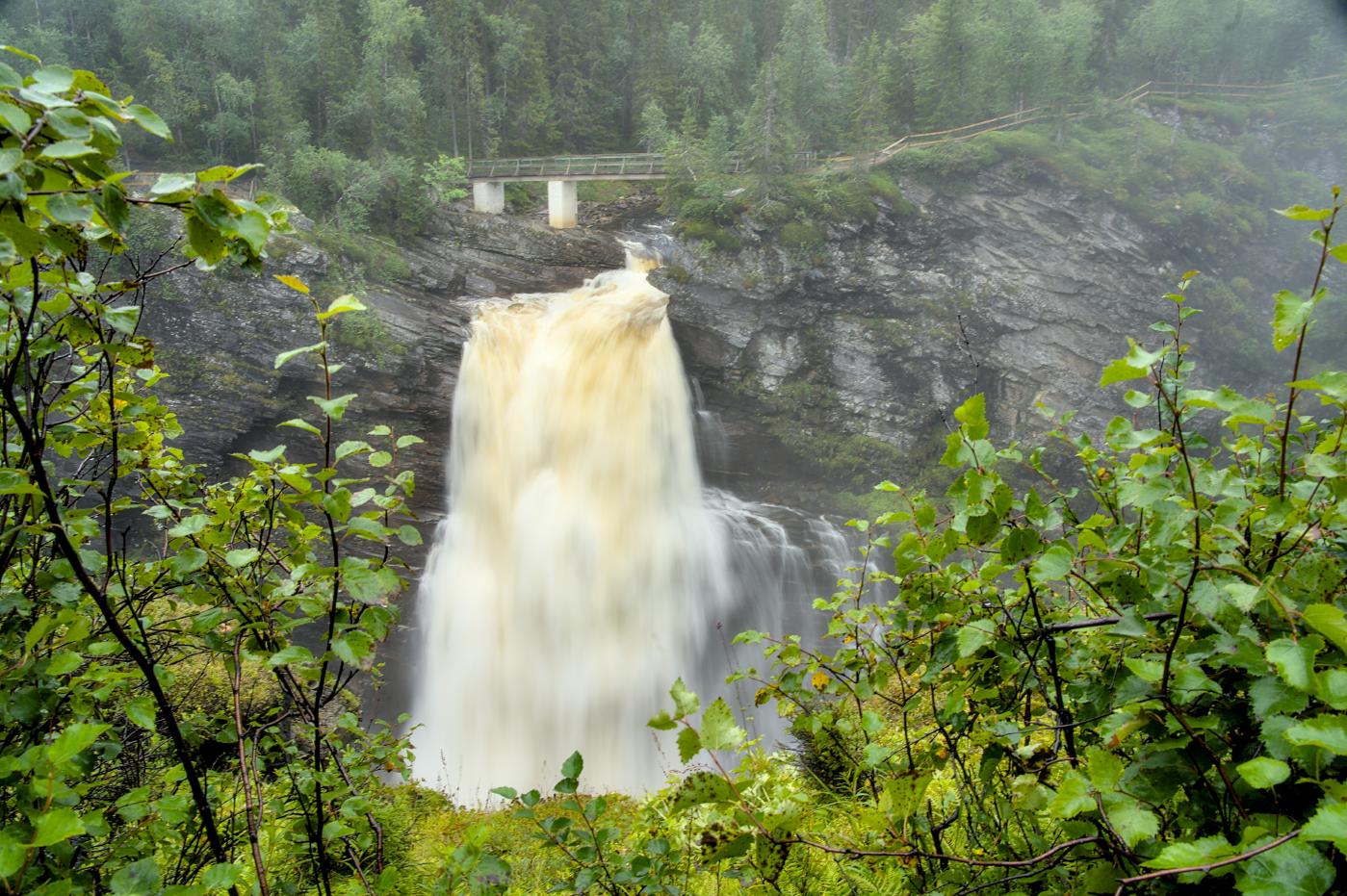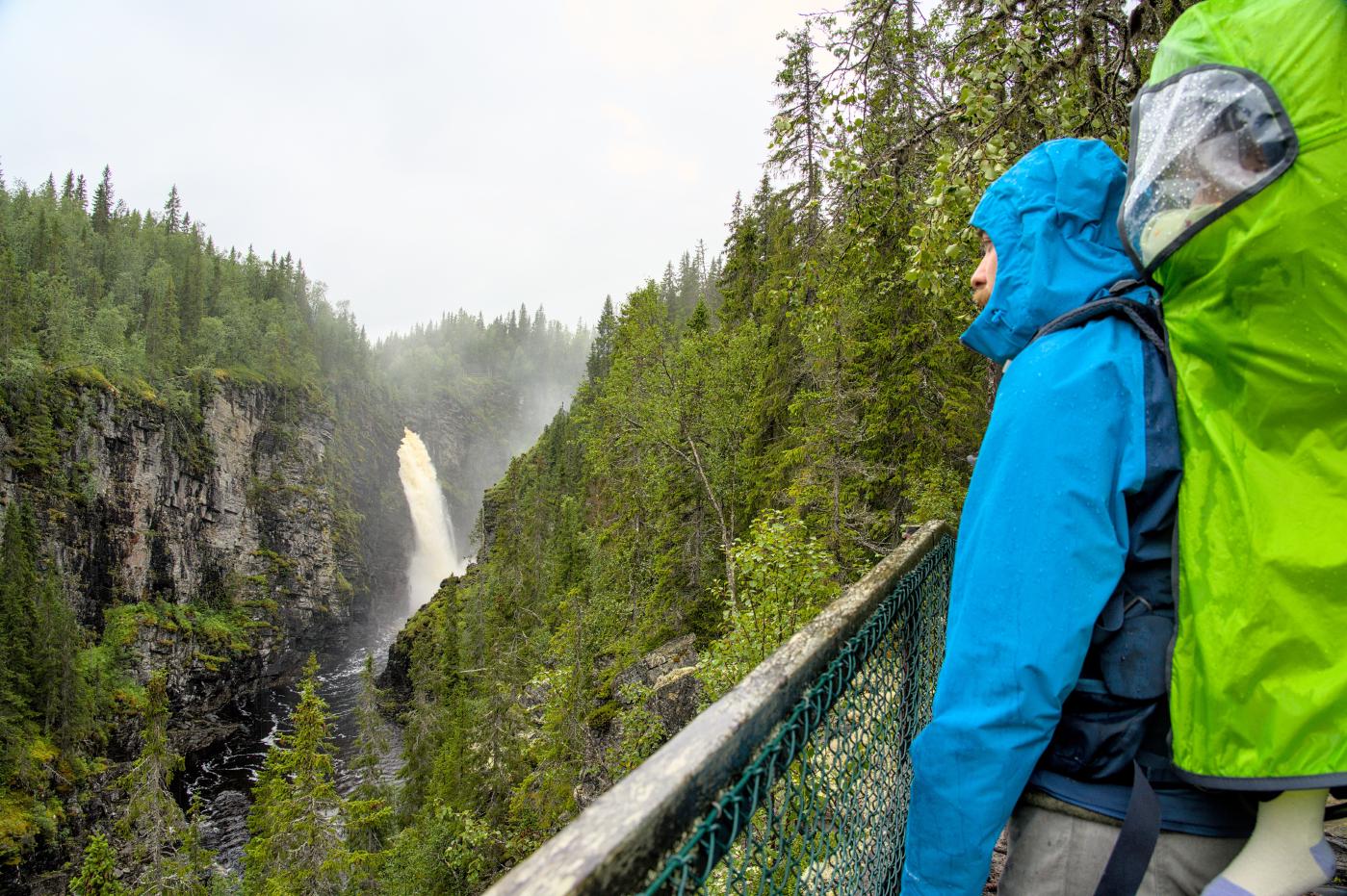 Of course, we learned from our mistake from last time and let the little one run a few steps itself on our first lap around the waterfall. Thereby, she enthusiastically takes photos of the waterfall again with her camera.
Back in the van we continue our tour, further along Vildmarksvägen and our next stop shall be Gäddede, which is only 30 minutes away. Here, too, the path leads exclusively over a gravel road and now Anne can show how she can master the slalom around the potholes and I use the time for a few notes.
Meanwhile, the following conversation took place between us: Me: "Now I have a double Ä in my sentence" Anne: "When did you start writing in Finnish?" So, guess how did our journey go?
I definitely didn't last long. With this shaking and rumbling, the text has to wait, otherwise I'll get sick…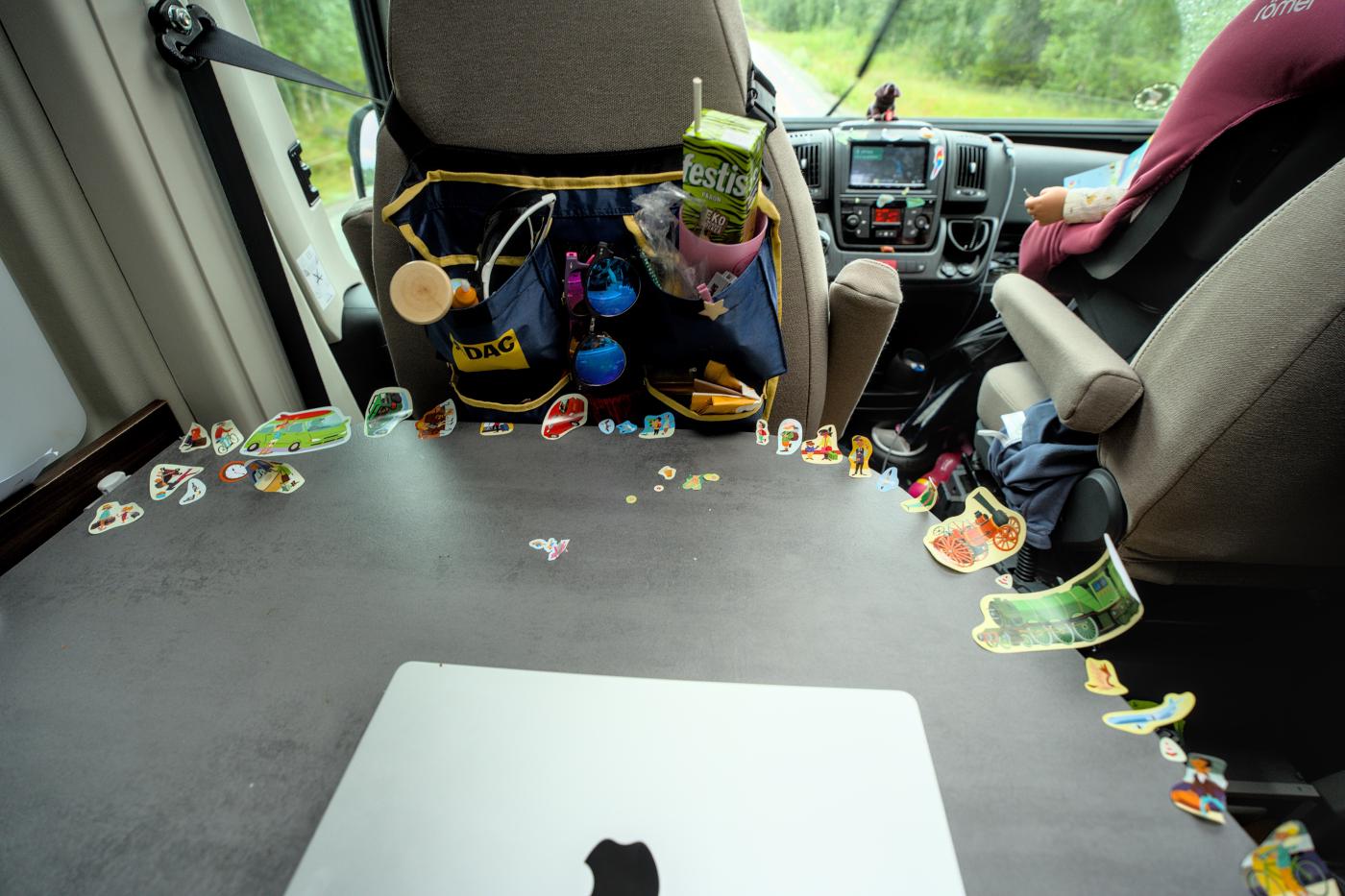 Vildmarksvägen and Gräddede
In Gräddde we only made a short coffee stop with waffles. We were then surprised by the owner of this café, who answered us in German here in the remoteness. She was a test driver for VW for 12 years. Afterwards we continue on the Vildmarksvägen in the direction of the Samenland (former Lapland). The little one enjoys the time with an afternoon nap.
Stekenjokk
At Stekenjokk, the landscape changes abruptly. We suddenly arrived on the plateau above the tree line. At just under 1000m above sea level, there are only pastures here. And so here begins the grazing land of the Sami herdsmen for their reindeer. Here is an endless expanse similar to what we experienced in the Hardangervidda in Norway. It's just a lot more mountainous here. Towards the end of the path we can also admire the reindeer ourselves and stop several times at the roadside to take a few photos.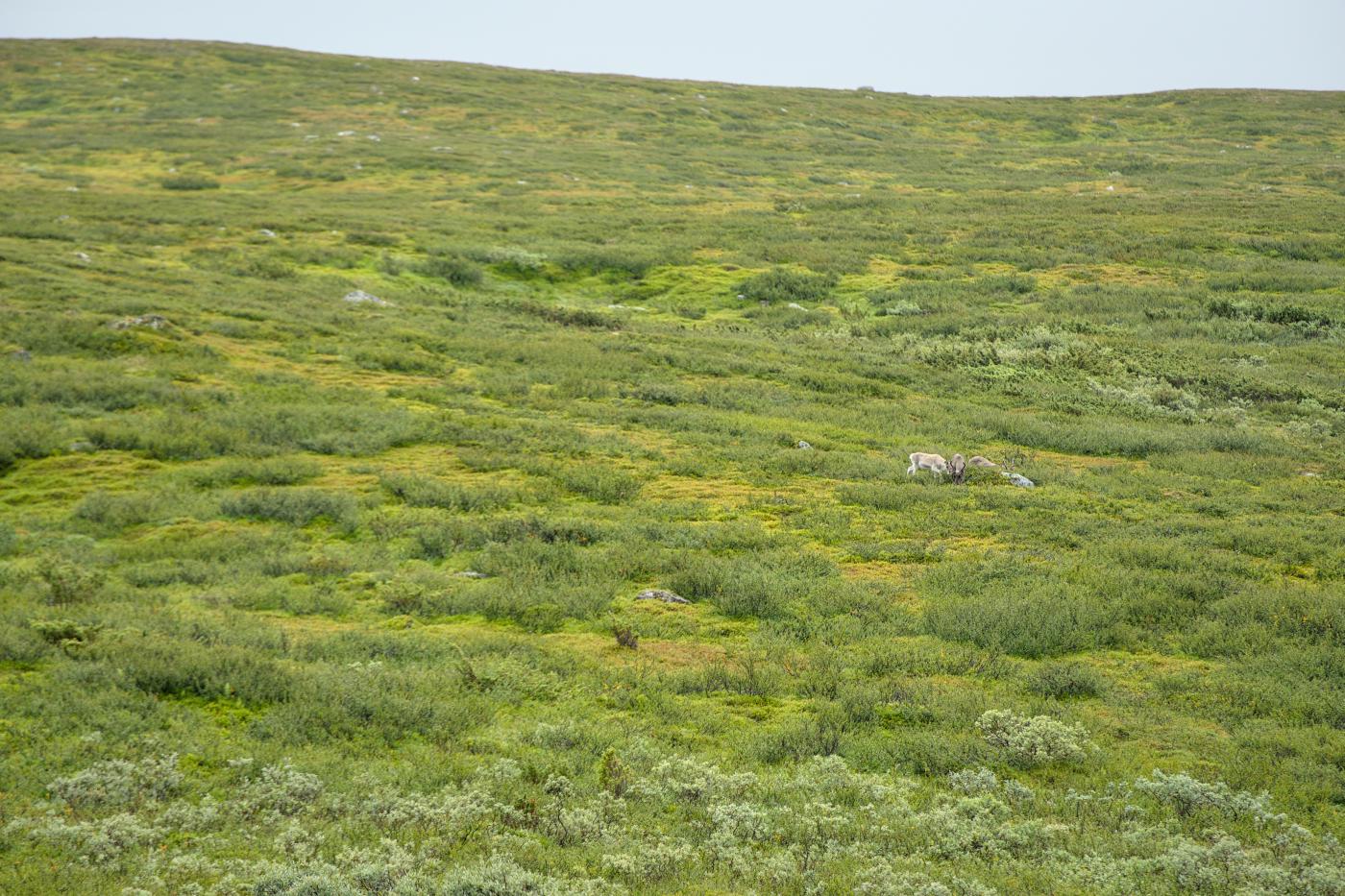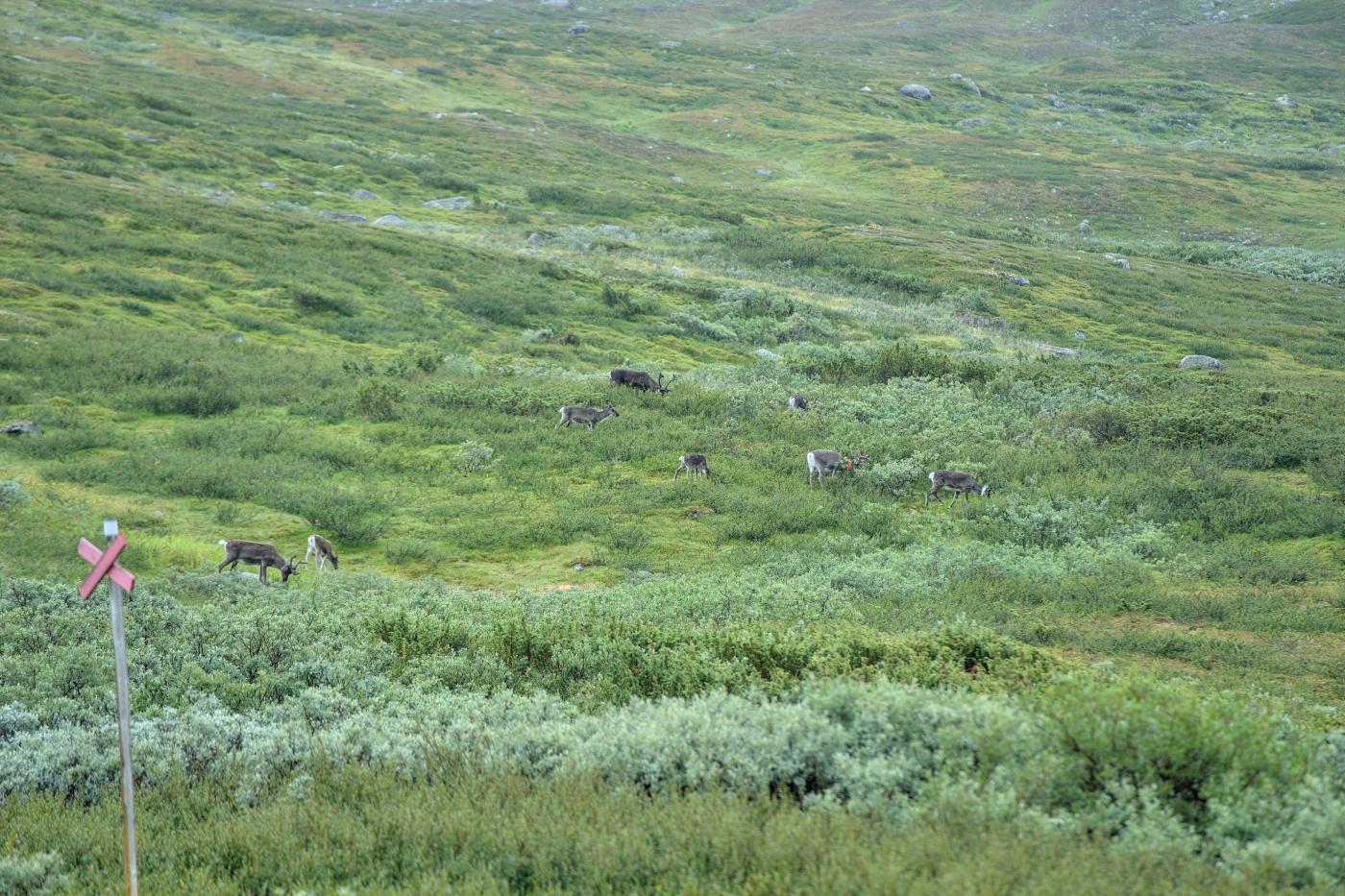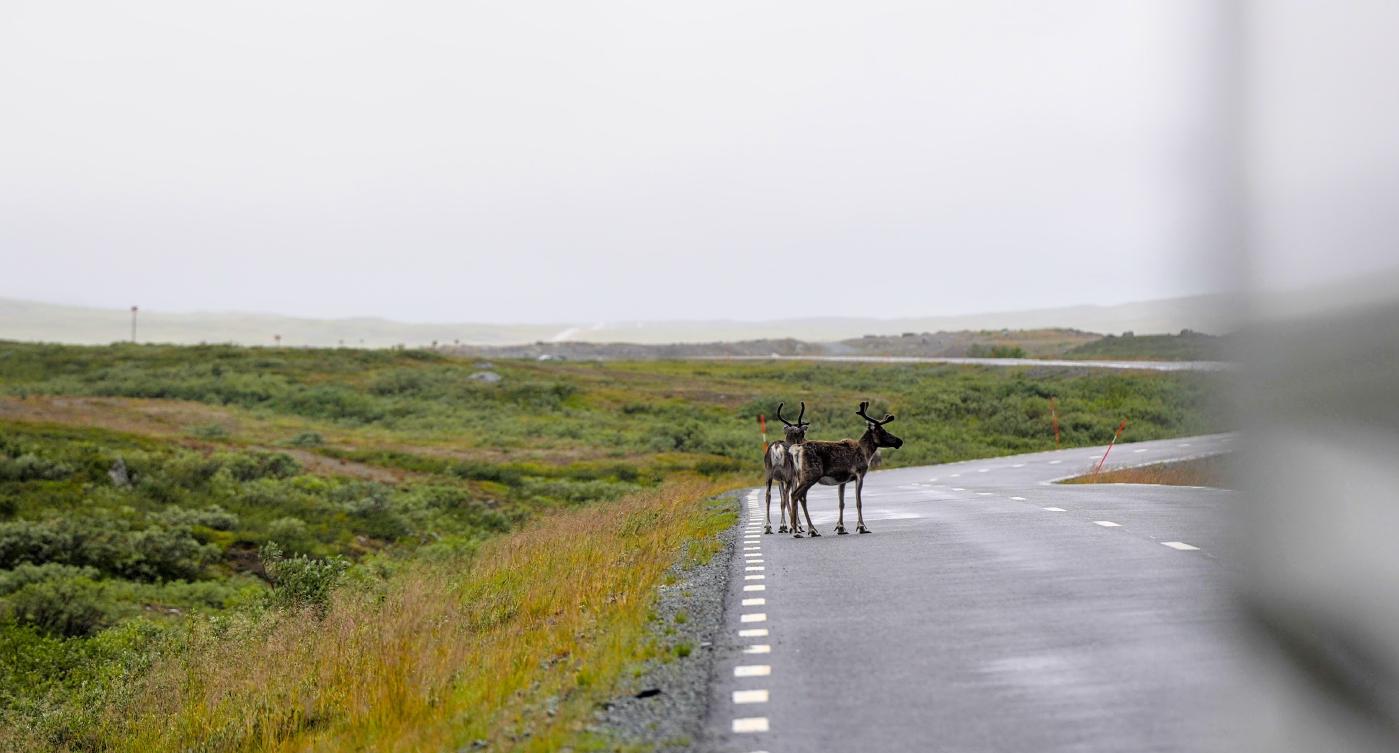 Trappstegsforsen
We want to go a little further tonight and so there is no longer a big program.
Since it is right on our way, I chose the Trappstegsforsen waterfall for dinner without any motivation. You can apparently park right at the waterfall and it's also right on our route - so no extra detours on the already long tour. We were then surprised by this view.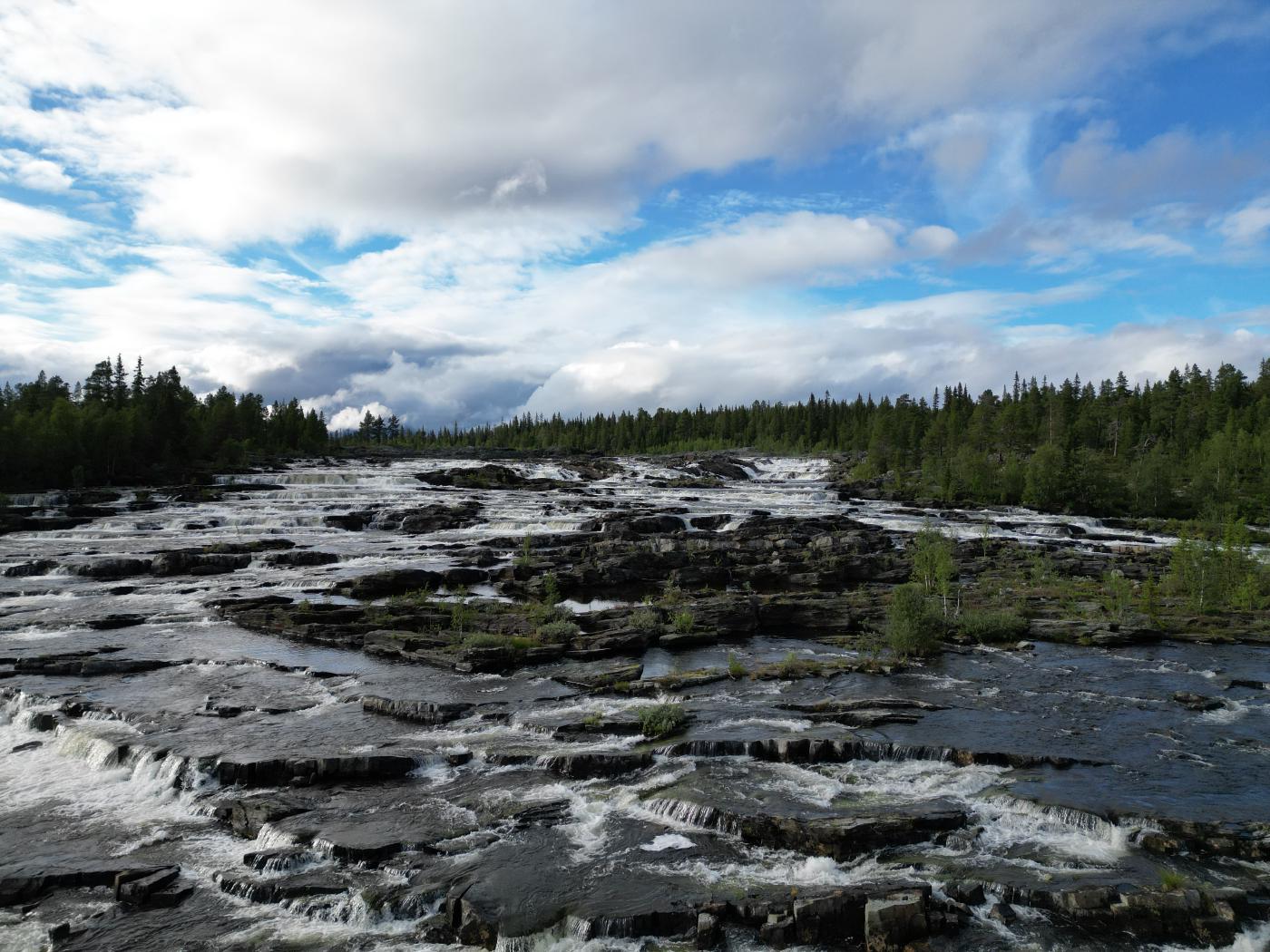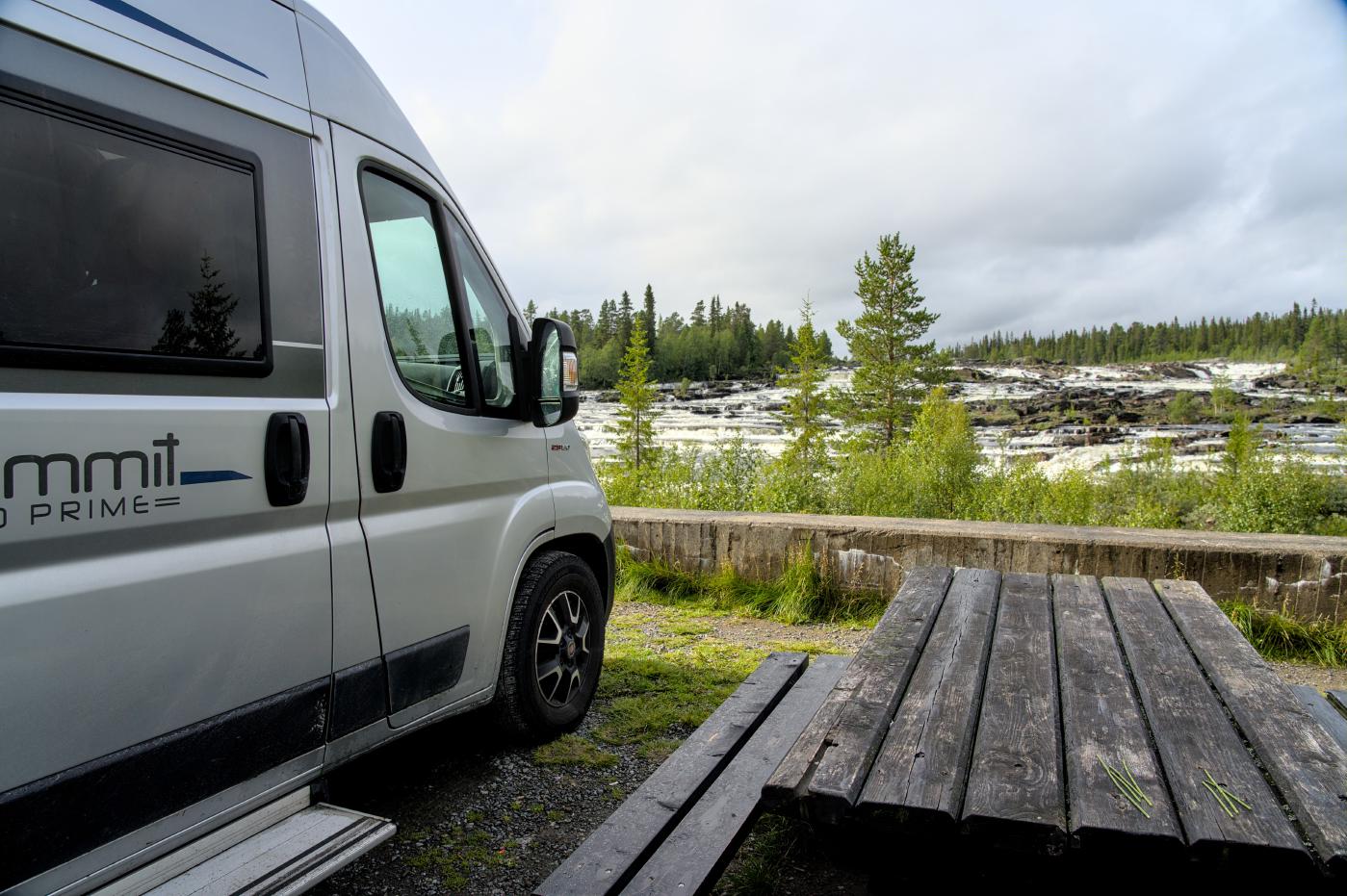 It really is a drive-in vantage point. You literally park right in front of the waterfall. And while we prepare our dinner with this view, the sun comes out. With this light we send our drone into the air again and marvel at the many steps of the Trappstegsforsen in the brilliant sunlight.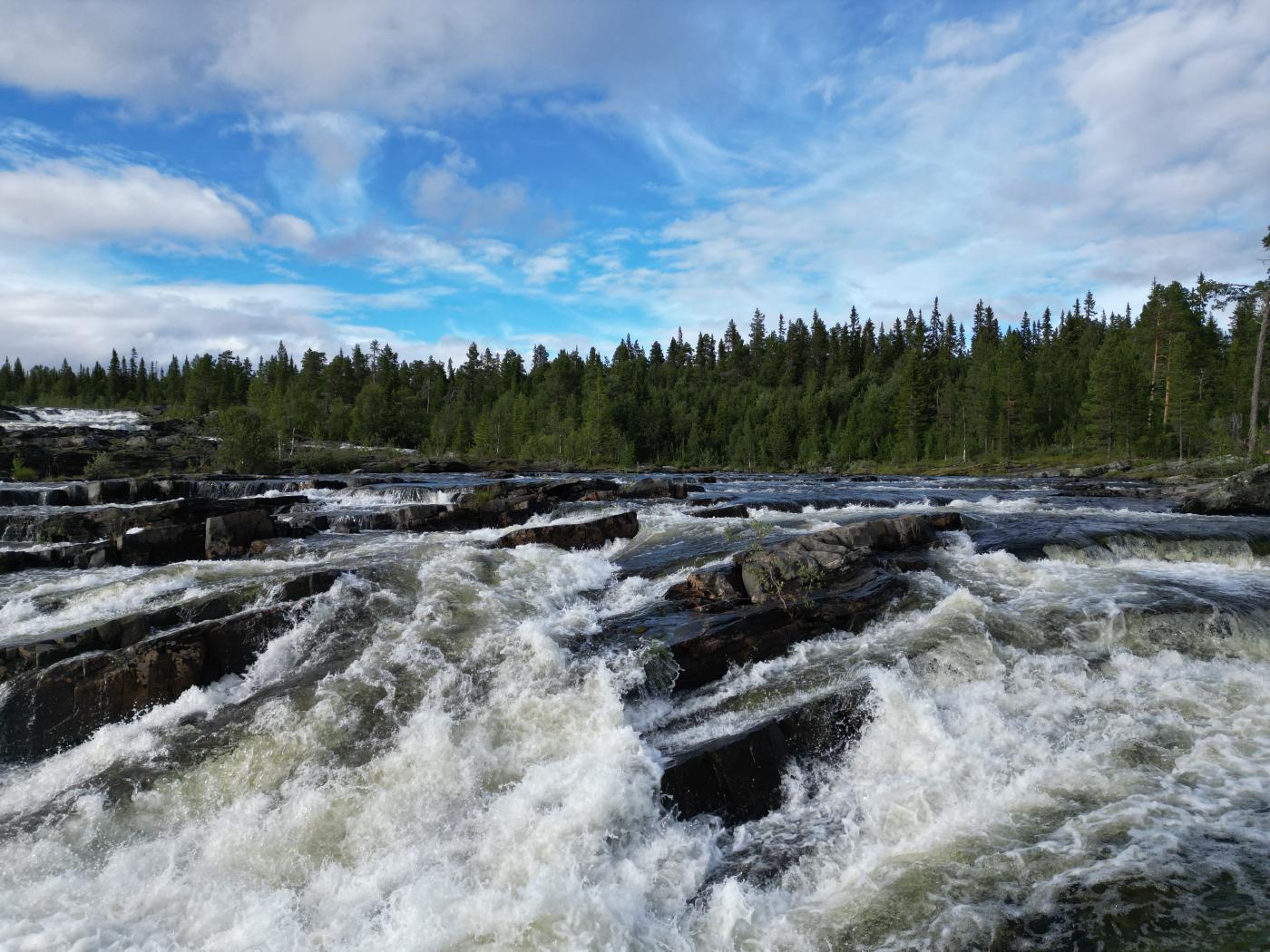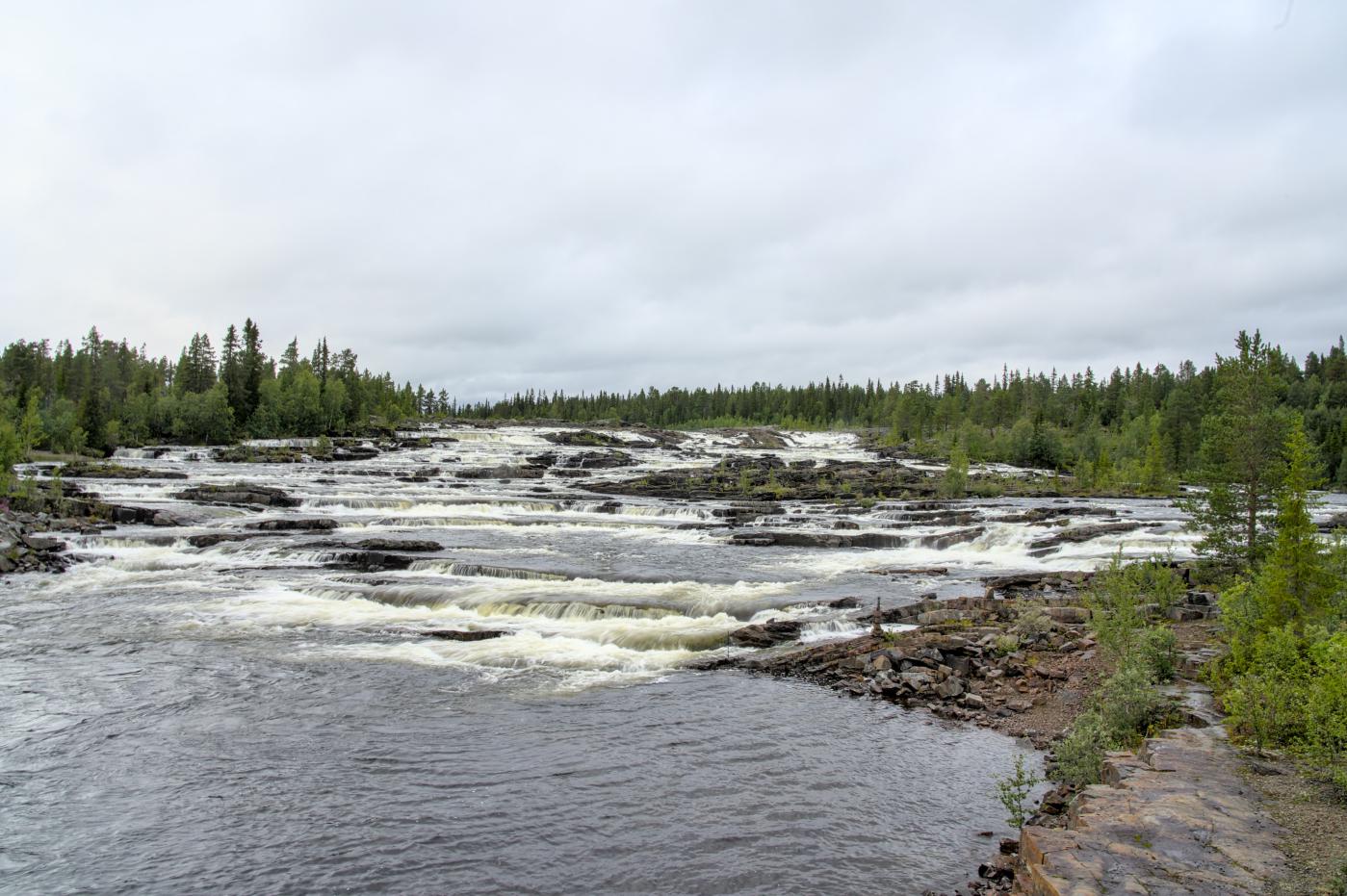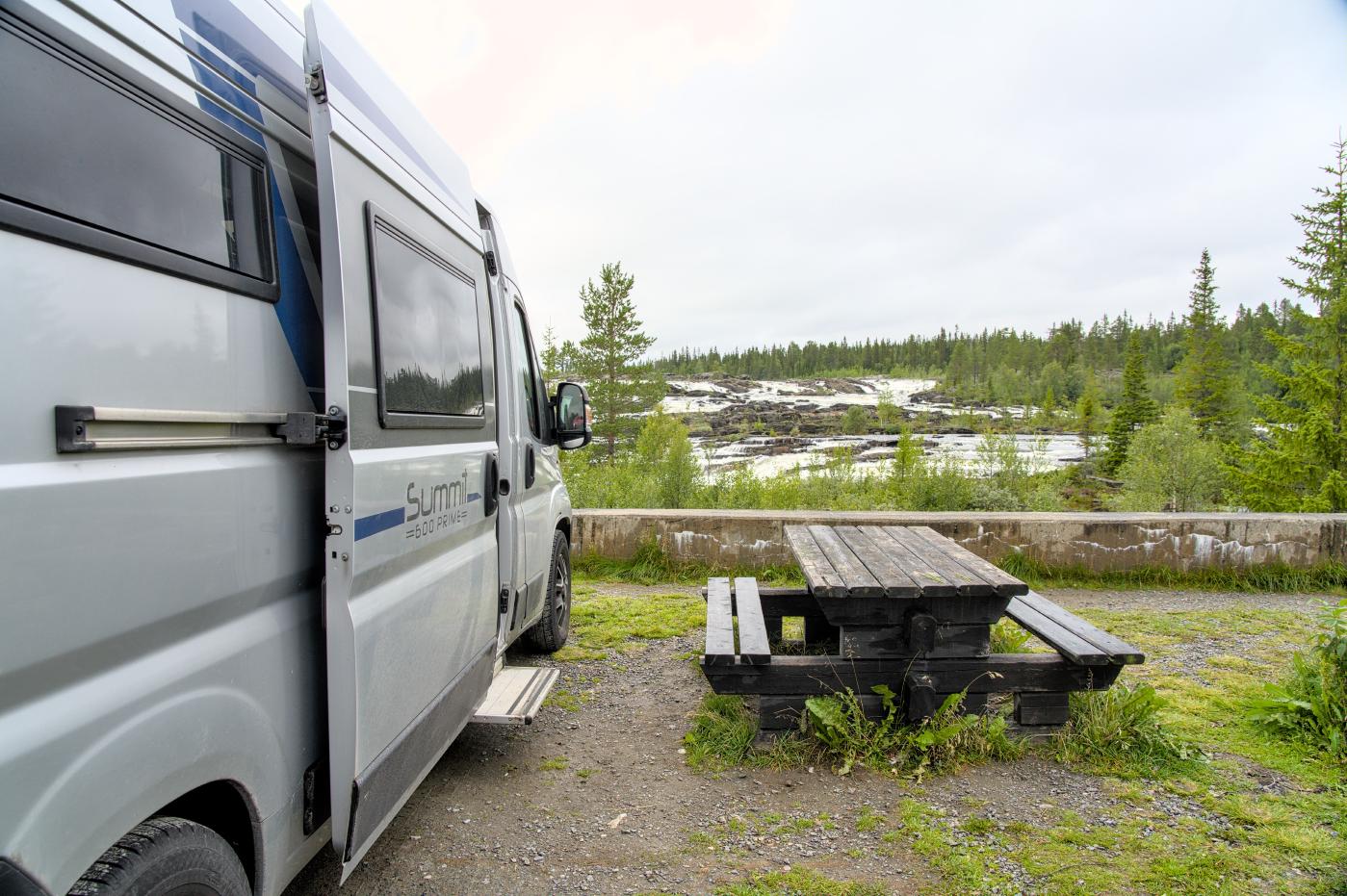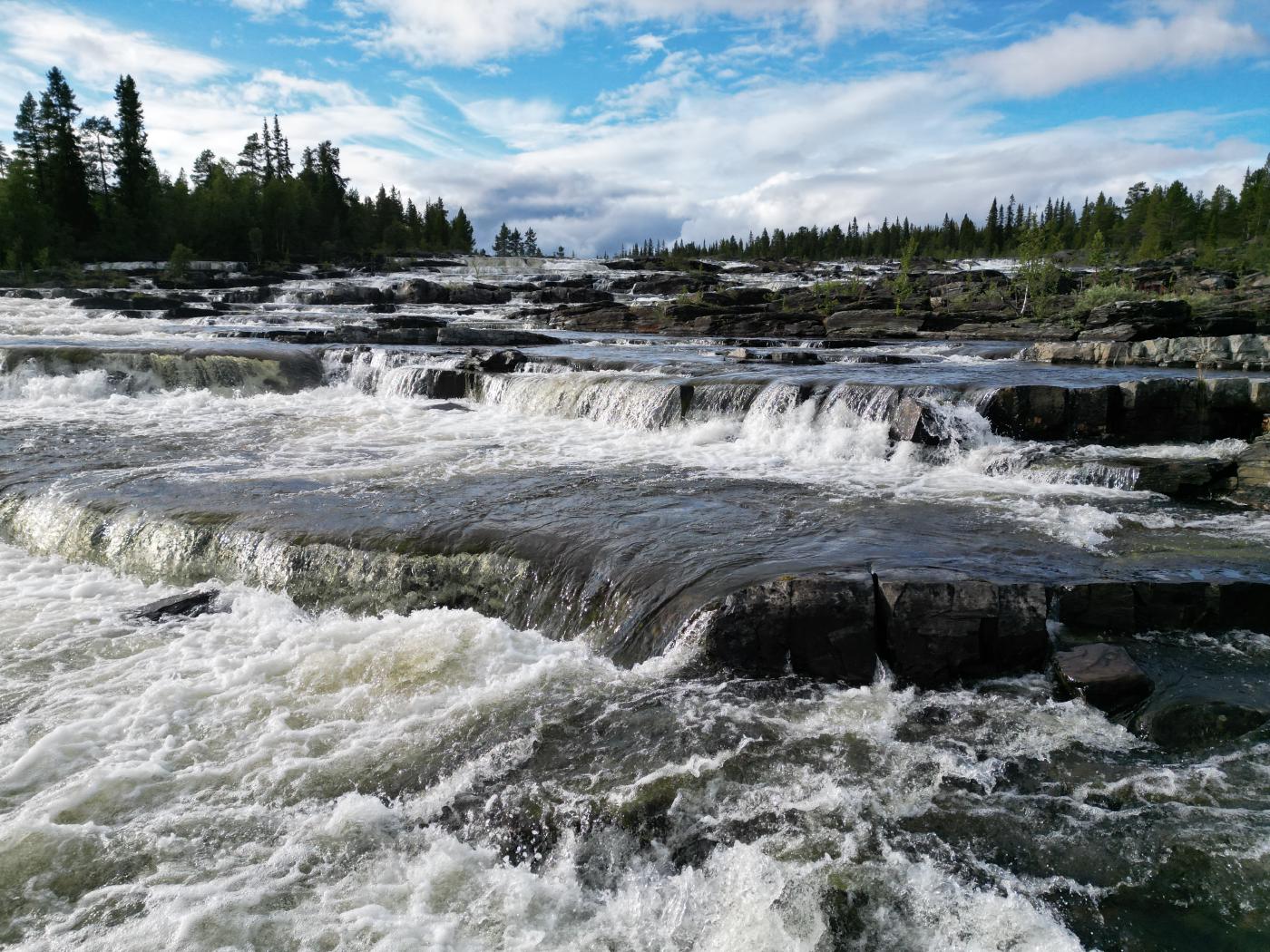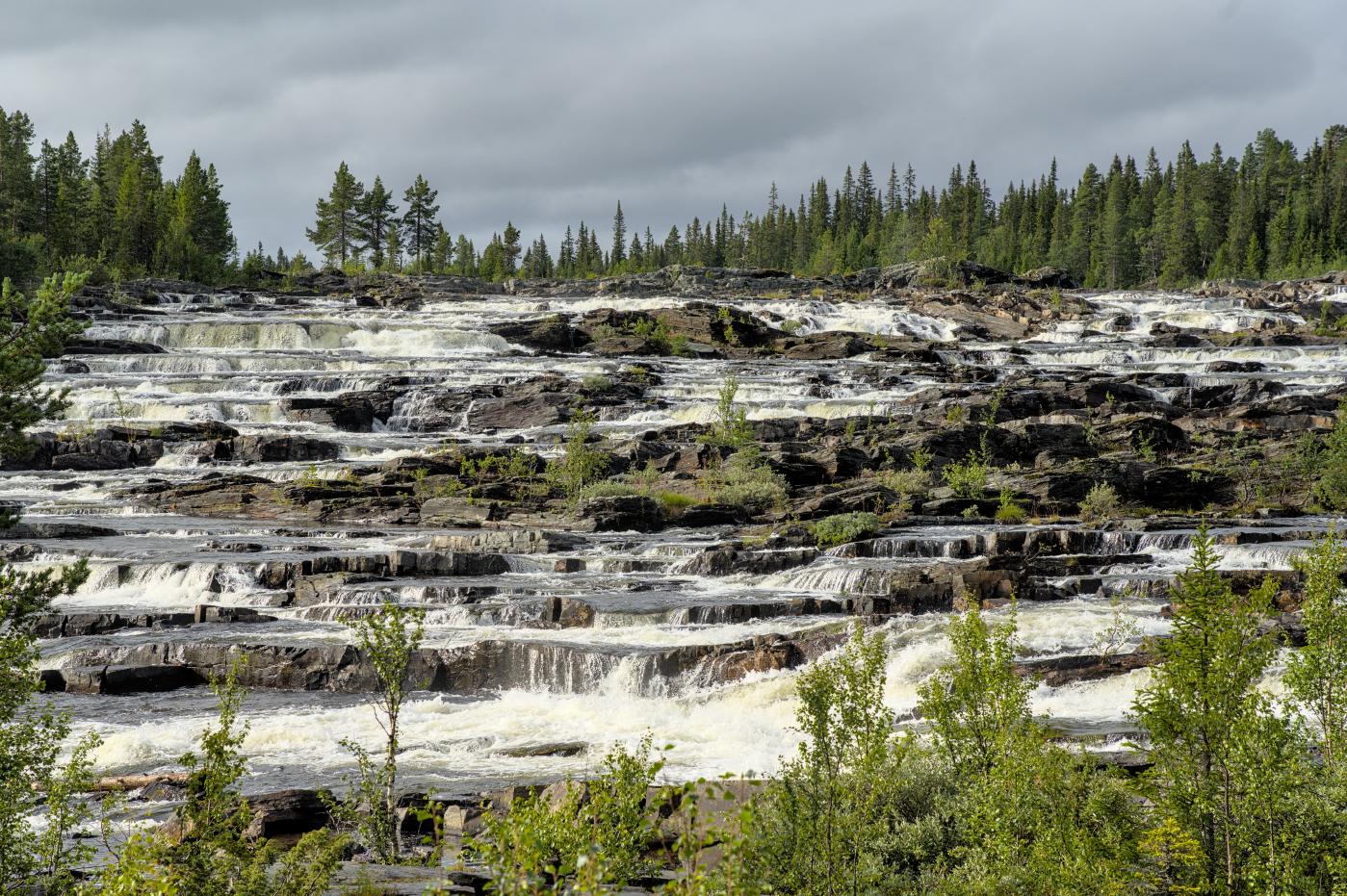 Sagavägen and Blåvägen
Then we continue on Sagavägen. Because it worked so well for us last night, we want to drive more kilometers tonight so that the remaining distance to Norway is not that far. The landscape shines in the red light of the setting sun. A truly magnificent sight and we clearly take far too many photos and videos of the landscape.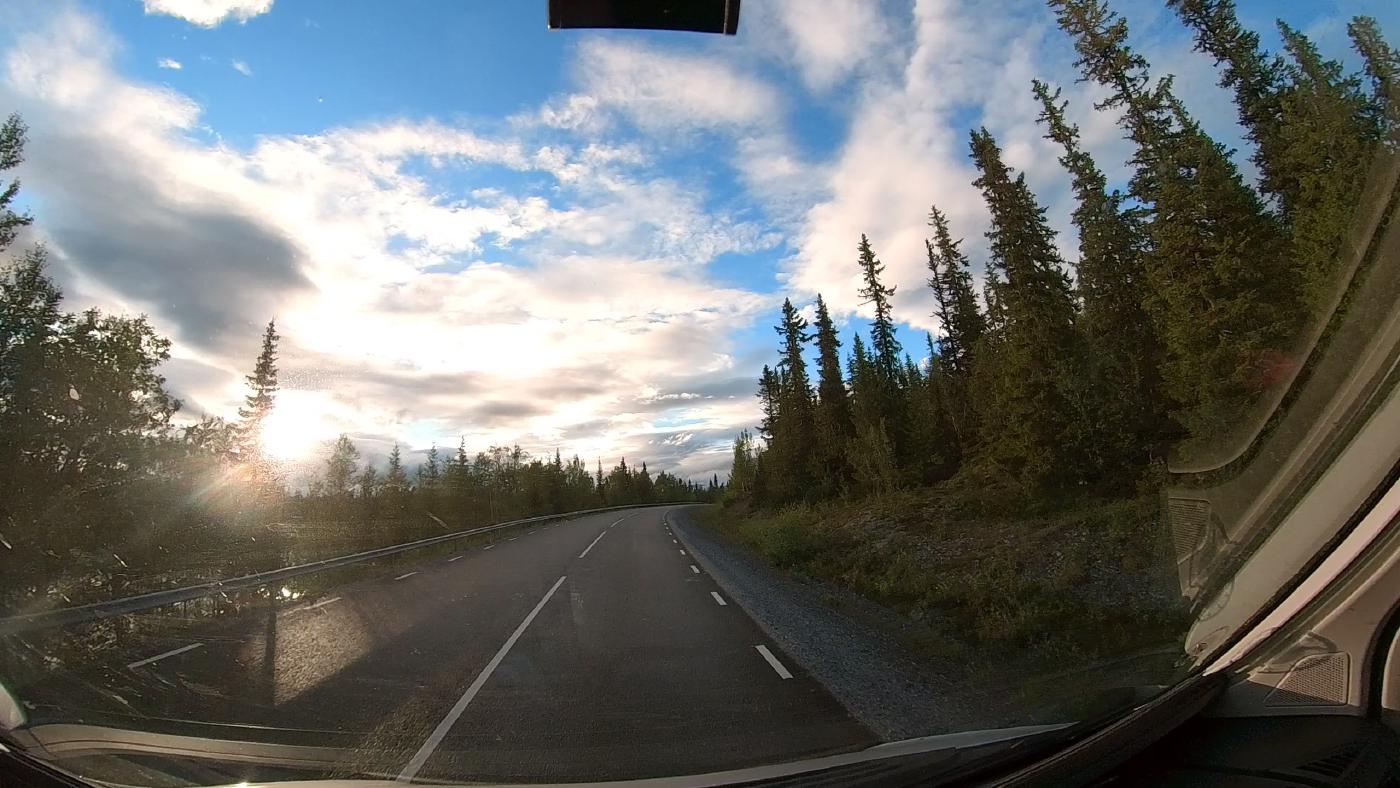 Unfortunately, our little one doesn't want to fall asleep in the car seat tonight, so we look for a resting place on the road to spend the night earlier than planned. Again, we have a great view over a sheltered bay on a river. Since it's even earlier today, I can also show you a few photos of the mirror-smooth water. You have to find out for yourself whether I rotated the picture by 180°. Feel free to give your tips for the next three pictures in the comments.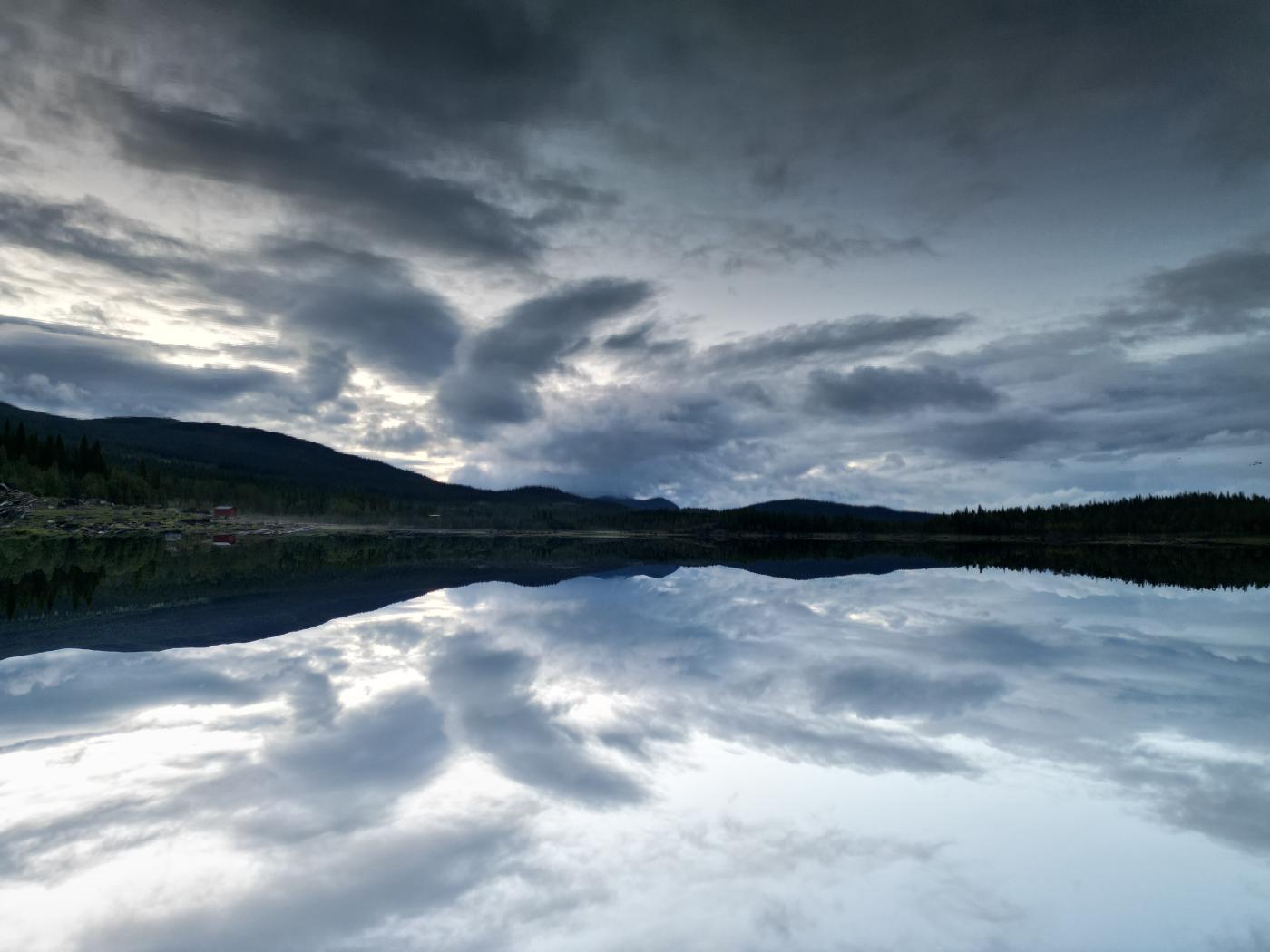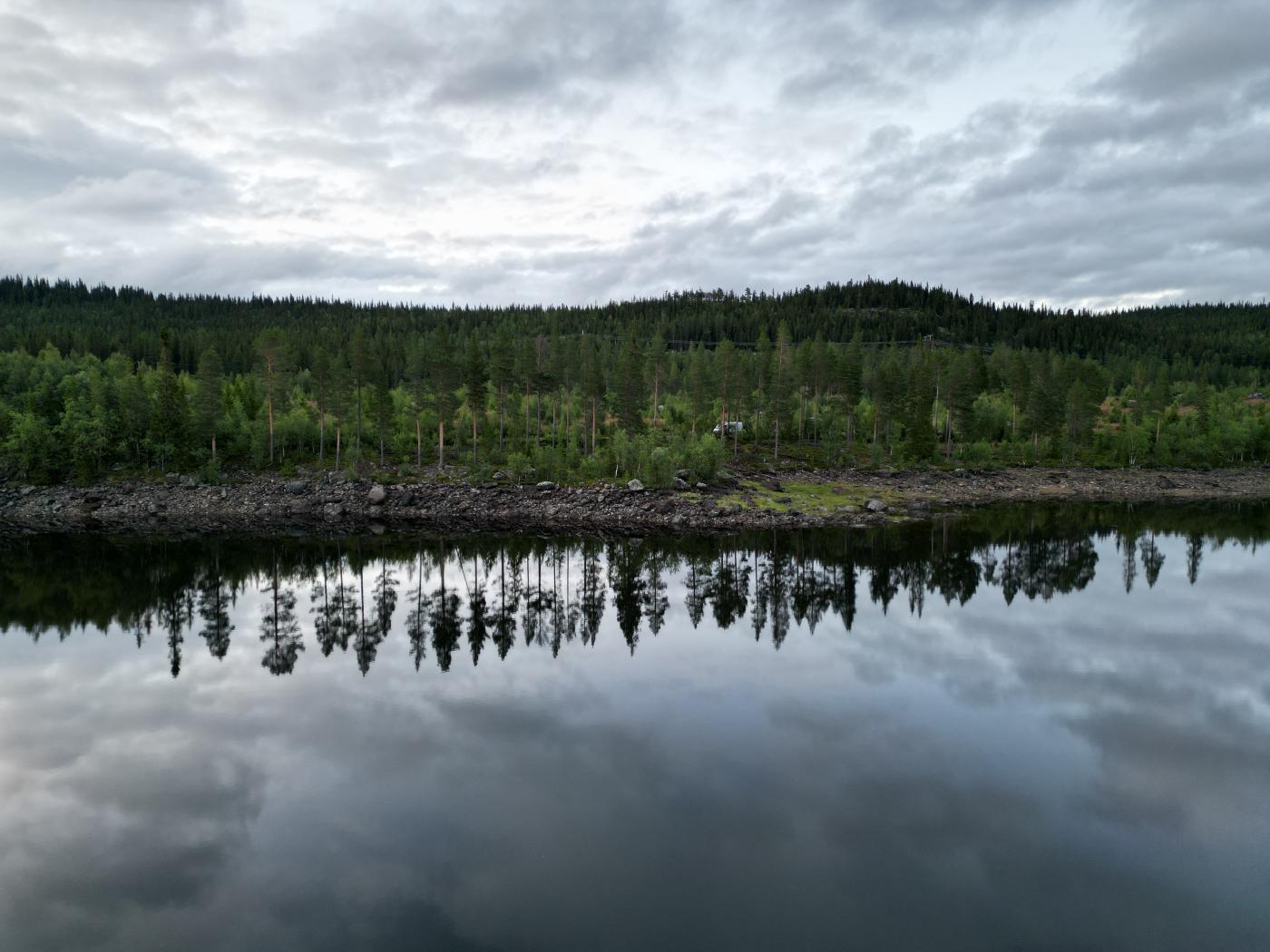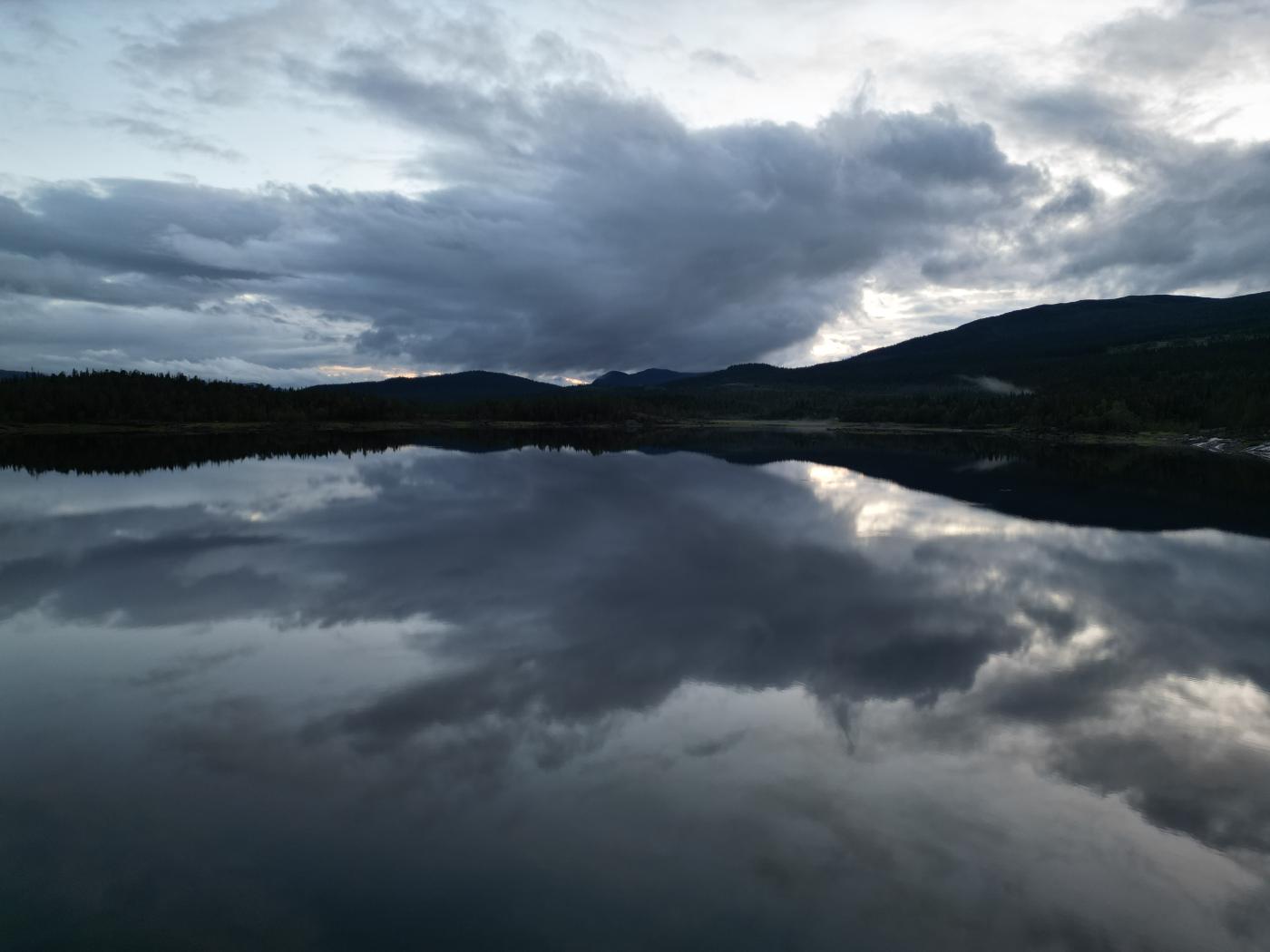 Here are a few more impressions from Blåvägen.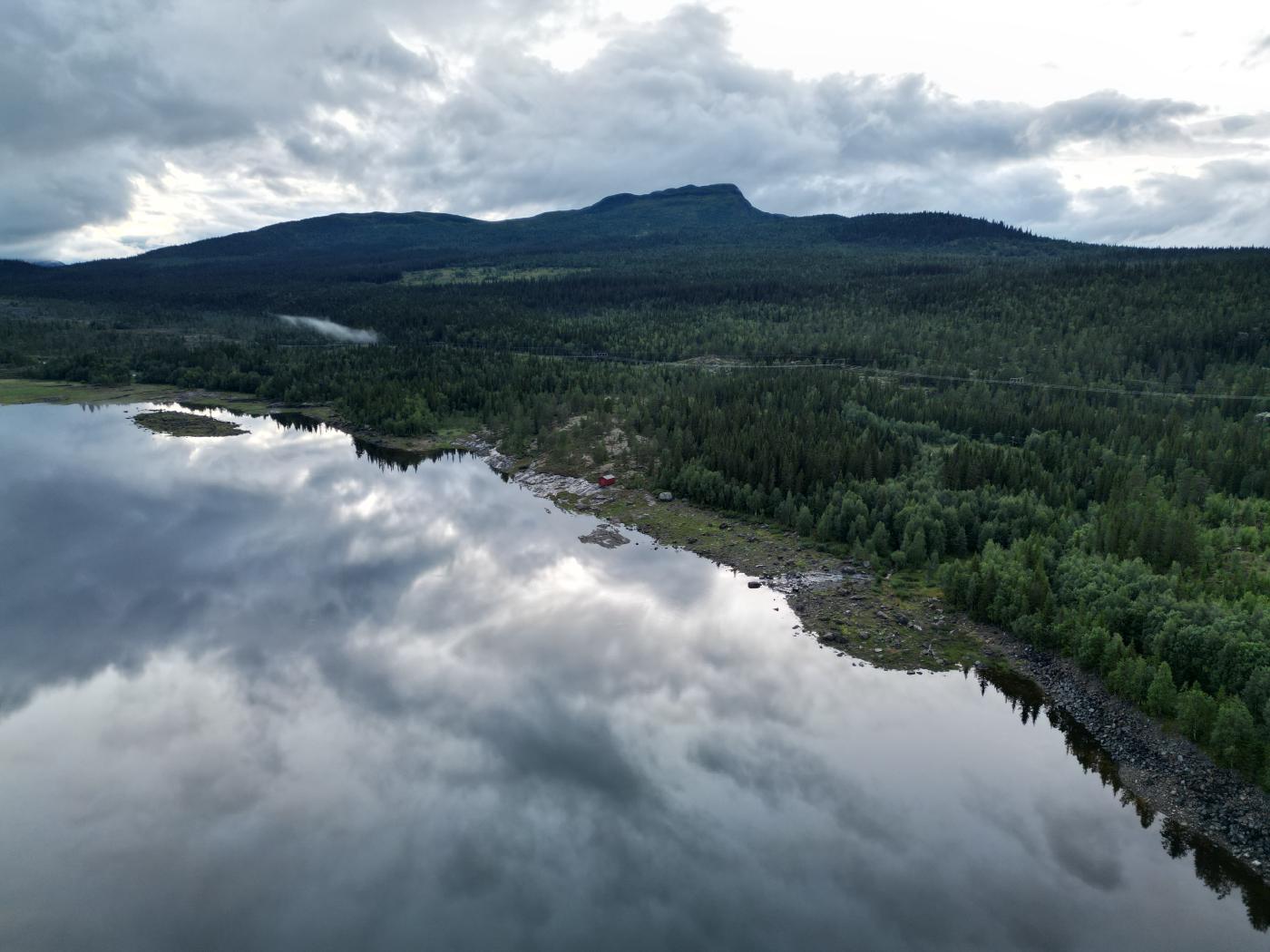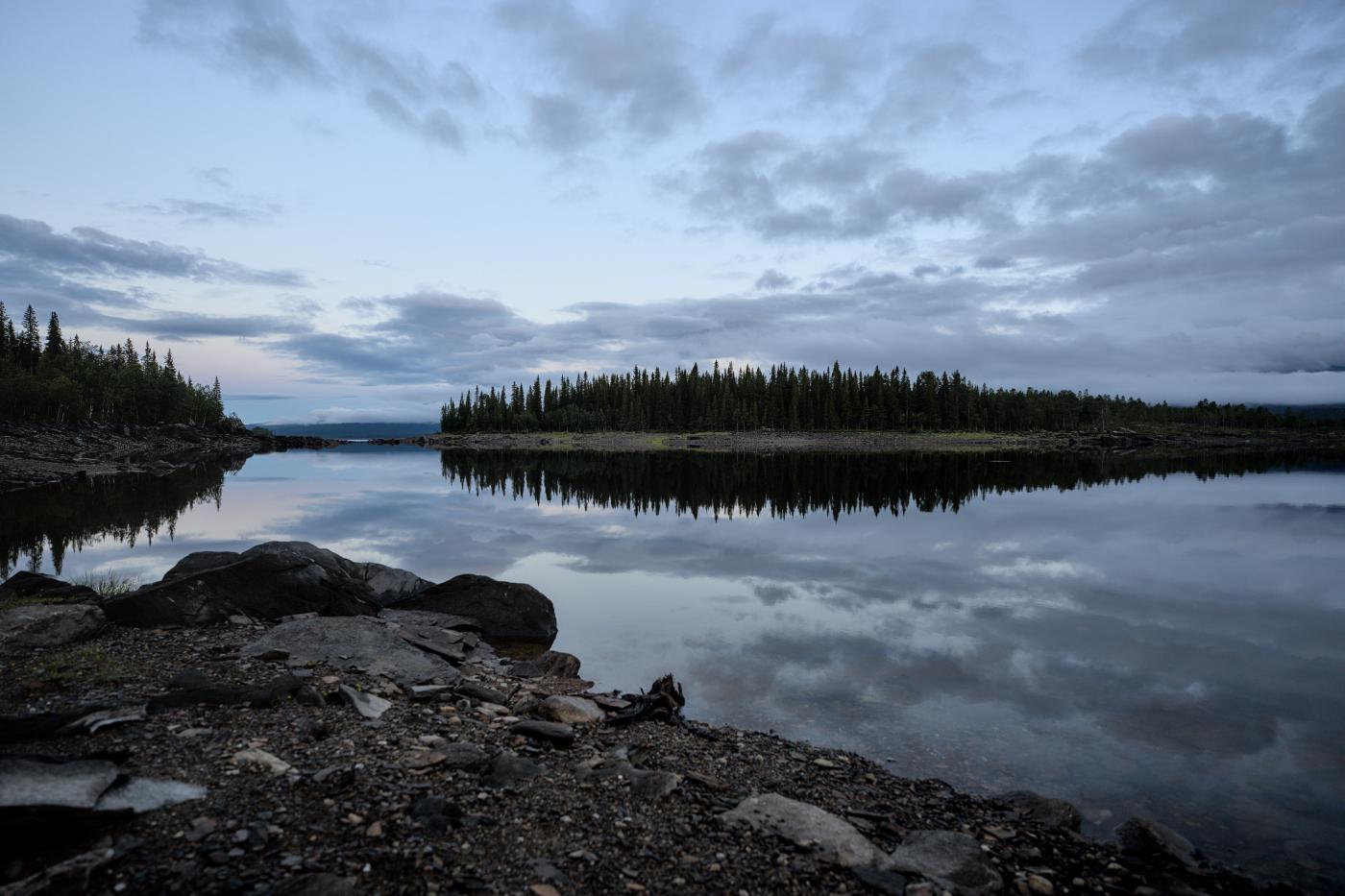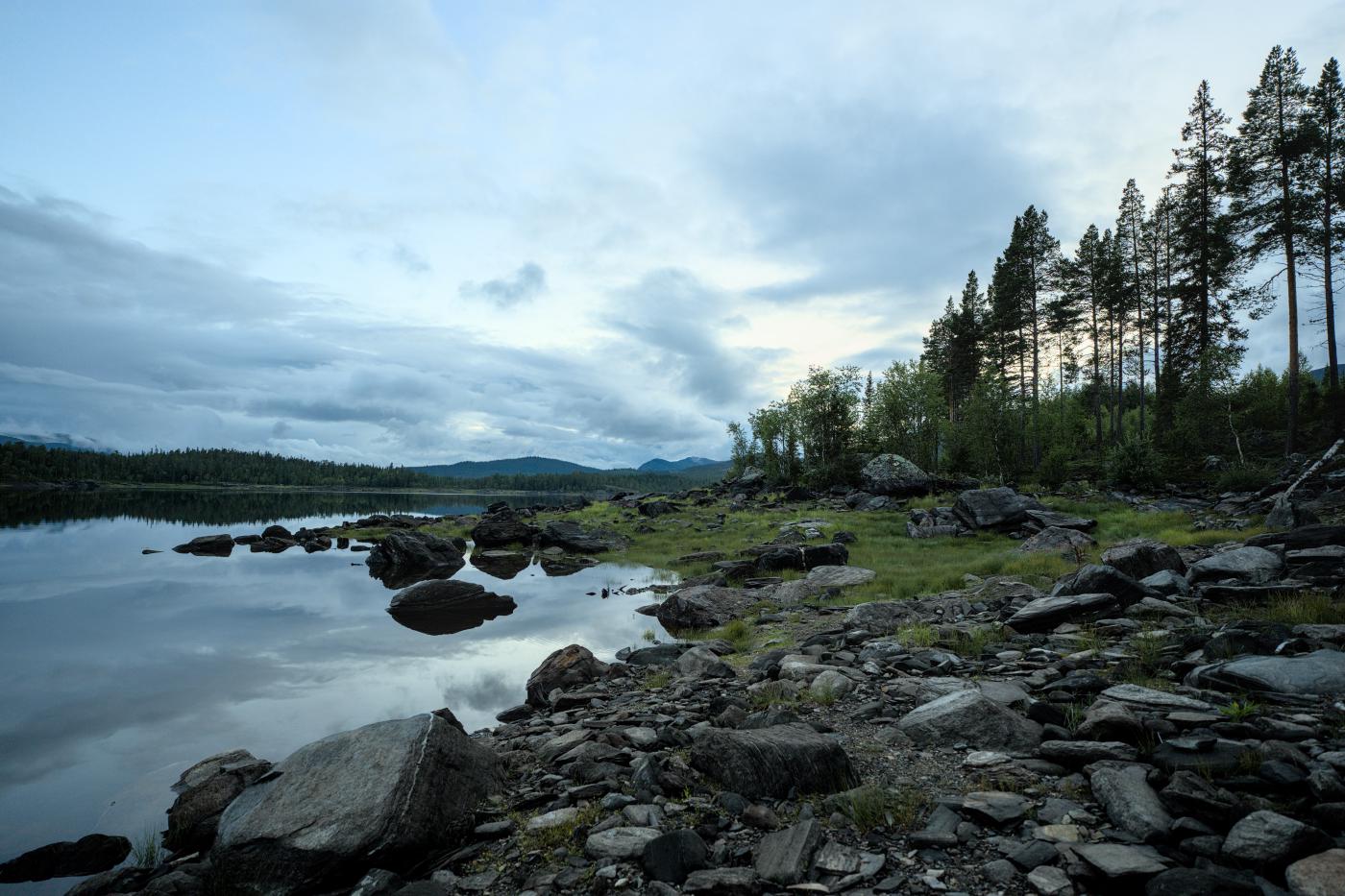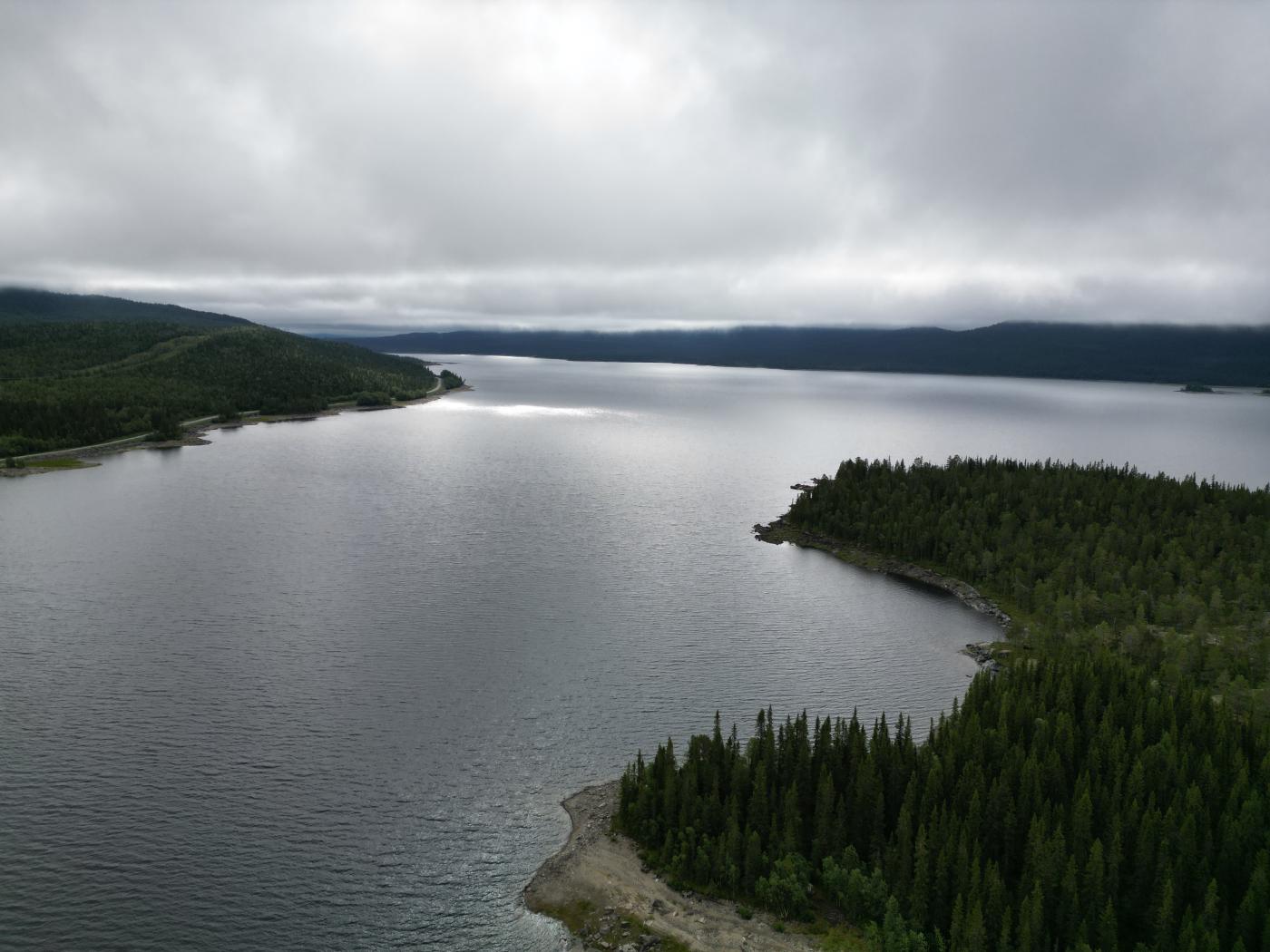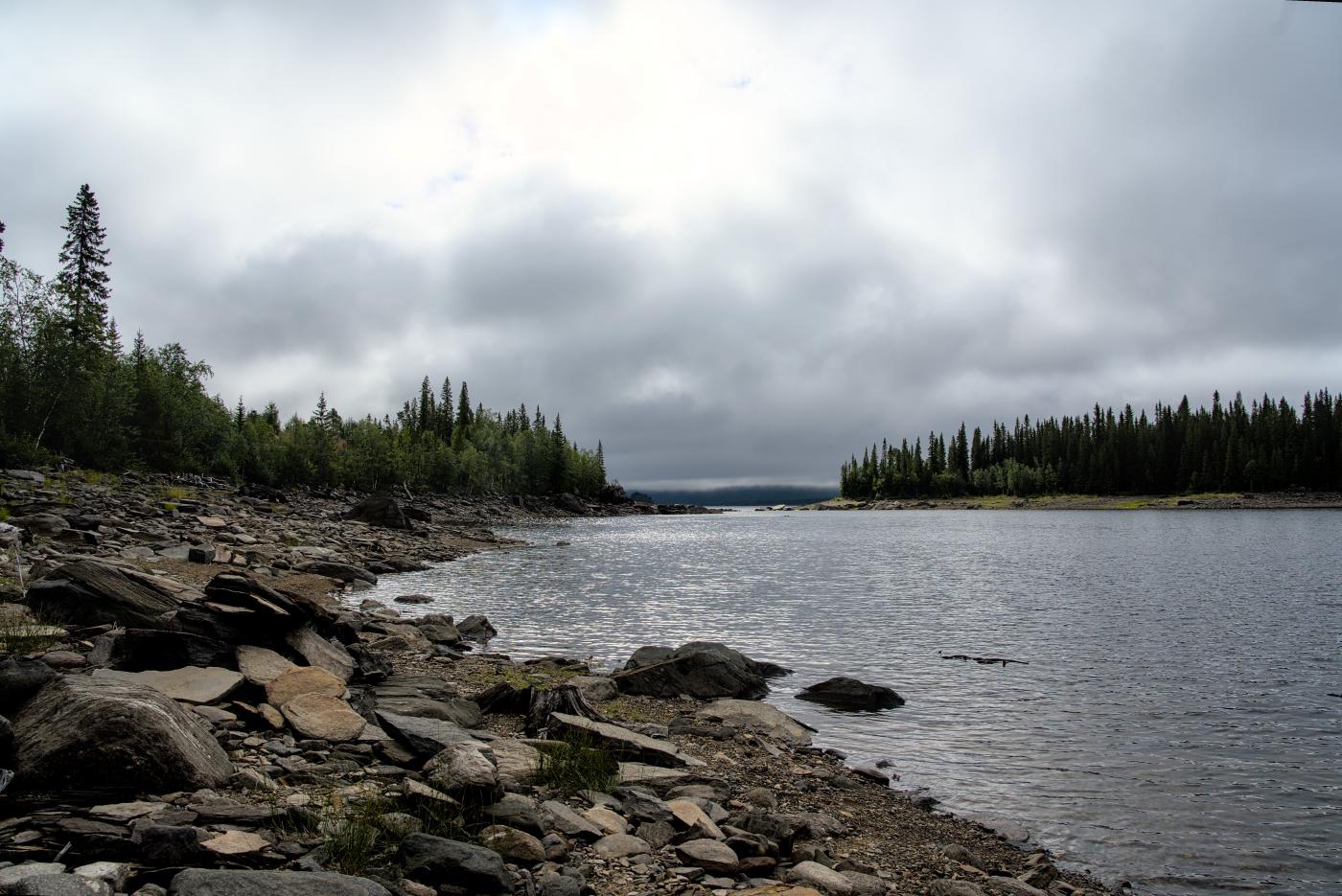 Norwegen and Røssvoll
The next morning we still have a lot of fun throwing into or letting jump stones over the river or jumping with our little one. Unfortunately, a light wind picked up, so we had to cancel the boat tour that we had planned during breakfast. With only a short stop for lunch in the ski resort of Hemavan, we continue straight on our route. On the way we had seen a shop for Sami handicrafts. Unfortunately it is closed on Sundays (today). So there is nothing more for us to do on the last 150km in Sweden.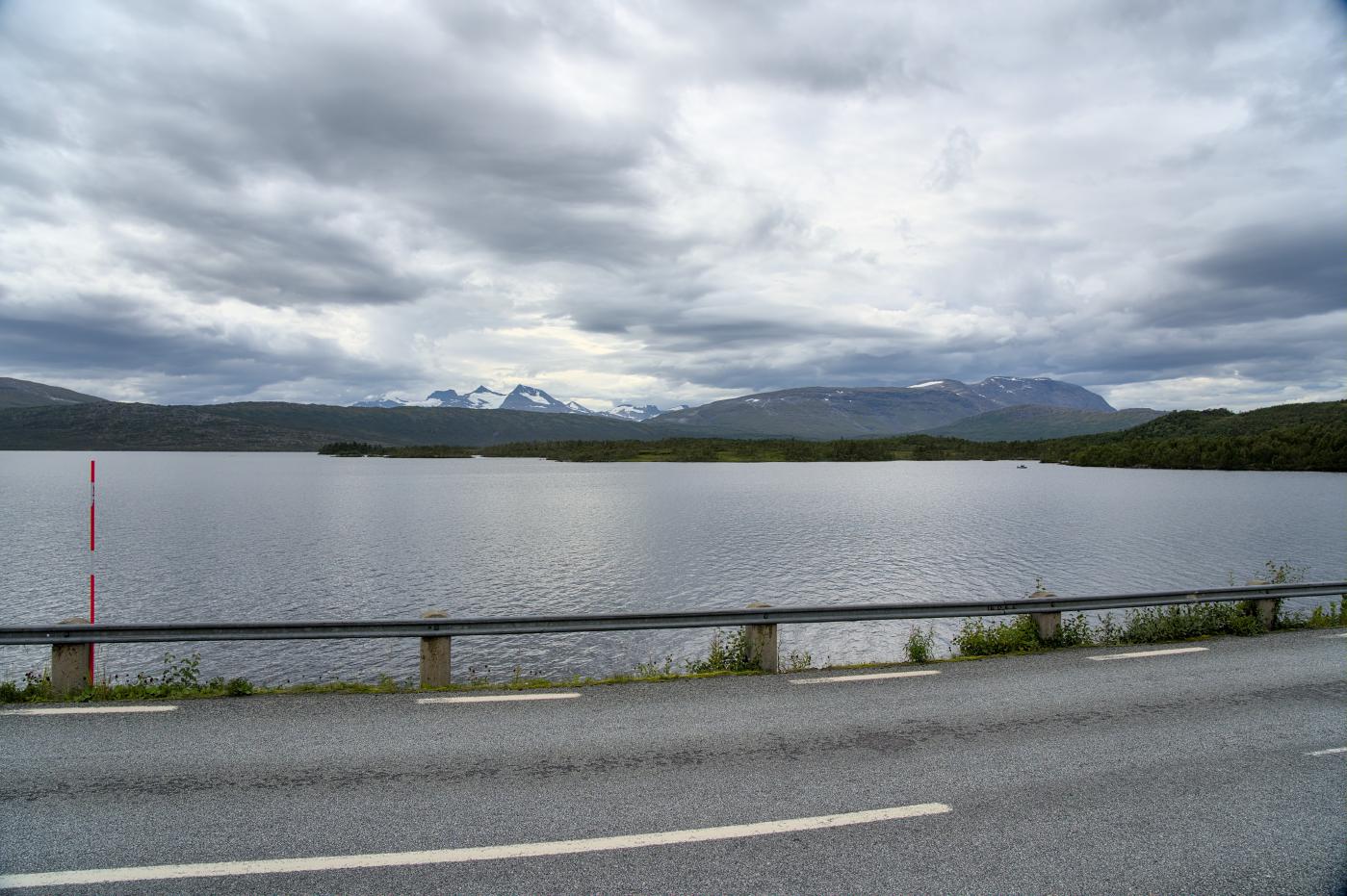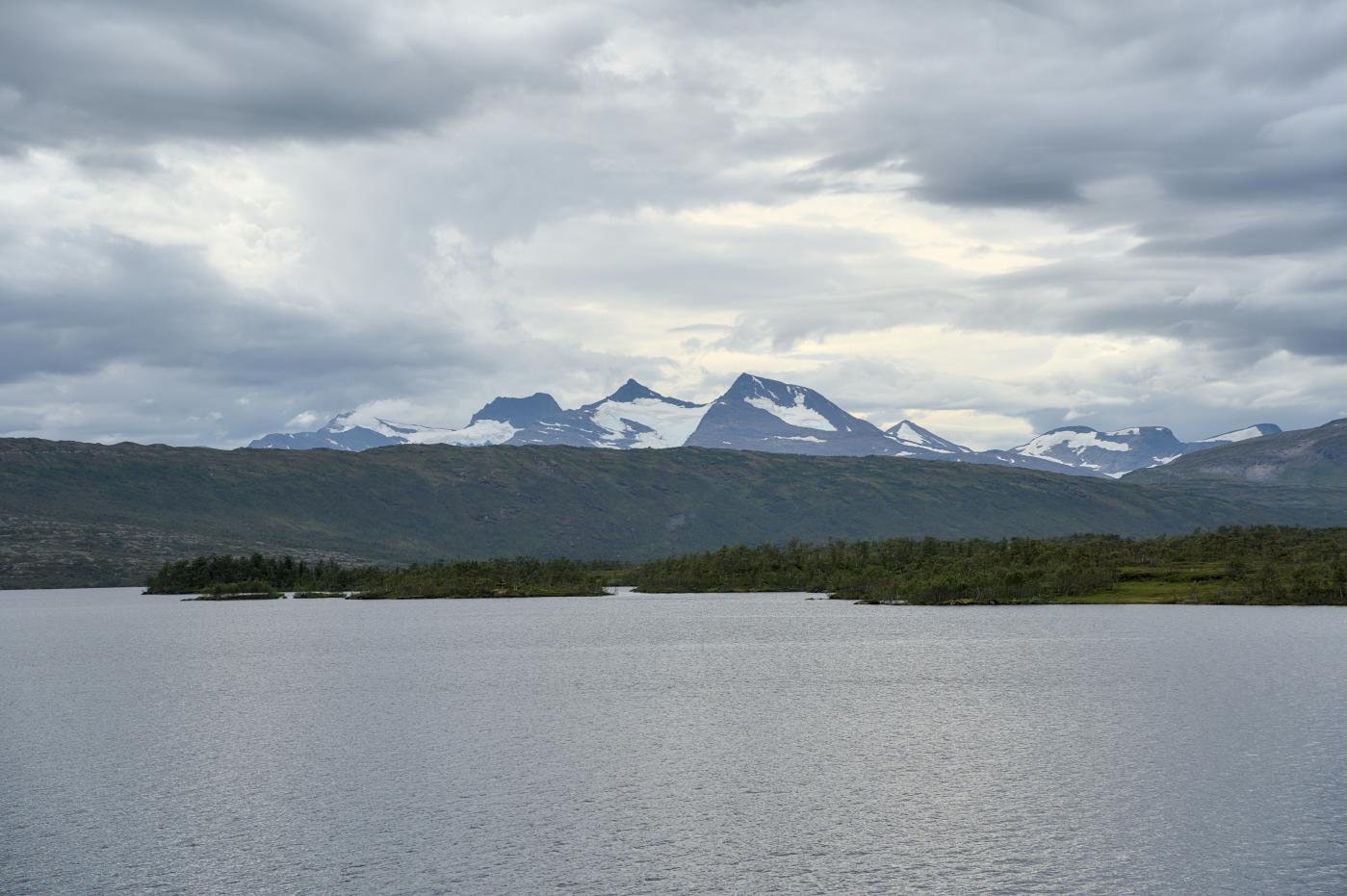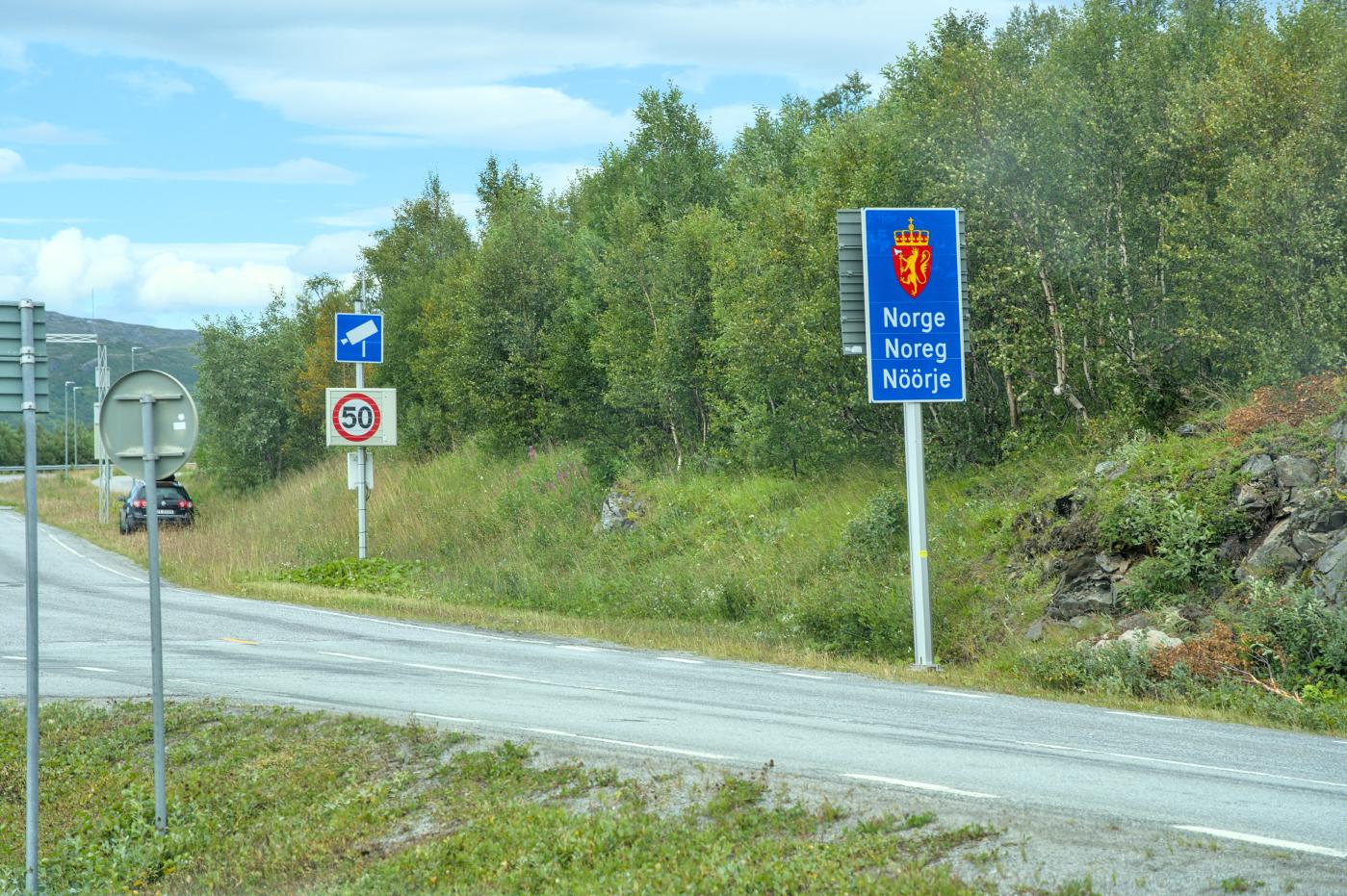 And so we exchange ö and ä with ø and æ again. We are back in Norway. First we headed for the campsite in Mo i Rana. But after our navigation system had only identified a drivable route on the third attempt, we arrived quite disappointed in front of a desolate meadow just outside the industrial area. That doesn't really convince us.
Therefore, the motto of this trip applies again: We change plans again! So we first head for a small disposal station in Mo i Rana, which is simply urgently needed. On the way we look for a supermarket. As early as we could get to a campsite today, there would still be time for our signature camping blueberry pie. The little one loves it more than anything. But then we still need blueberries… Unfortunately, we expat Danes are apparently too spoiled. No supermarket is open here on Sundays. When we finally find one at the other end of town, it is of course flooded with tourists and we lose a lot of time in the large supermarket and the long queue at the checkout. When we finally arrive at the small cozy campsite in Røssvoll just outside Mo i Rana, there is still enough time for our little one to have lots of fun on the playground, but baking a cake at quarter past four no longer makes sense.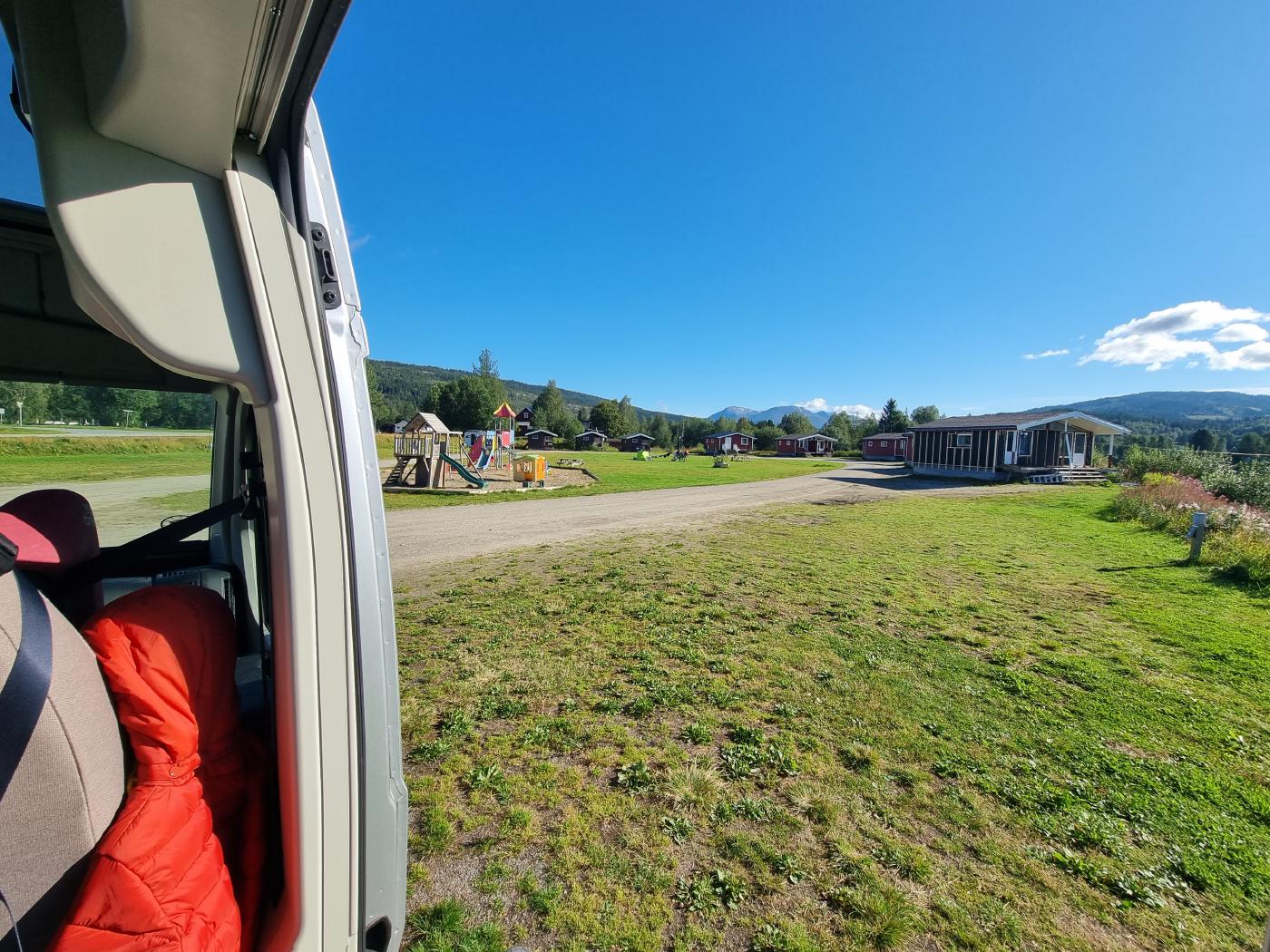 Instead, we use the time to do a round of laundry, finish writing the first blog article and finally have dinner outside and enjoy to sit outside still for a while. Apparently we had to drive just before the Arctic Circle to be able to find peace again.