Sweden's west coast
Posted on April 14, 2022 • 10 min read • 1,954 words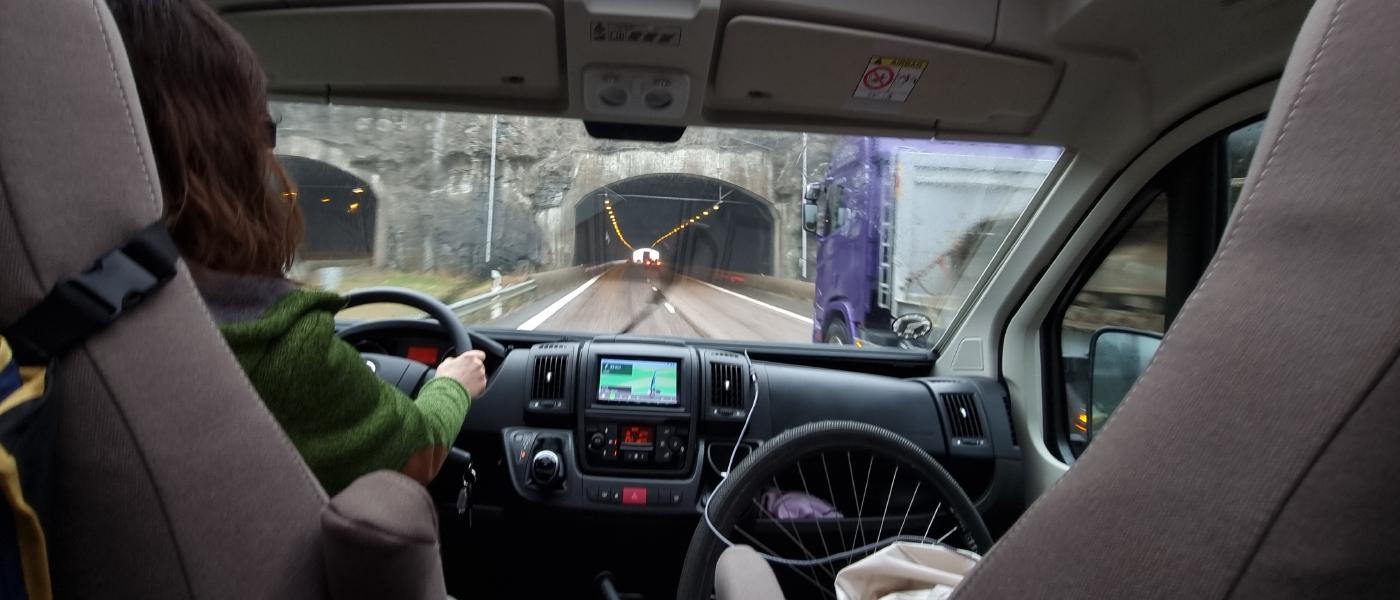 Departure
It's the same as always. We started preparing our short trip over Easter much too late and so we only left shortly after 11 a.m. Maundy Thursday is already a public holiday in Denmark and we actually wanted to leave the evening before. But well… Ultimately, we are better prepared for this than on our last escapades. This time the gas bottle has already been freshly filled, its function has been checked, there is 20l of water in the tank and the car is also well filled with everything else that you could need for the first two to three days. So nothing stands in the way of your vacation.
Our spatz was handed a piece of rusk right after the descent. However, it fell out of hand before the Øresund Bridge and the mouse dozed off into a healthy nap. So it's time for mom and dad to scrub a few miles. Let's see how far we can get.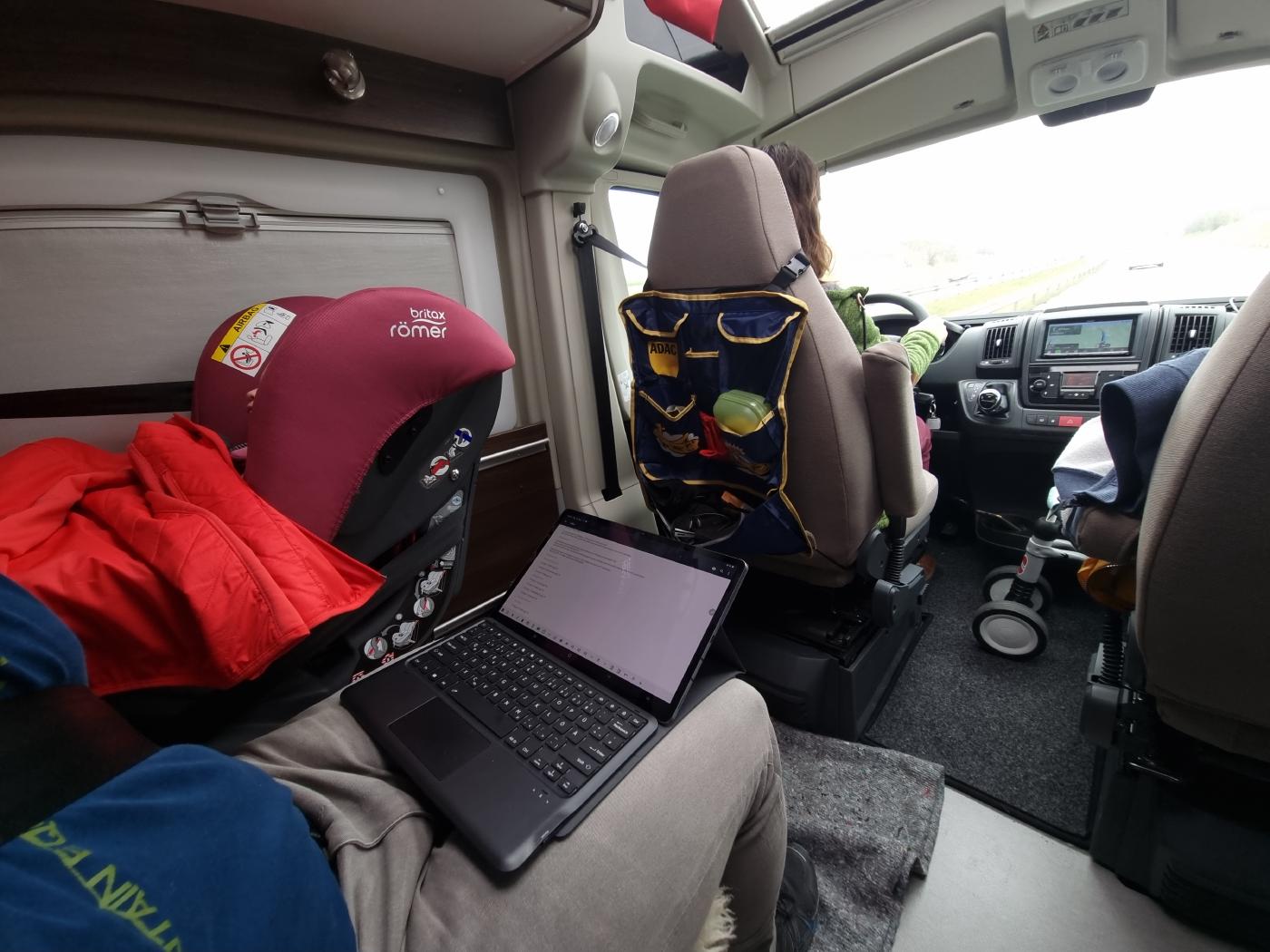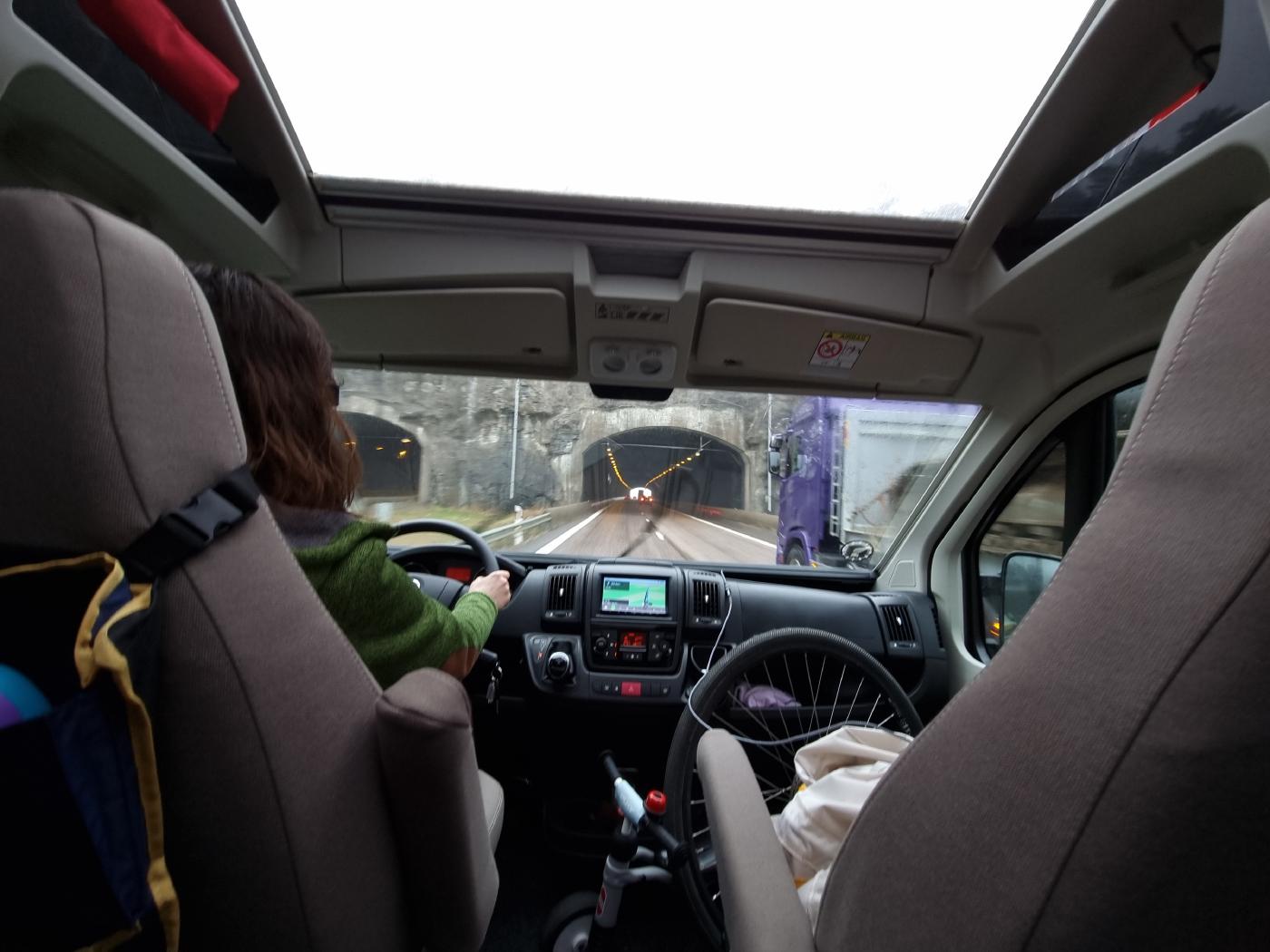 Lerkil Hamn
Actually, we only wanted to drive to Tjolohölms Slot and see the castle there. We could have stayed there overnight. However, with the recurring rain and dense soup of fog, our desire and mood for walks in the castle gardens was limited. So we rushed through to our plan B pitch at the port of Lerkil. Harbors for small and sports boats are called Gästehamn in Sweden and sometimes also have camper pitches. So does this one in Lerkil with pitches right on the water and great views of the mist!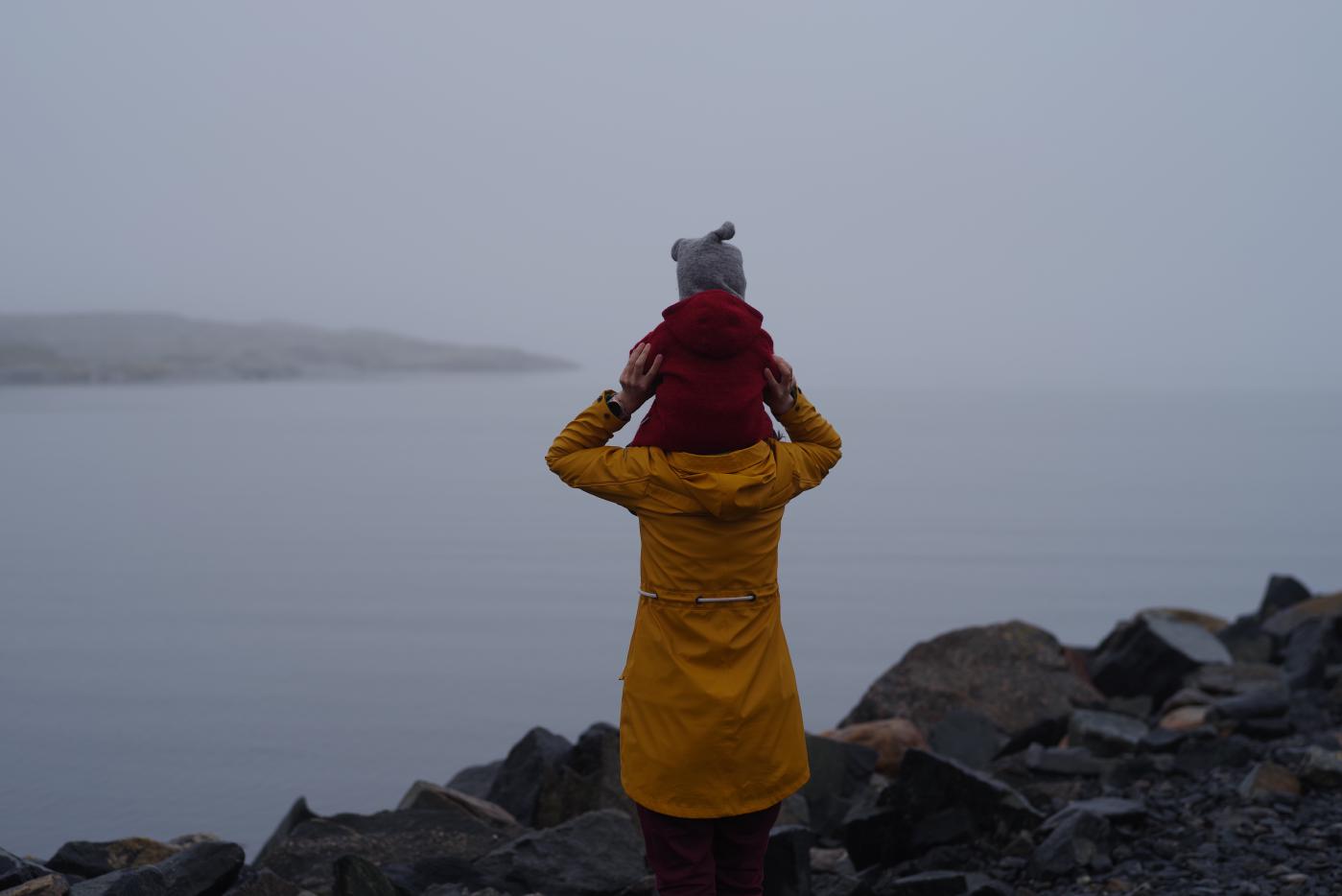 Like last time, we only manage to communicate in Sweden moderately. While we are standing in front of the entrance to the parking space, a dutiful employee comes running and tries to explain something to us in Swedish with hands and feet. After much discussion, Anne is still firmly convinced that it wasn't Swedish either. In any case, we only understood the train station and you don't know what to do other than call your boss, who then also speaks English. Apparently Danish and Swedish are so similar that Danes and Swedes understand each other. For us, these are really just bohemian villages.
We get the water for our car in no time at all, there is also electricity and while we are preparing our evening meal, we are the only mobile on the entire site. Later in the evening, two more vehicles join them. Space is plentiful.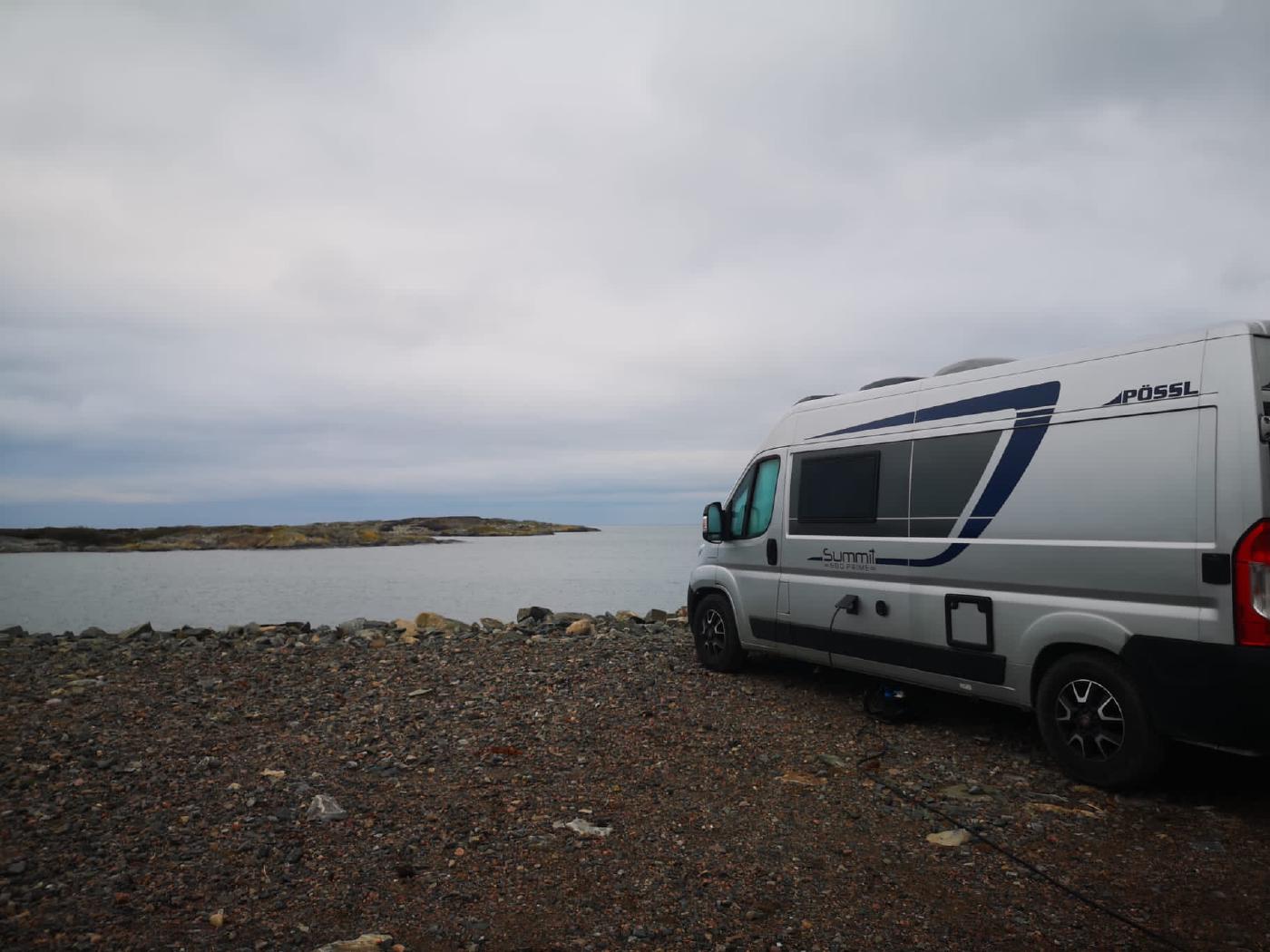 Before we eat, we hop over the rocks on the coast with the mouse and then make ourselves comfortable with tortellini with tomato sauce.
You can see the route from our first day here.
Särö Västerskog Naturreservat
This morning we finally managed to start the day a little faster. We've almost finished washing the dishes after breakfast when the first signs of life slowly come from the other two mobiles. So we are ready to start our hike through the Särö Västerskog nature reserve shortly after 10am.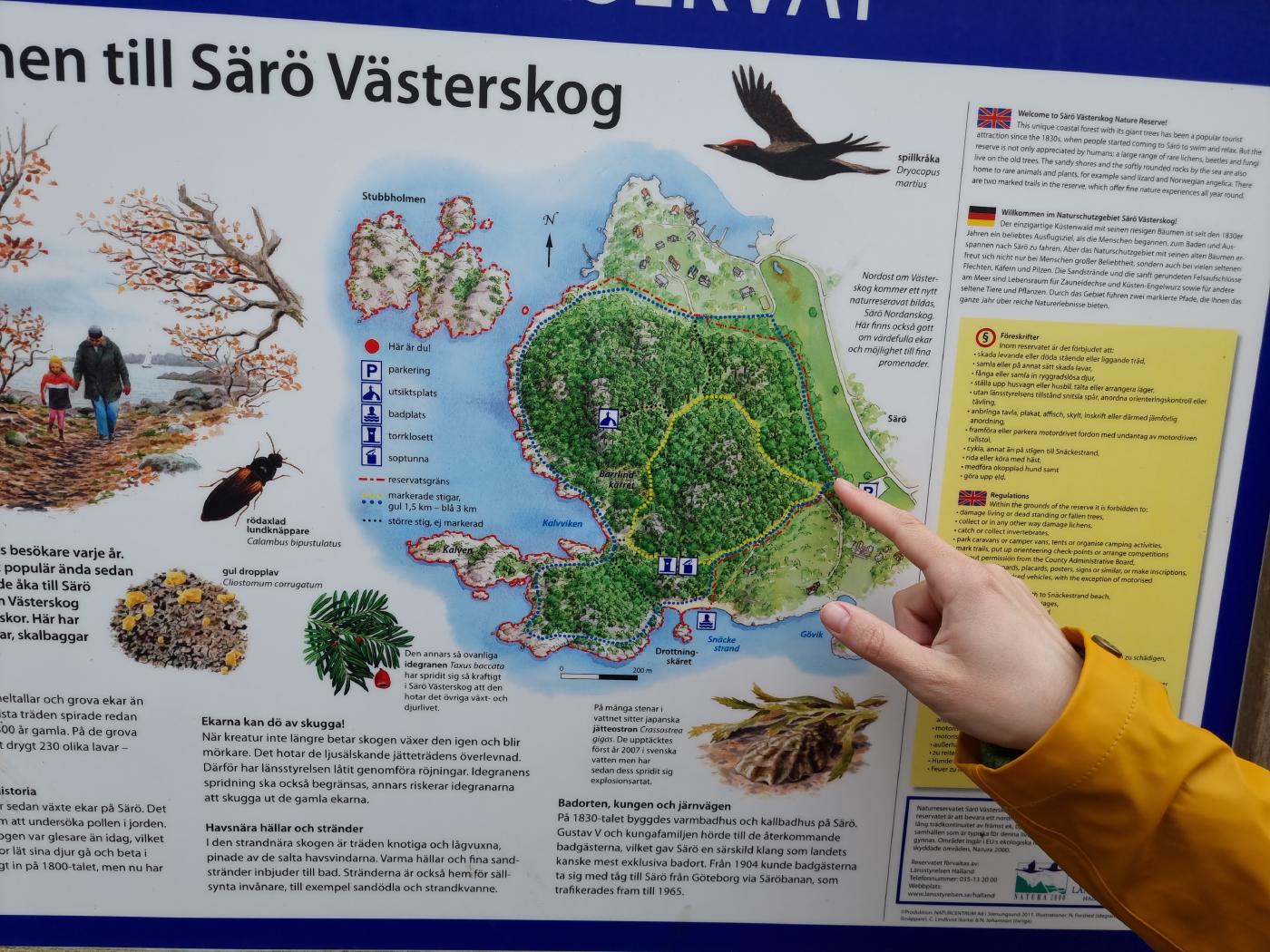 We found the nature reserve by accident on Google Maps and a hiking map at the entrance shows that there are two different marked routes (yellow with 1.5km and blue with 3km). We want to first follow the yellow path to the viewpoint and then switch to the blue path via a small path.
It goes on slightly muddy paths through a great, rustic fairytale forest and up to the view point.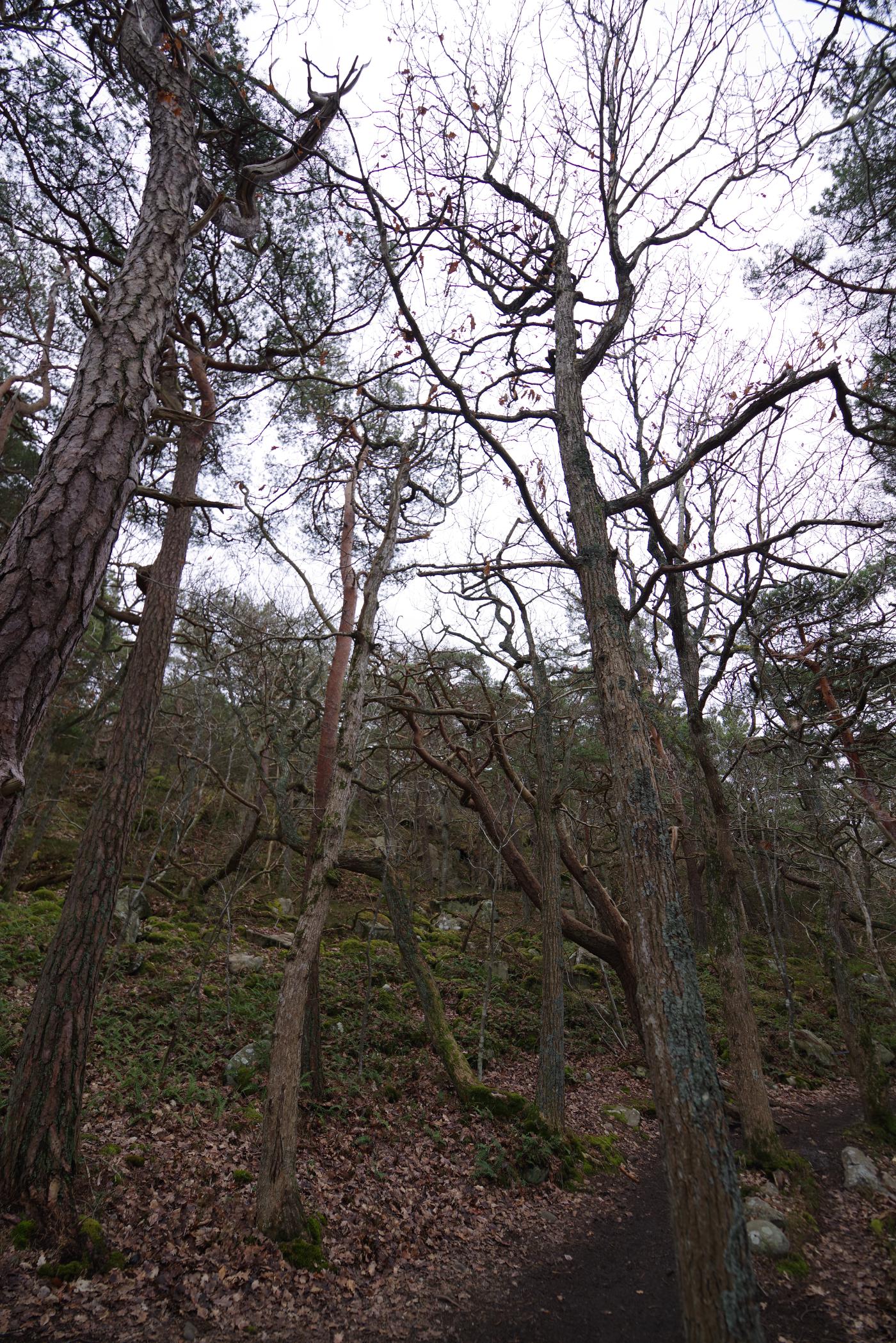 From here you can admire the coastal landscape with the small rocky islands.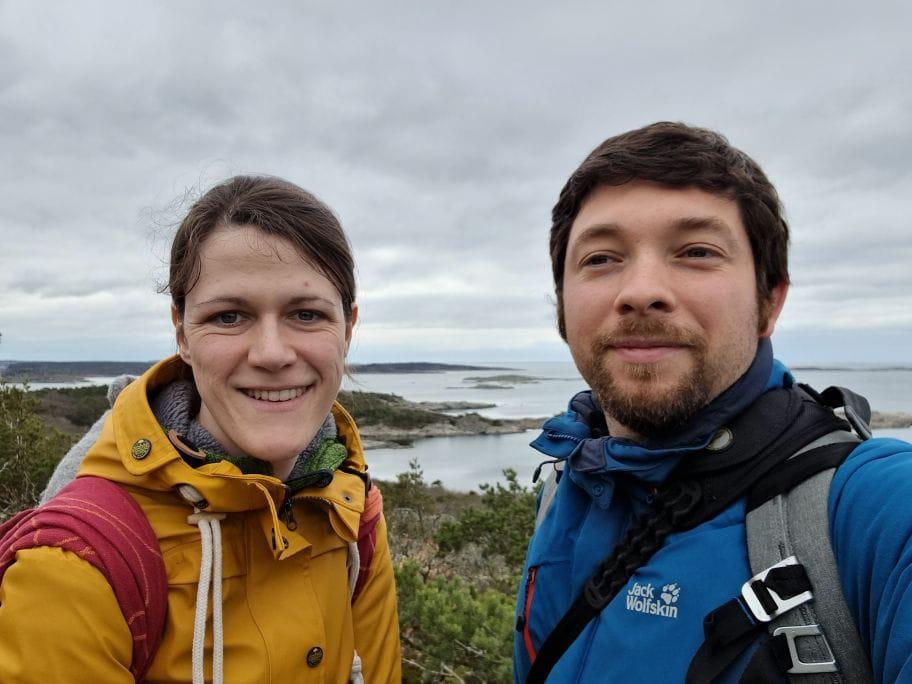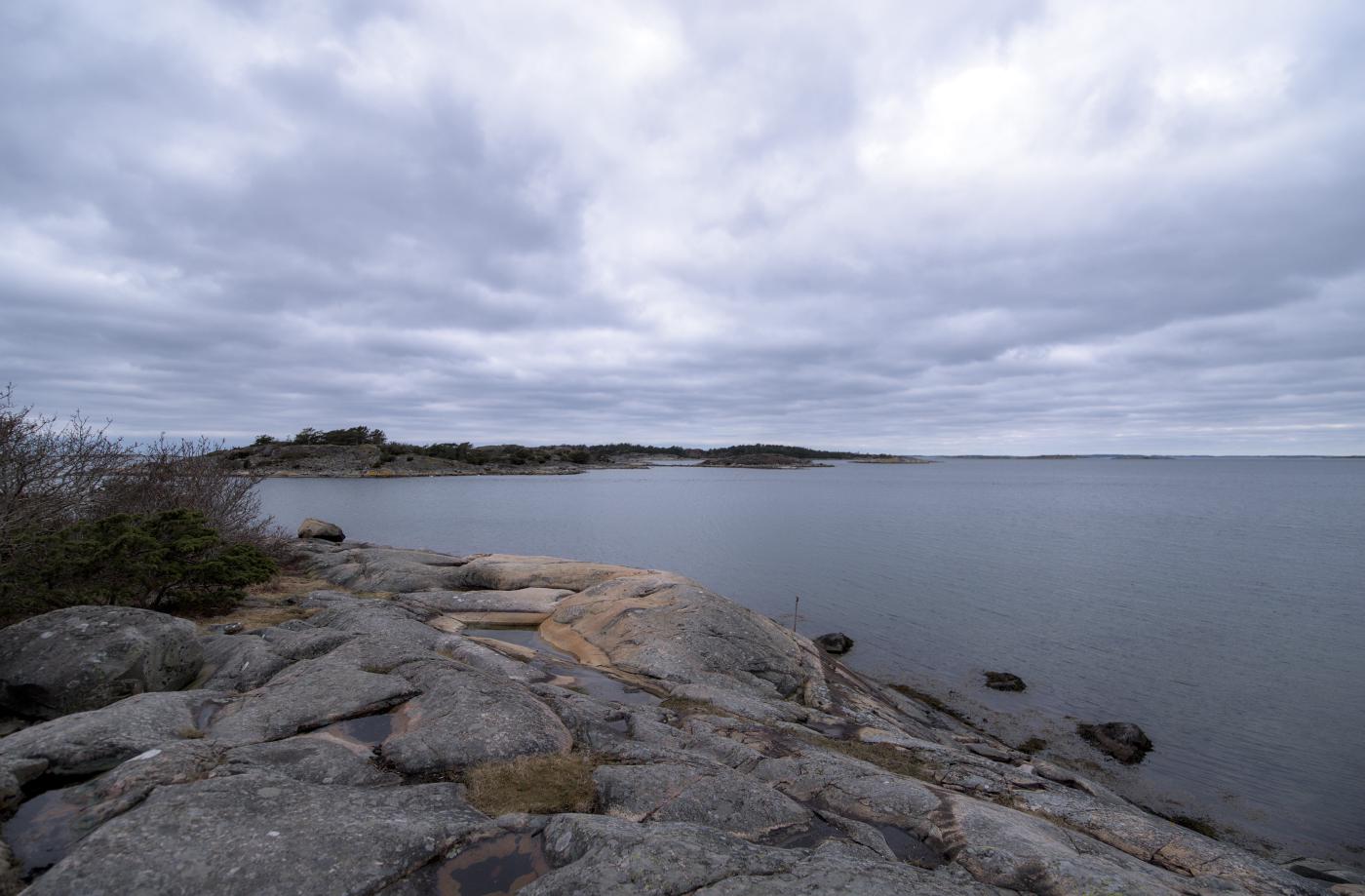 It continues over wooden walkways and a lot of rocky coast around the nature reserve. Again and again you get a great view of the area.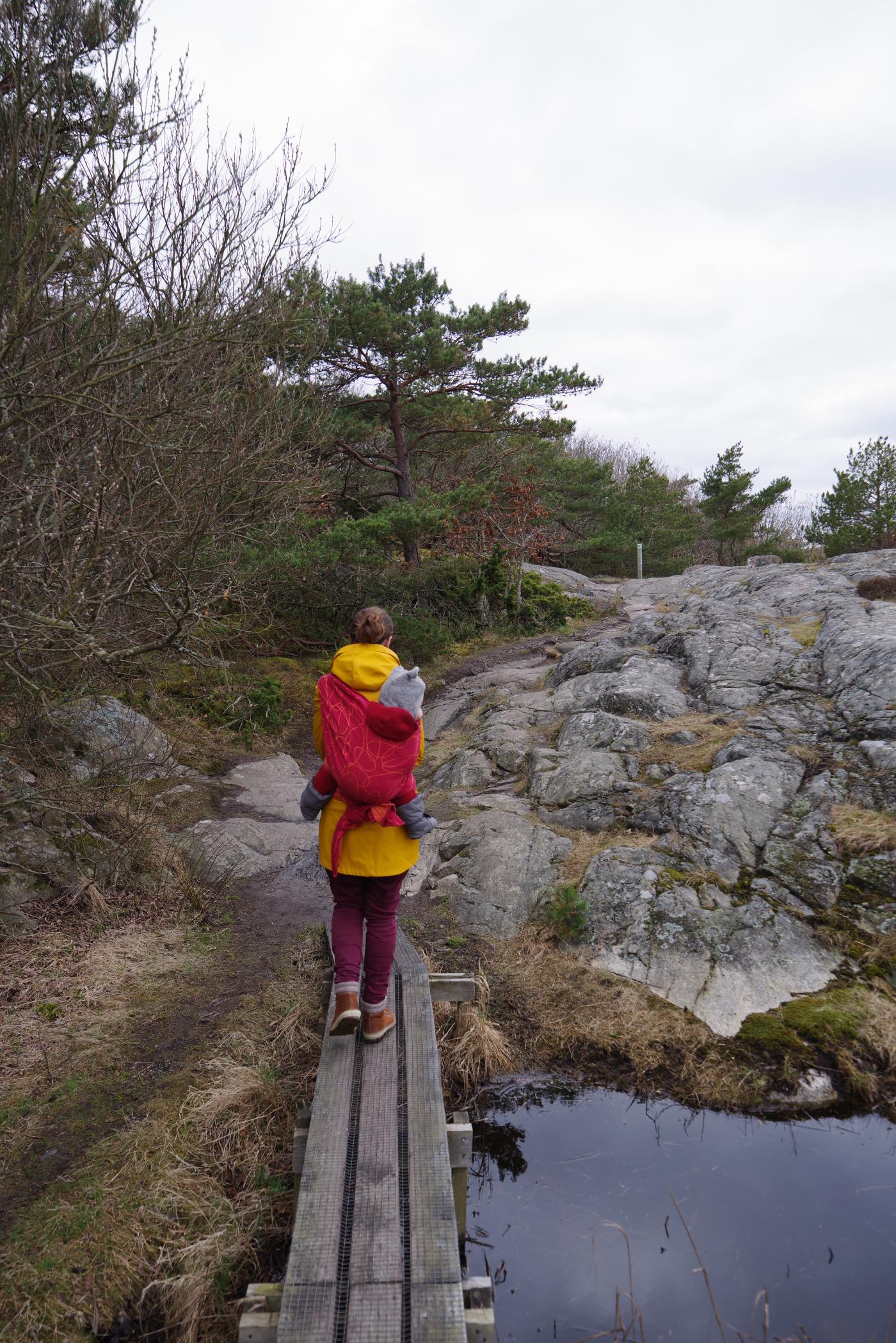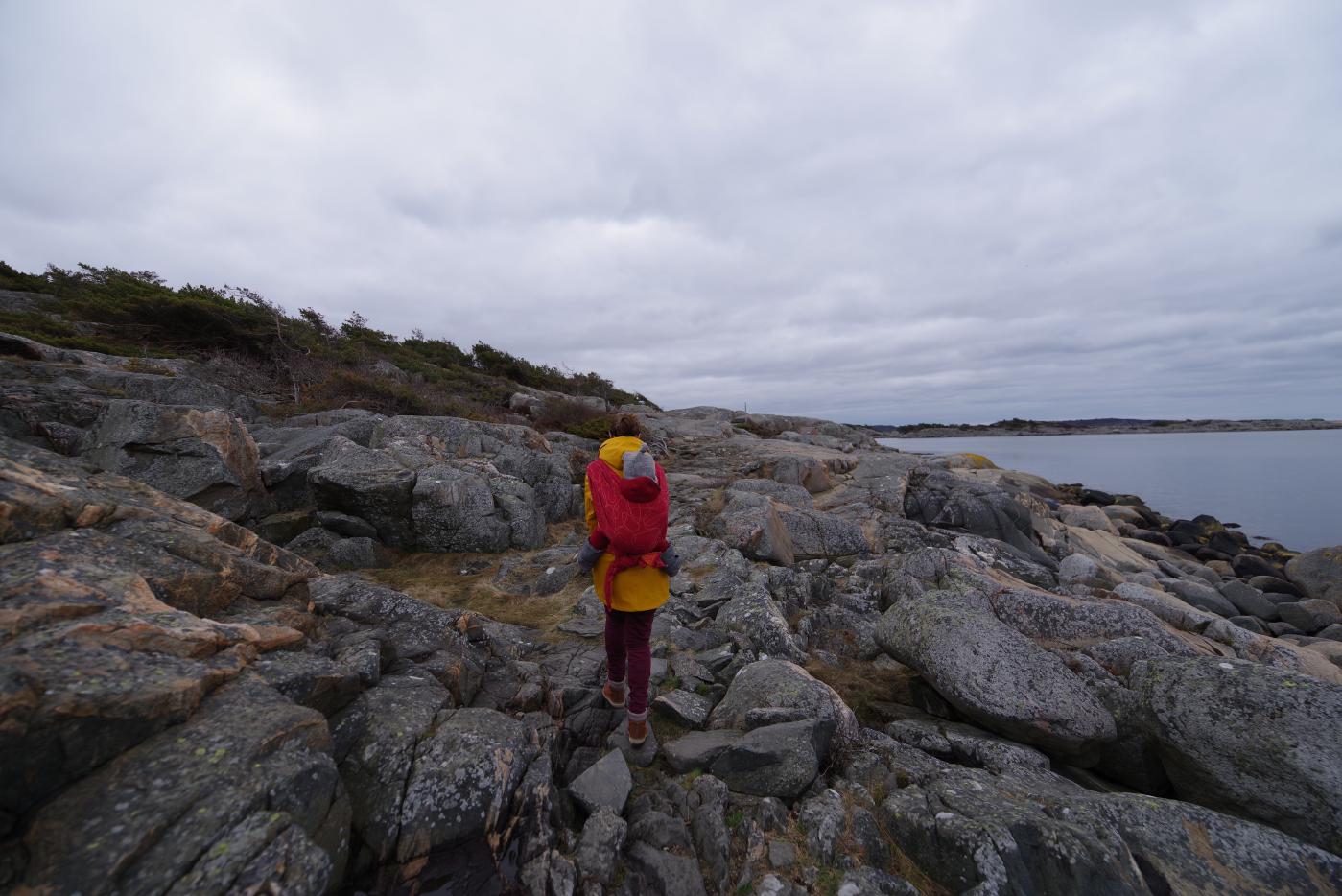 Fjällbacka
On the one hand, we were a bit undecided and, on the other hand, unsure how far we could actually get away from home in such a short time. Fjällbacka was a realistic goal we set ourselves — and lo and behold, we made it.
Unfortunately, the search for a parking space for our Dumbo took some time. More precisely: We knew which parking lot we prefer. However, it was fully booked. The first free space was very diagonally on the slope and so we had to wait a while and move again until we finally managed to get a space with a great view.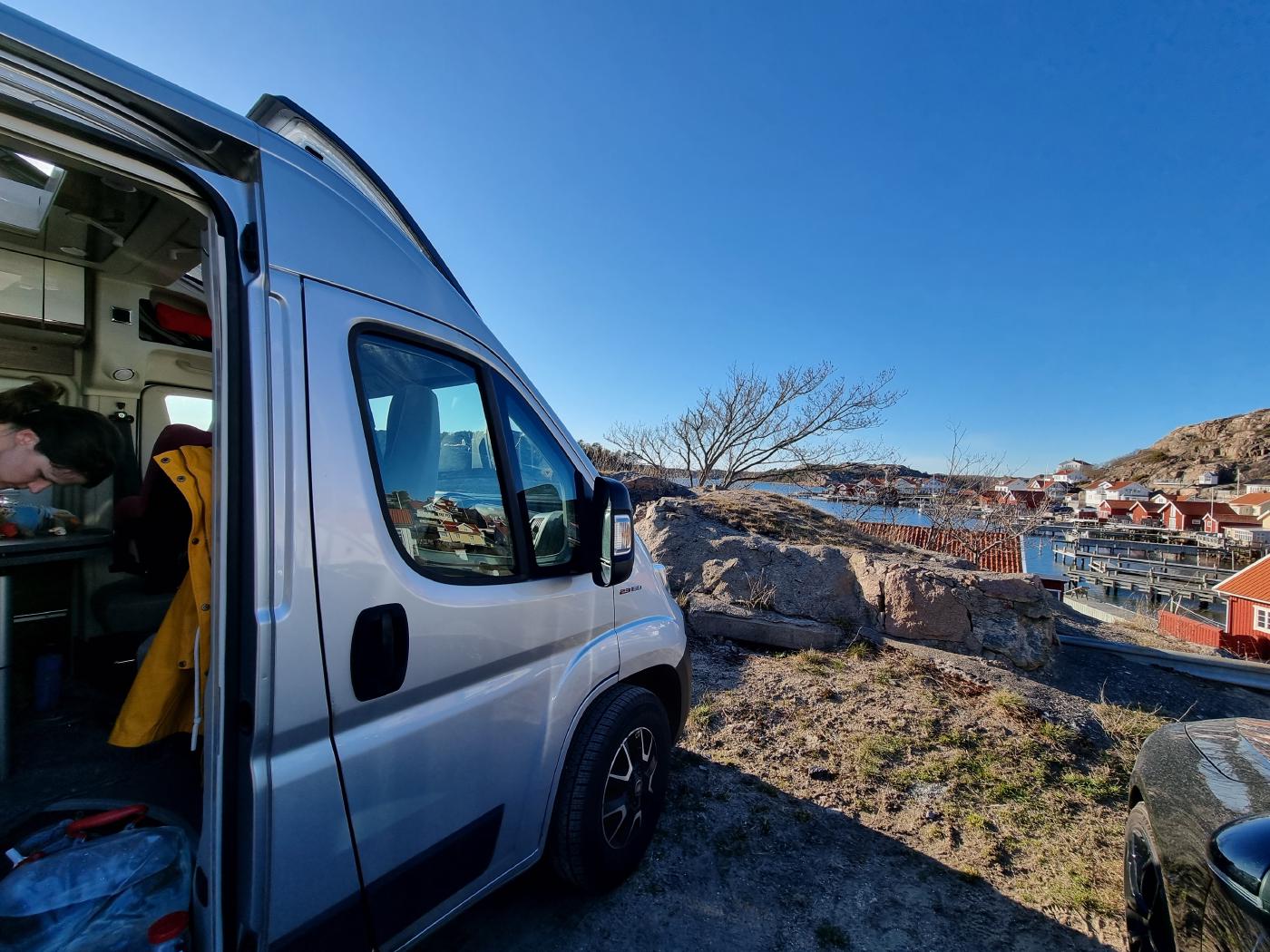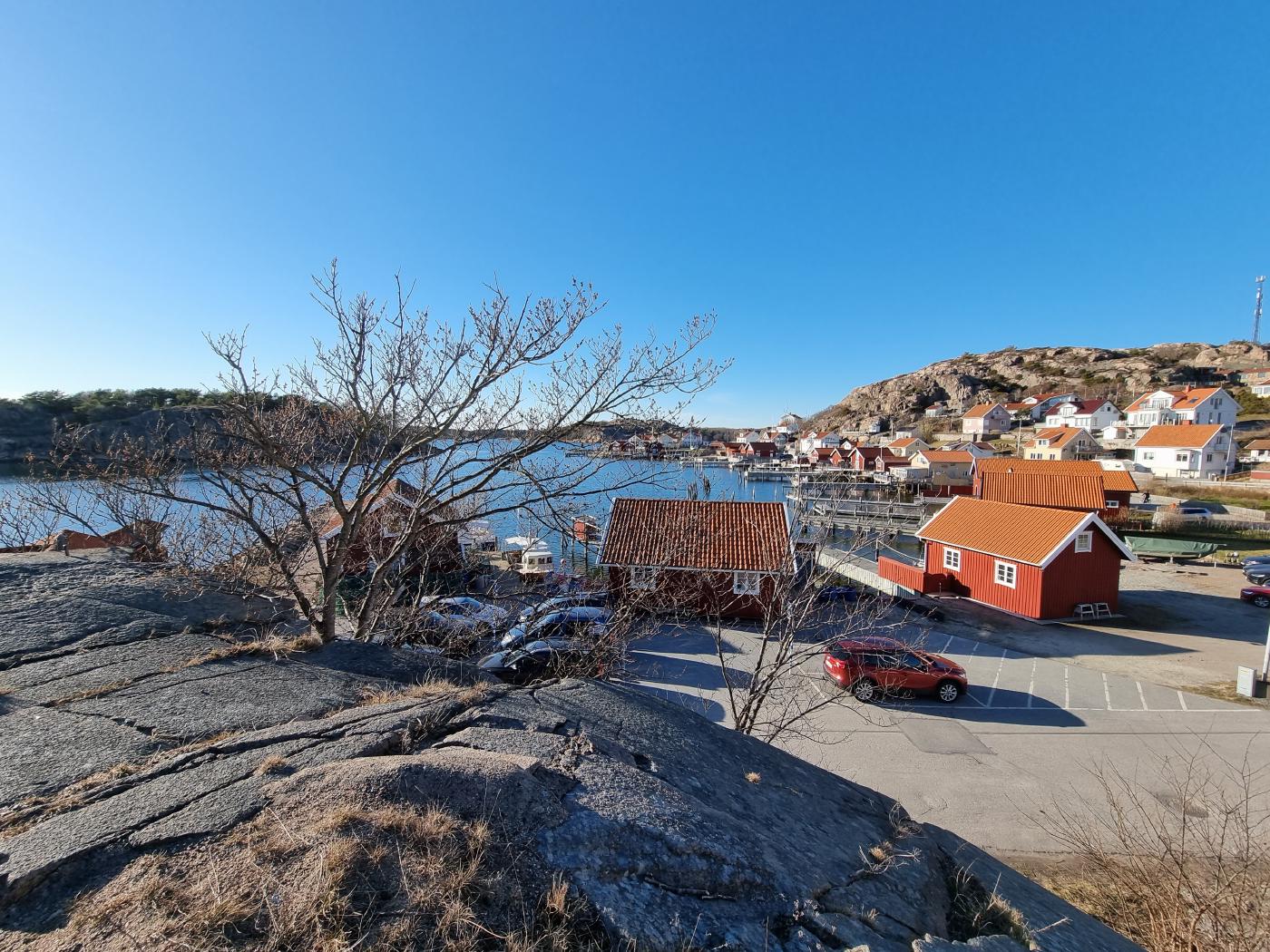 While the mouse crawls into bed, dad has gone off alone to capture the sunset in this fantastic port town. Really picturesque when the sun so envelops the place.

You can see the route from our second day here.
Kungsklyftan
The next morning we start early, we have a full program today. We start with a short hike through the Kungsklyftan, up the mountain in the village and the filming location of Ronja the Robber's Daughter, and then we continue on a boat tour through the Fjällbacka archipelago.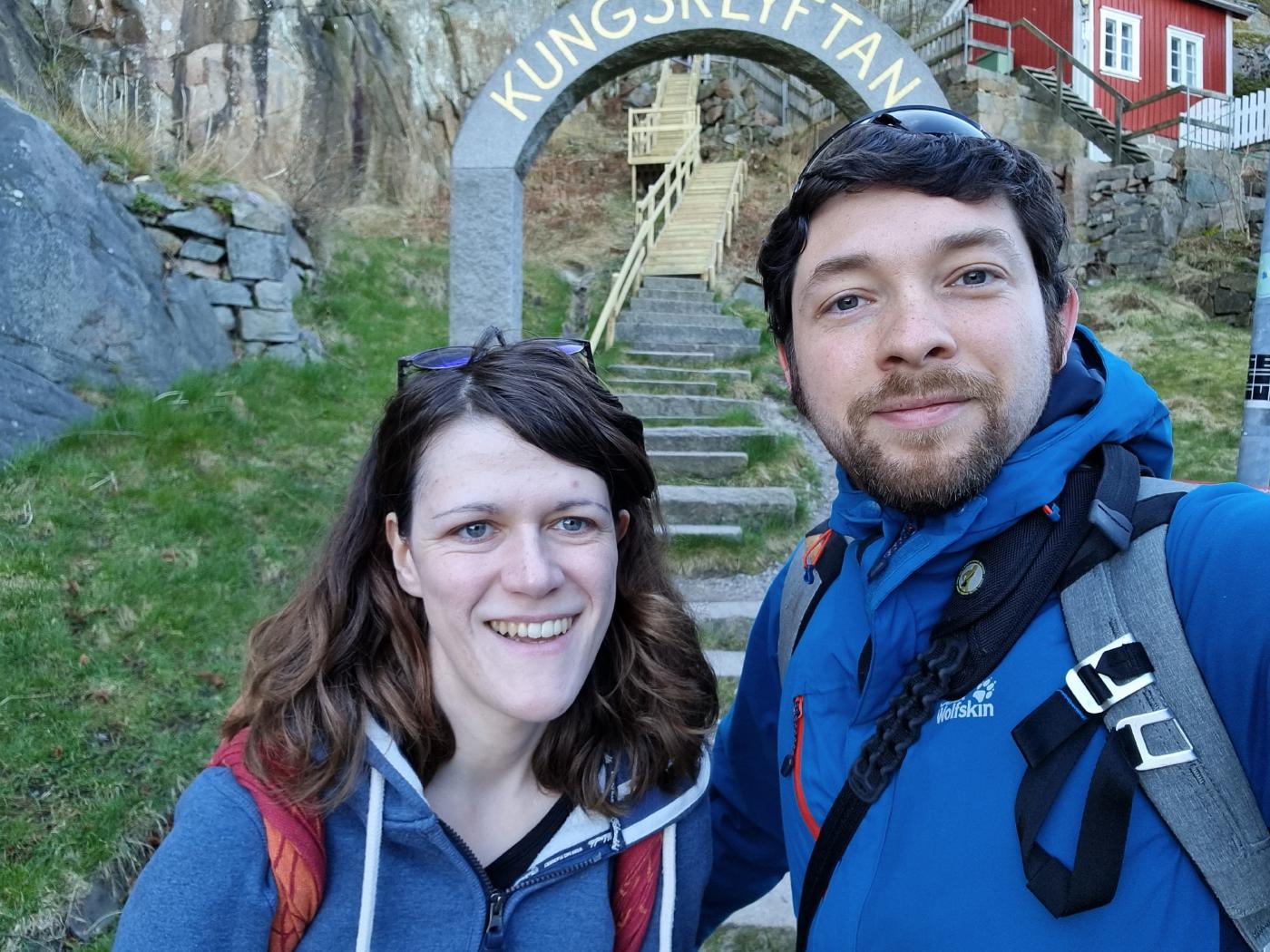 During the ascent we are almost alone. At some point, another couple can only be spotted behind us.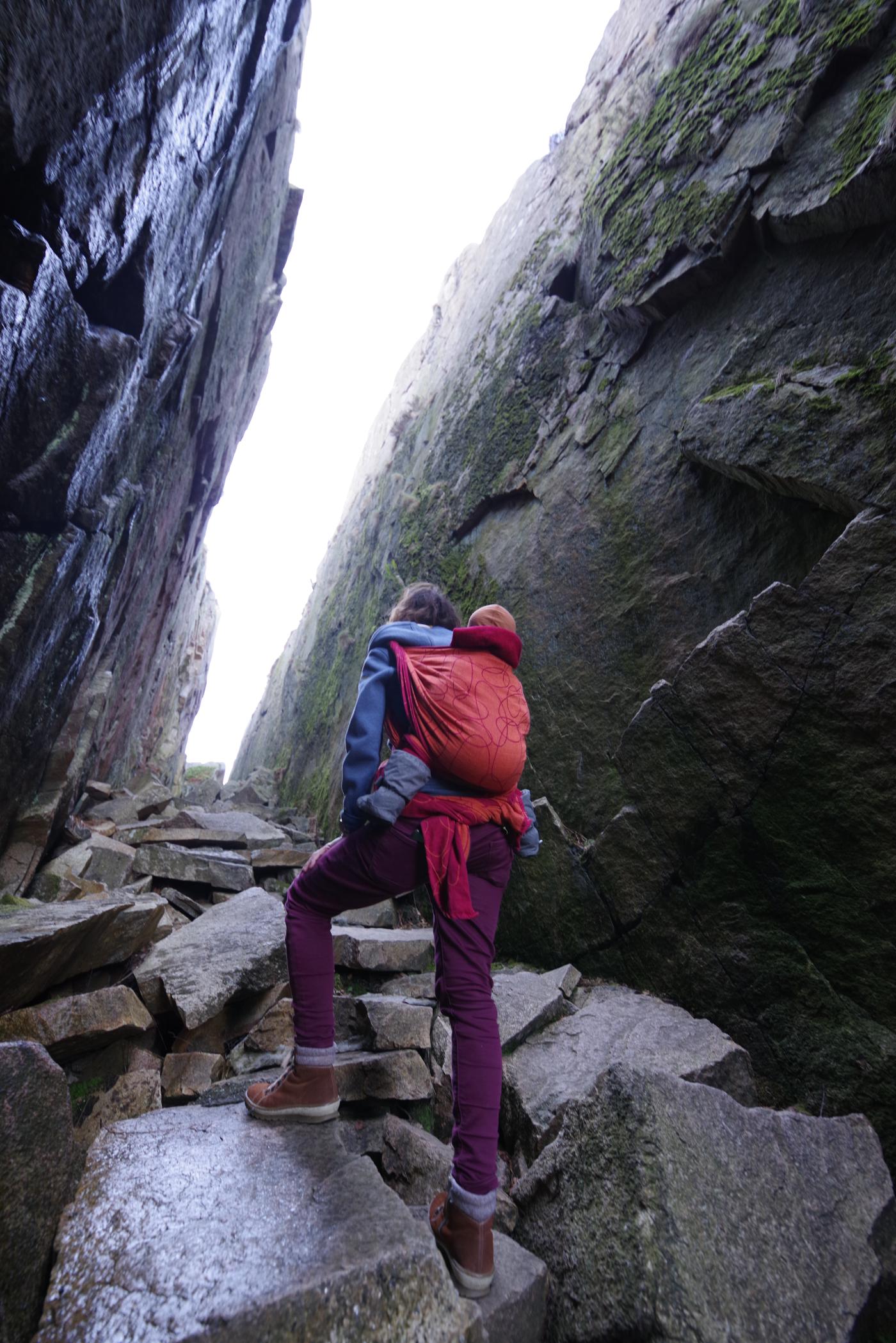 It's kind of creepy to walk under these huge jammed stones.
As expected, at the top of the mountain you have a great view over the entire town and also the archipelago coast region in front of it. Our mouse uses the opportunity to do a few running practice laps with the best view. Every step is worth even more. Just before we begin our descent again, more and more other hikers appear here. We were just in time to have this amazing place all to ourselves.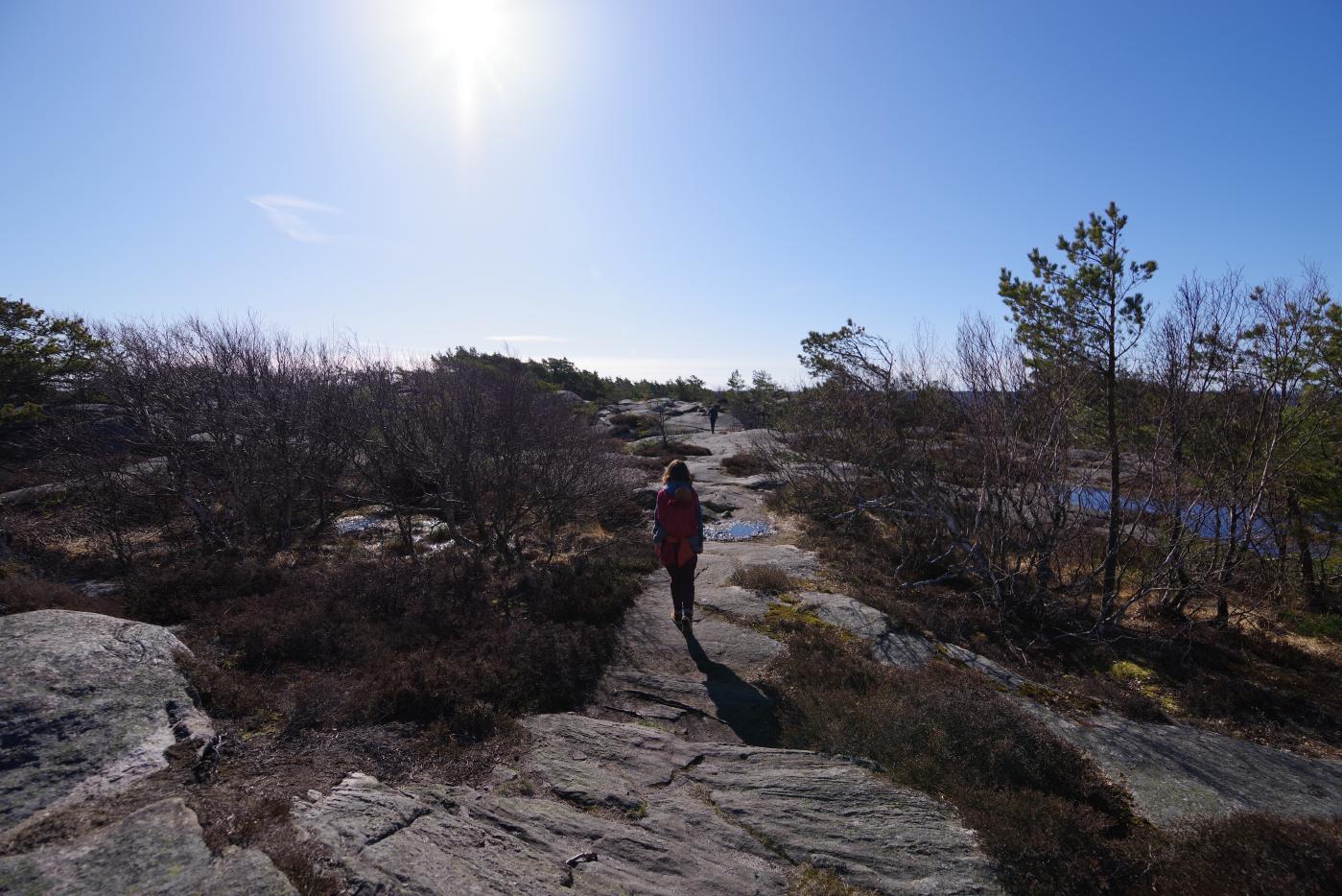 Boat tour
Immediately after a short lunchtime snack at the harbor, our boat tour starts in the archipelago off Fjällbacka. A Frenchman is driving us (at least we think so), on board are a Danish woman, a French woman, two Spaniards living in Denmark and us. Multiculturalism is also popular here.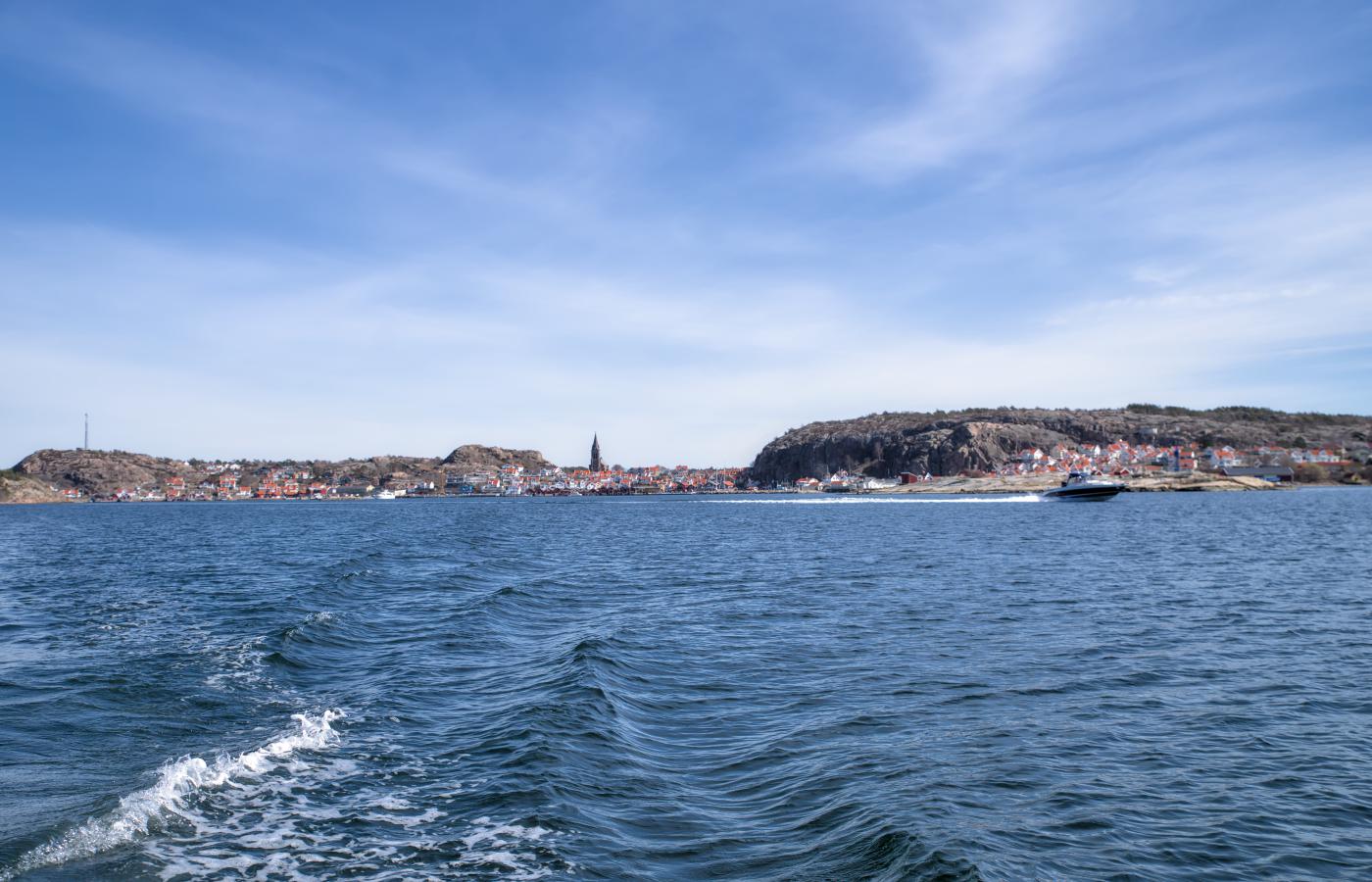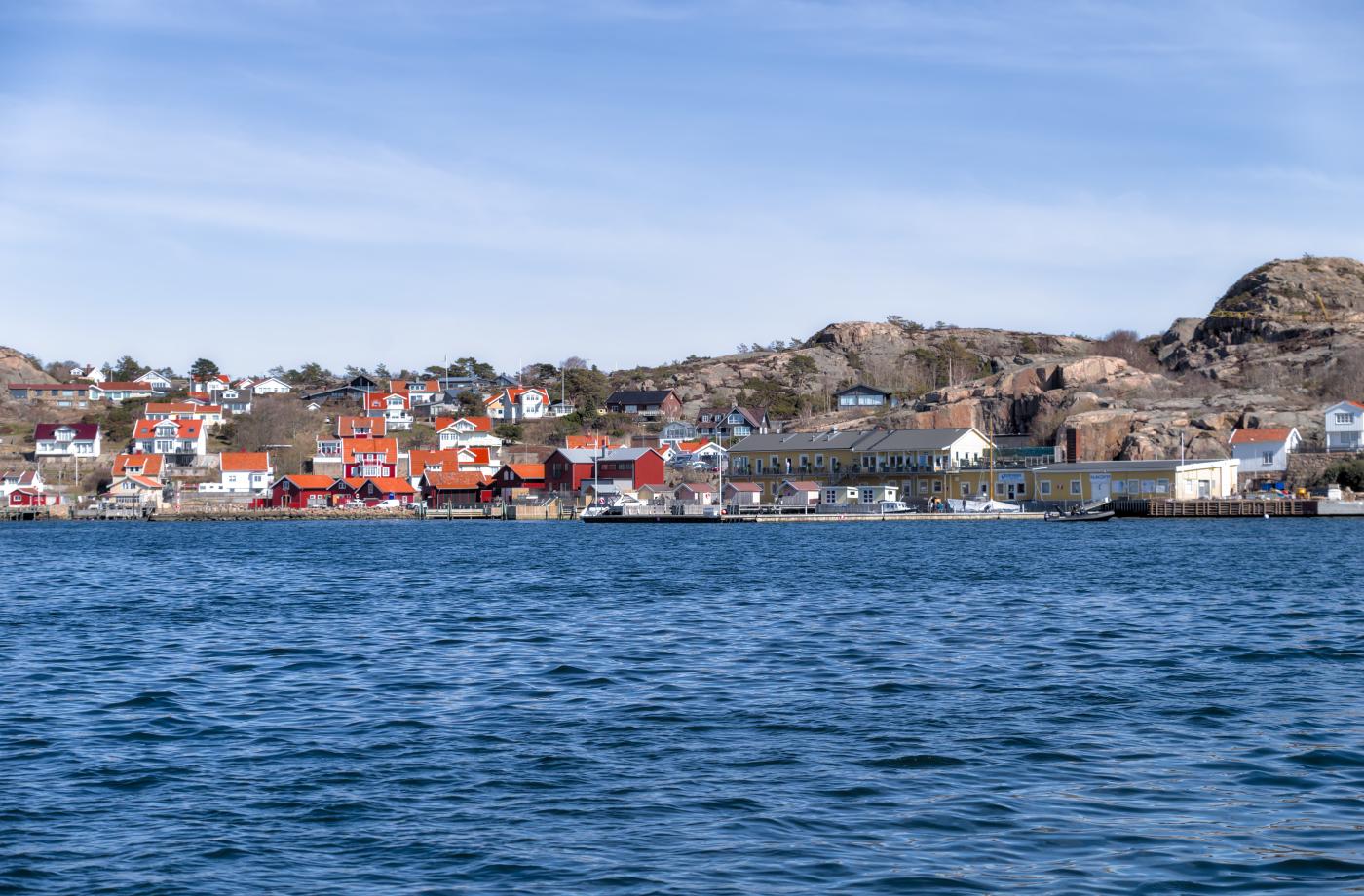 Originally, many very poor people lived on these small islets, mainly fishermen. The fish was collected in large yellow fish magazines and then picked up by the big sailing boats and transported to other countries.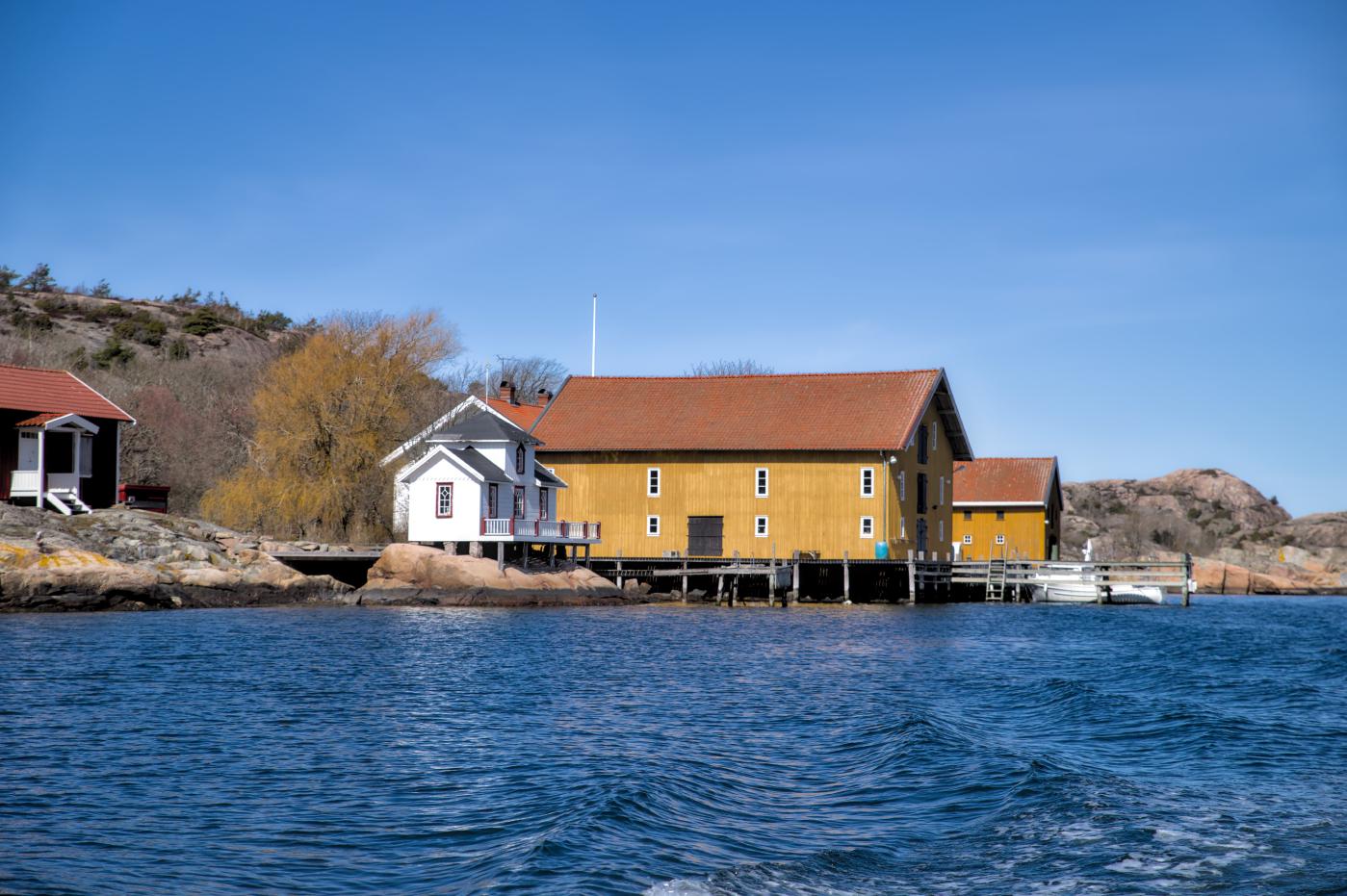 Today, however, most of the houses have been converted into expensive summer houses. Many cost around one to one and a half million euros.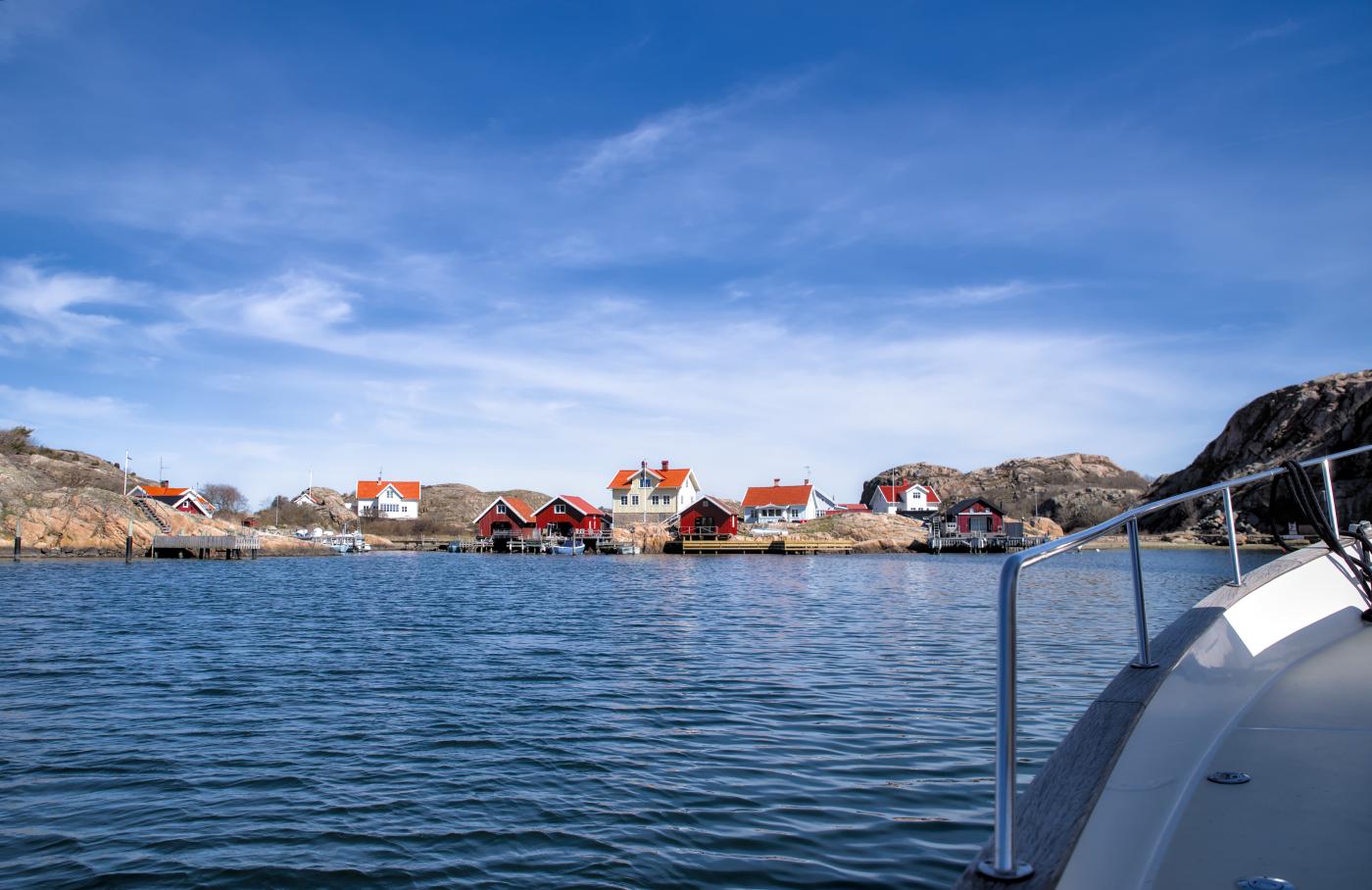 So it happens that of course the Swedish celebrities also have their property here. The Hollywood star Ingrid Bergmann, for example, or a Swedish soccer player.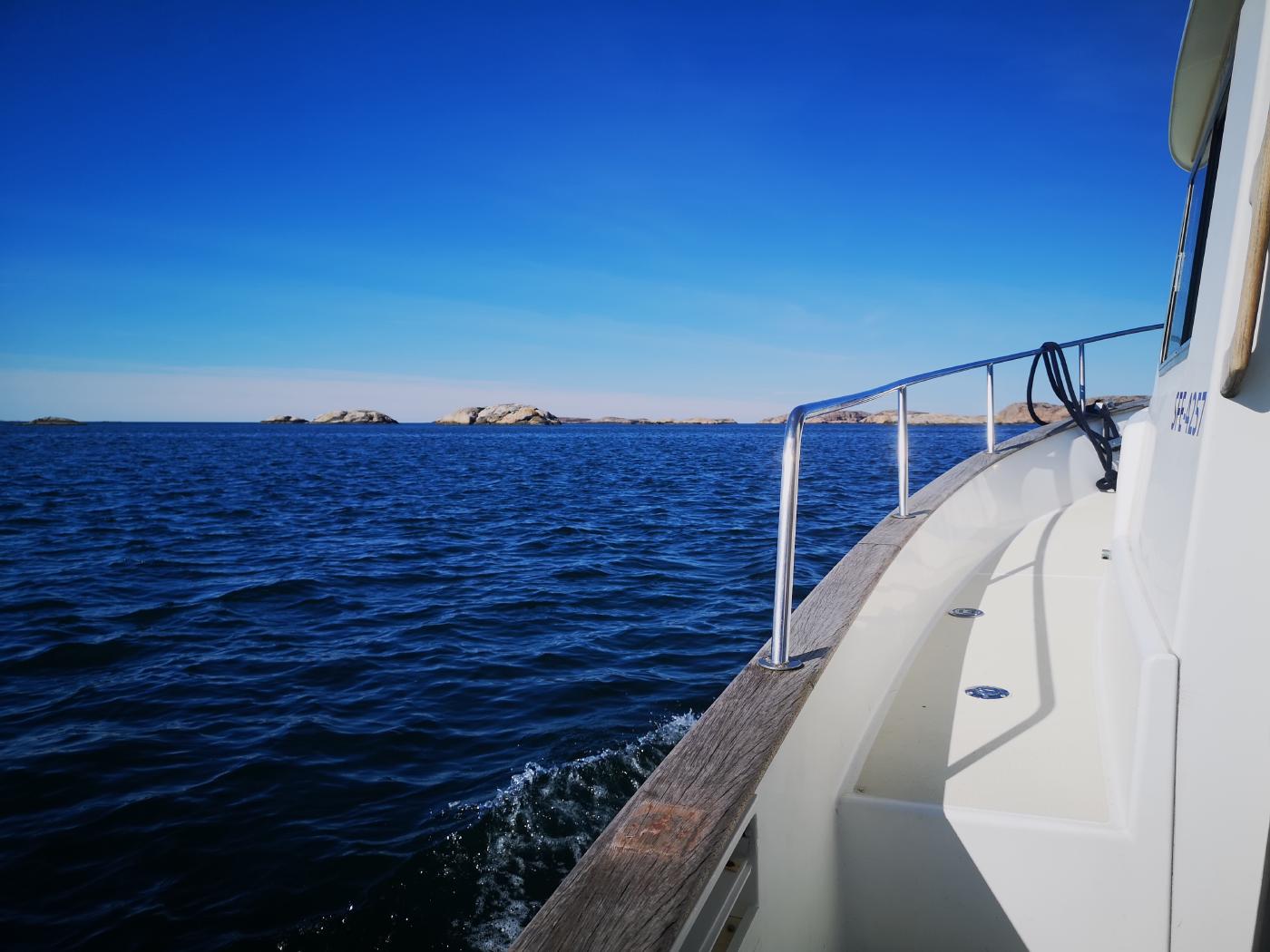 It's amazing how a new island appears behind every rock edge and allows a new perspective on the landscape. A good bit further out are the weather islands, Sweden's westernmost point. We can only see them from afar. In times before the invention of digital sea charts and GPS, the big sailing boats always took a pilot from the weather islands on board to navigate through the skerry coast. It must be more relaxed there.
Kungshamn
Unfortunately we couldn't stay another night in Fjällbacka. Our battery is almost empty and therefore forces us to look for a pitch with electricity again. Kungshamn is said to be a nice little port. The description calls it cozy choas. In fact, that's kind of the case. When we arrive, we park more or less directly on a jetty together with two other mobile homes. There are no places marked, you just stand where it suits you. Pay? Rolf just comes by the next morning and collects cash. No stress, he welcomes us on the phone.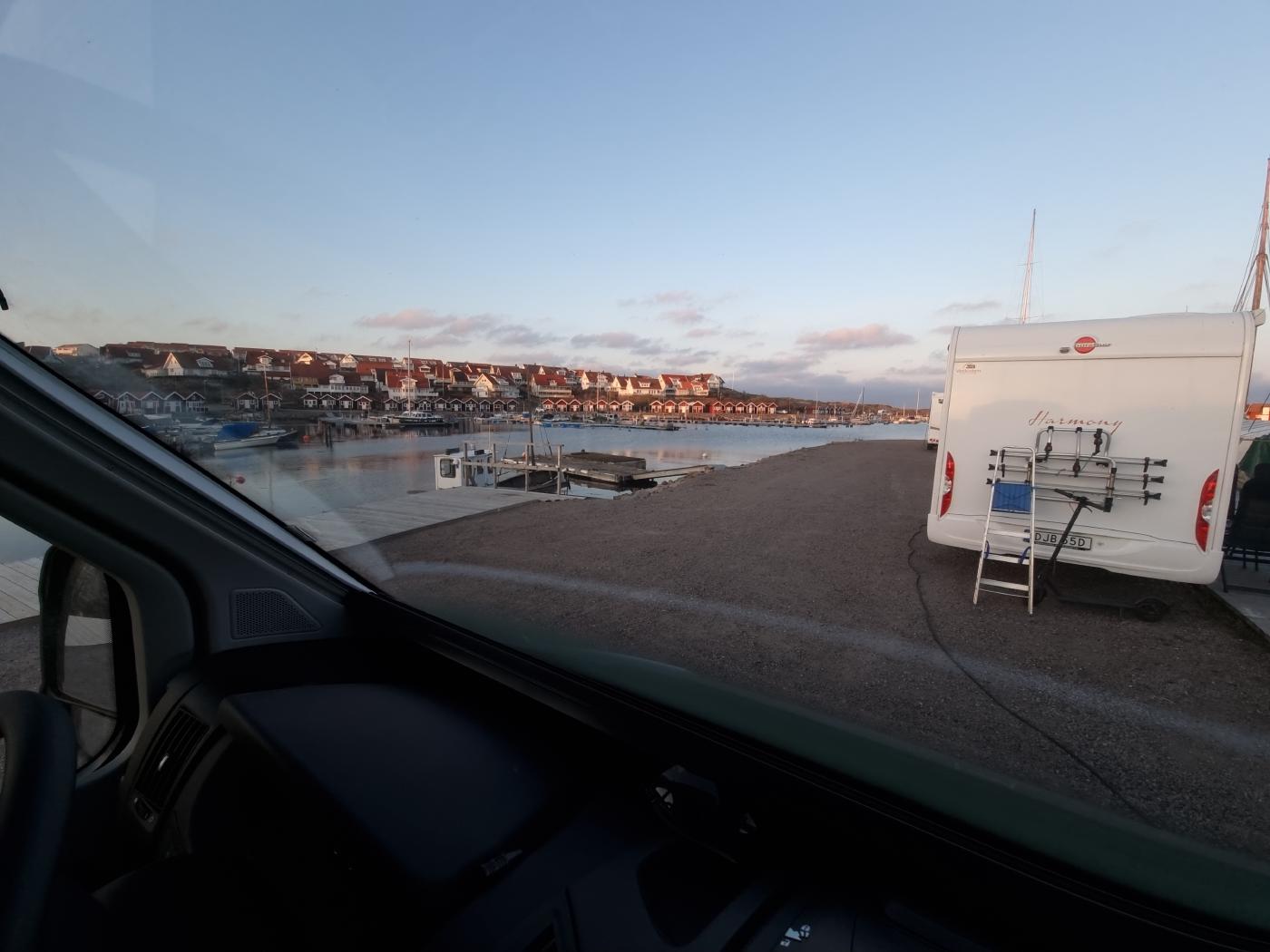 The view is great here too. However, this is one of the few places so far where we will have the sun shining into our car in the morning. After the parking lot is taken, we make our way to do outstanding errands in the local supermarket. Fortunately, the prices here in Sweden are more moderate than in Denmark.
Back at the car, the plan is simply to enjoy the sun on our camping chairs with coffee and tea. While the wind is constantly blowing them almost into the sea when setting up the chairs and our mouse somehow doesn't feel like running around outside anymore, we're going to put our camper specialties to the test again. With our two adapter cables and the cable drum, we puzzle back and forth for 10 minutes how we can now get electricity from the Schuko socket to our car. After much puzzling, it is clear: we need the help of our neighbors. They are quick to join and within a few seconds the power is connected to Dumbo with their adapter cable. Our eyes look a little goofy. Wouldn't we have had the same cable? Pretty stupid if you're too stupid to use the cables properly.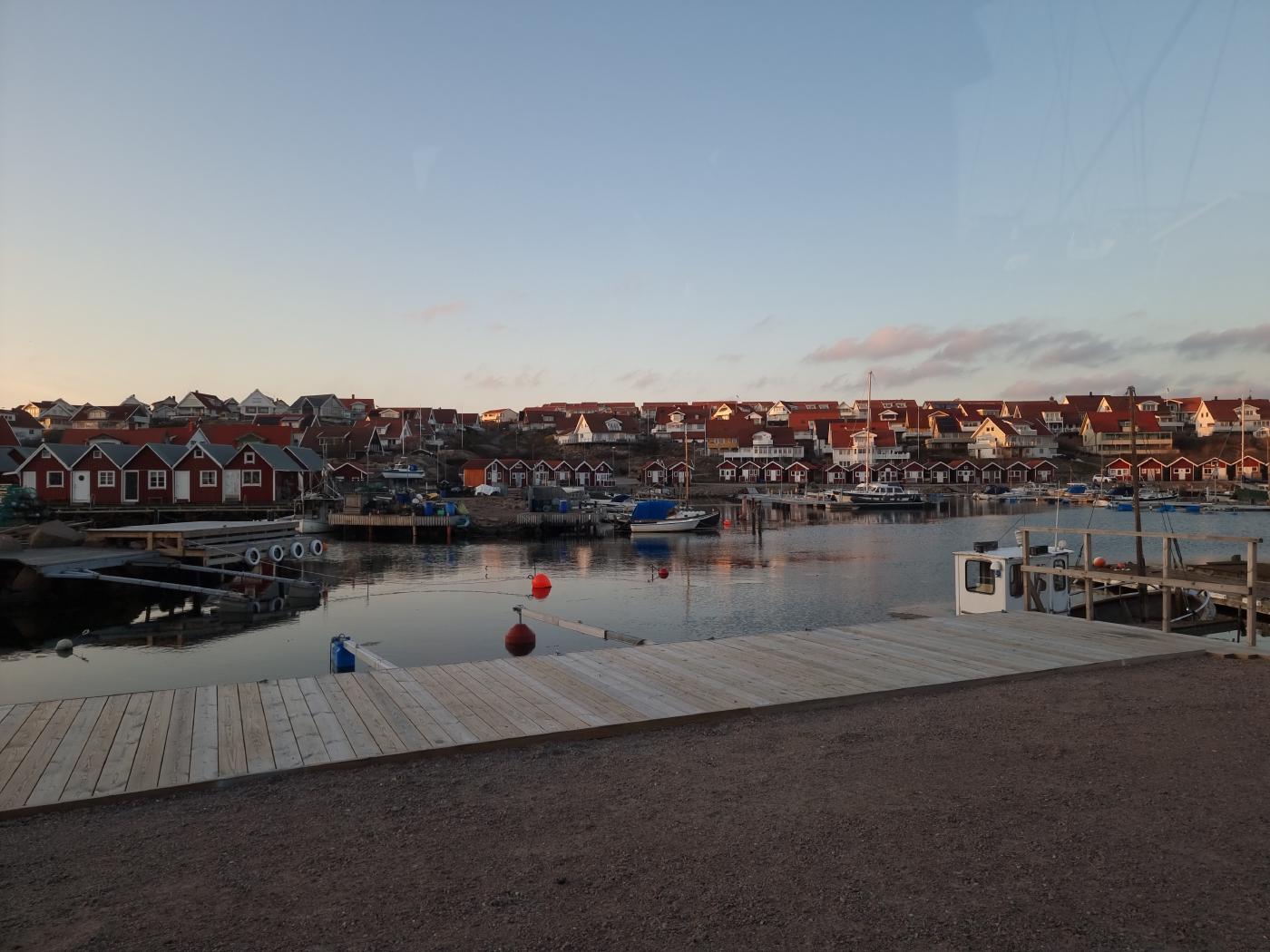 You can see the route from our third day here.
Ramsvikslandet Naturreservat
After a very quiet and pleasant night, we start the new day with a relaxed breakfast. Before we continue, there are still a few more logistical points to be dealt with today. We quickly empty our waste water and are ready to go again for the next few days.
In just 15 minutes you can drive to Ramsvikslandet nature reserve.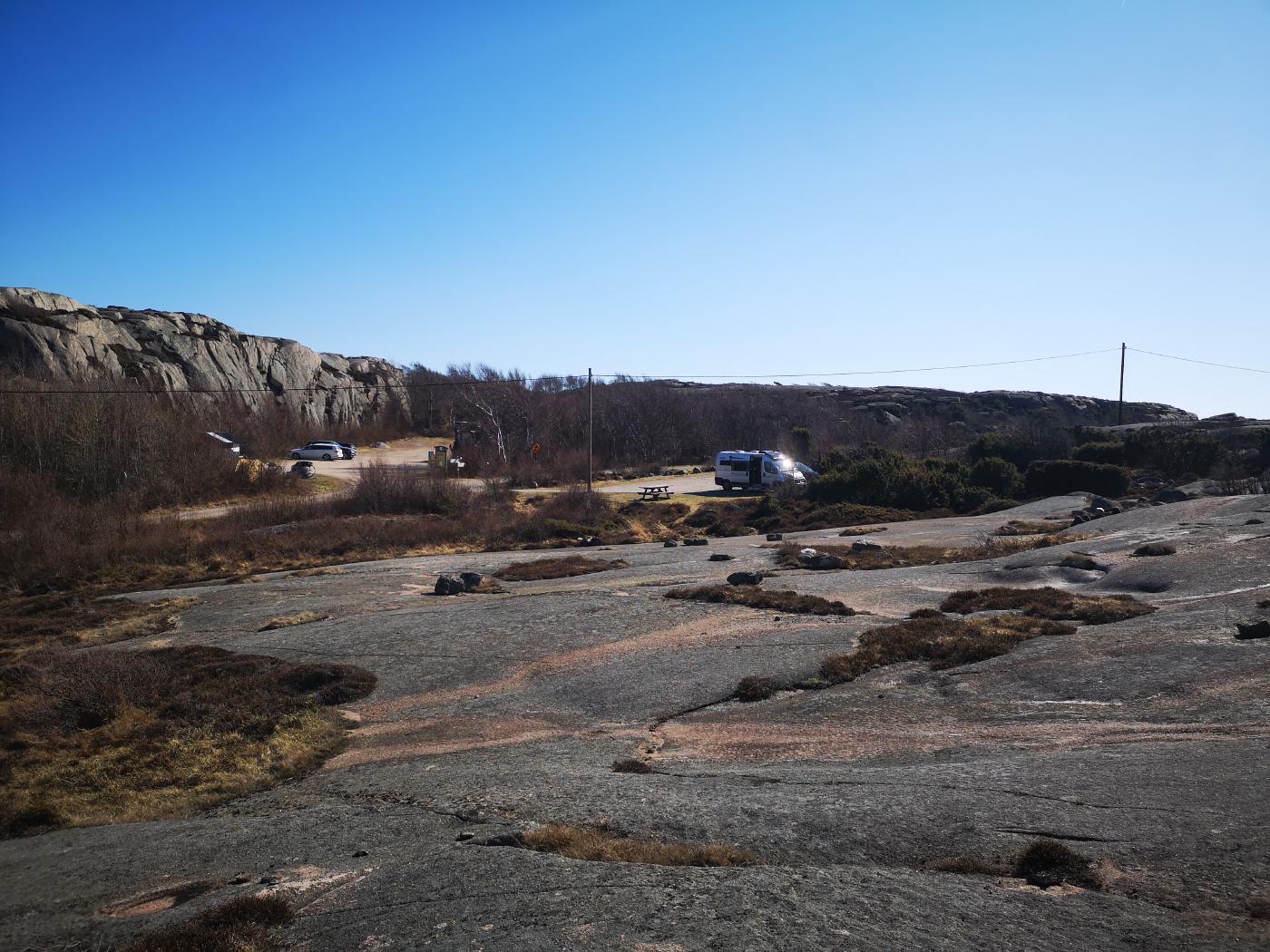 There are several hiking trails in fantastic surroundings. We decide to start on the yellow route (approx. 8km) and can probably shorten it in a few places on the way. So we can relax and see how well we're making progress.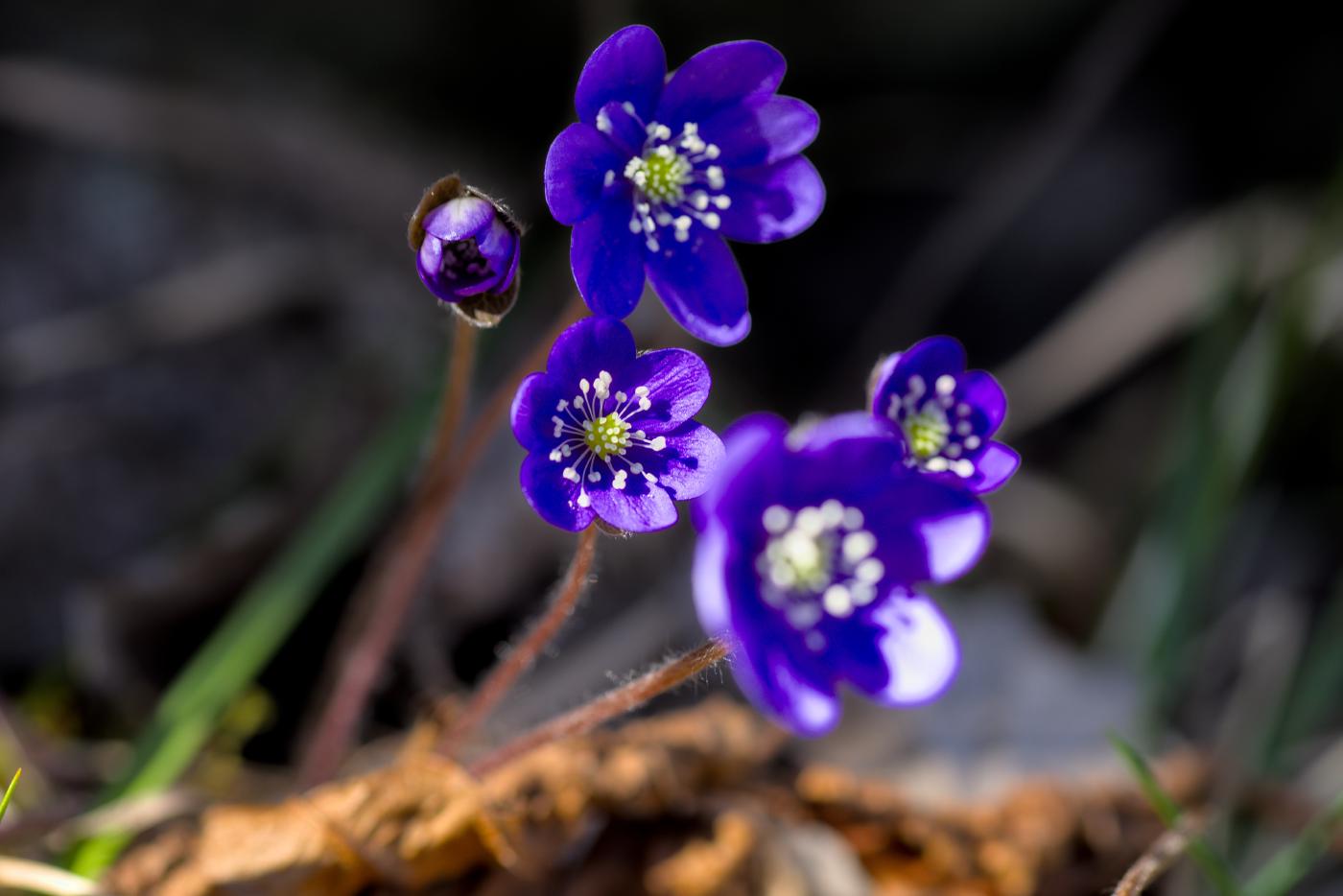 To carry the mouse on these hikes, the backpack with a sturdy cloth has really proven its worth. The weight is reasonably well distributed on the back and the mouse can also enjoy the view a bit.
It goes up some very steep stony passages in the direction of Sote Bonde - a summit nearby: believe it or not 58 meters above sea level.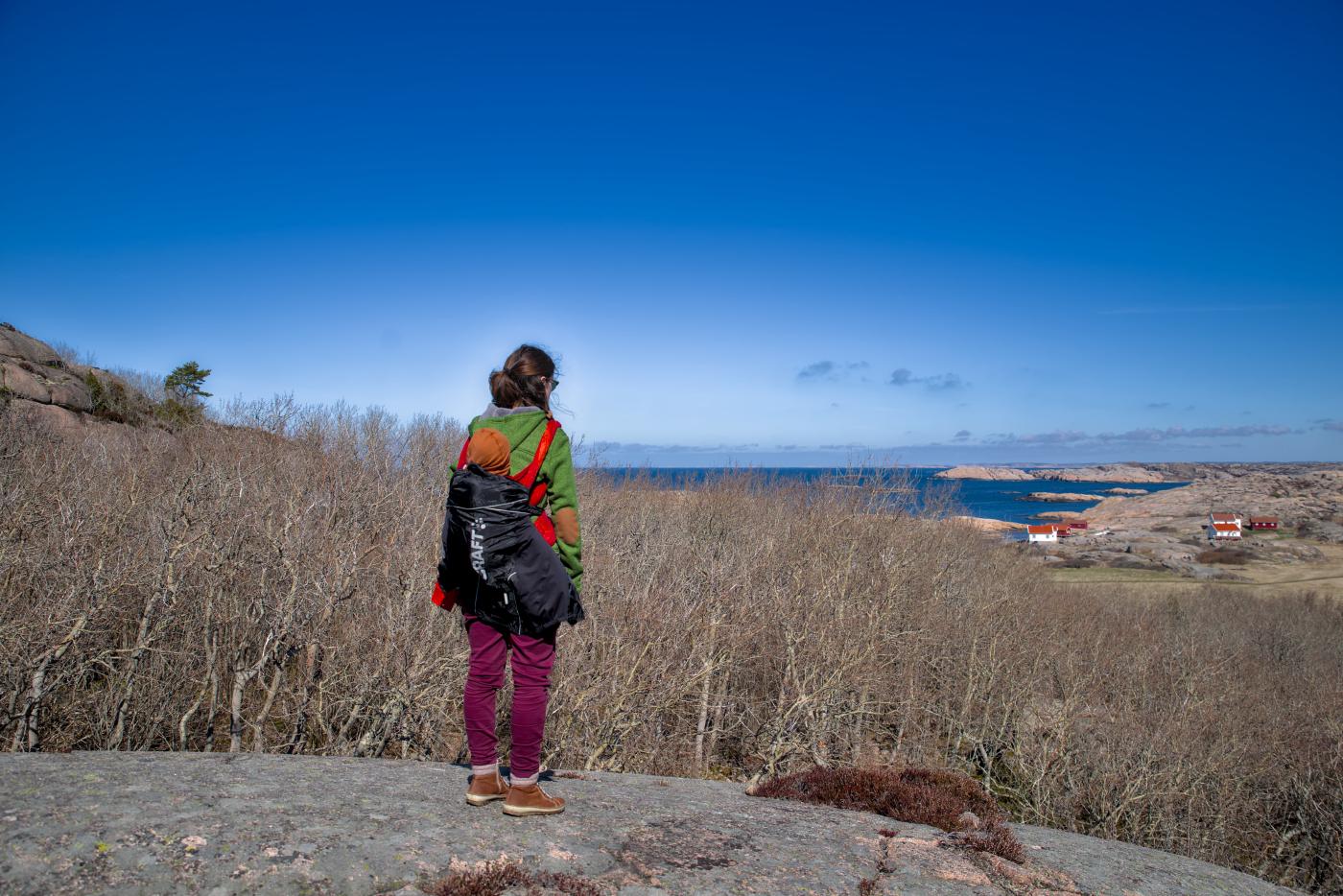 This is definitely exhausting with our photo and child luggage, but still doable. You shouldn't start too quickly, you have to take breaks where necessary (= if the child thinks it's necessary) and be able to flexibly reschedule if necessary. So after only about 40 minutes we have already made our first longer break. Here there is again a walk with a view for the mouse, a little snack for everyone and a few photos for you.
After that, the terrain becomes increasingly difficult. At times, hands are also needed to be able to climb the stony path.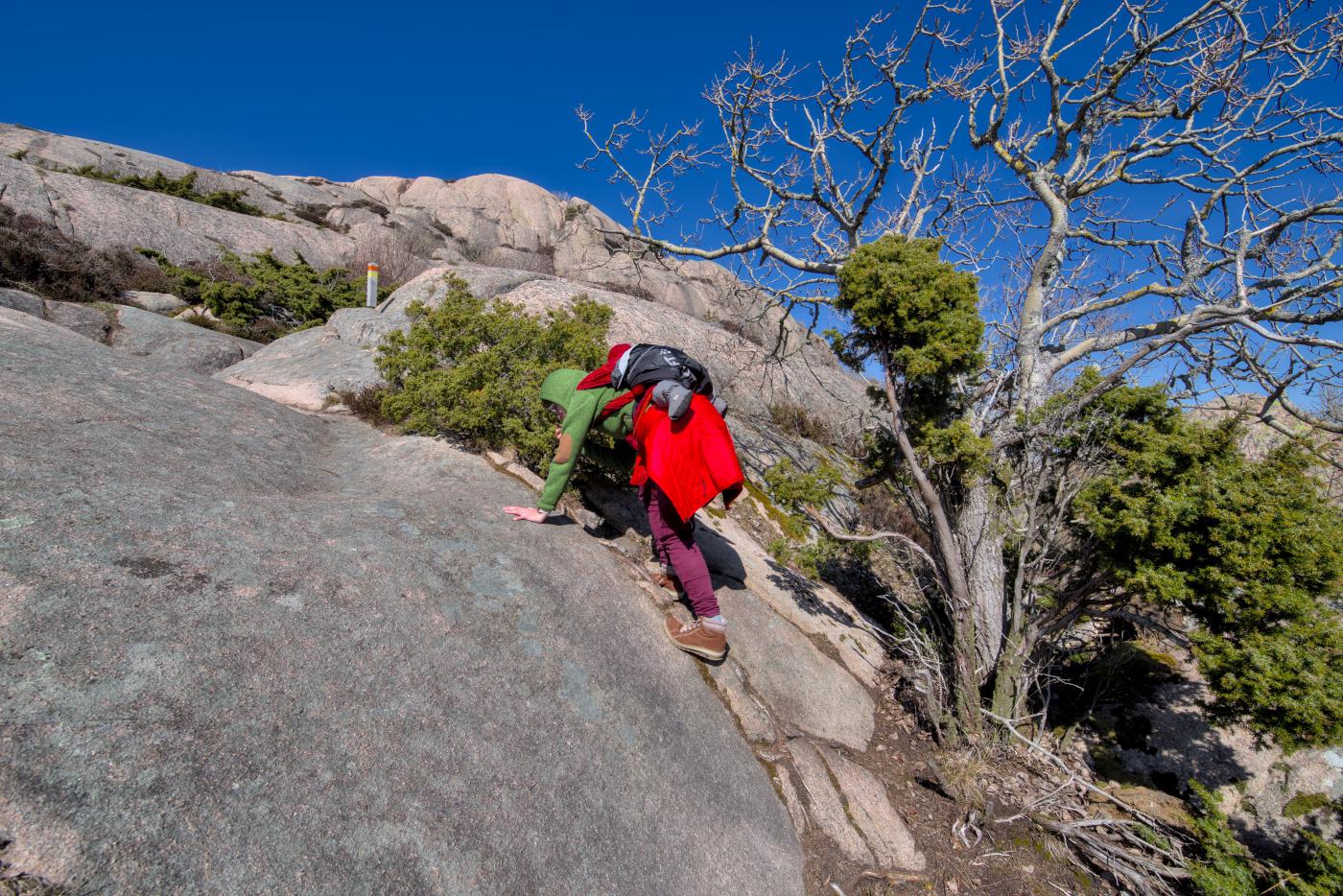 A couple coming towards us promises a much easier path along the coast after only a few hundred meters. Hardly arrived there we enjoy a magnificent view over the rocky skerry coast to the sea.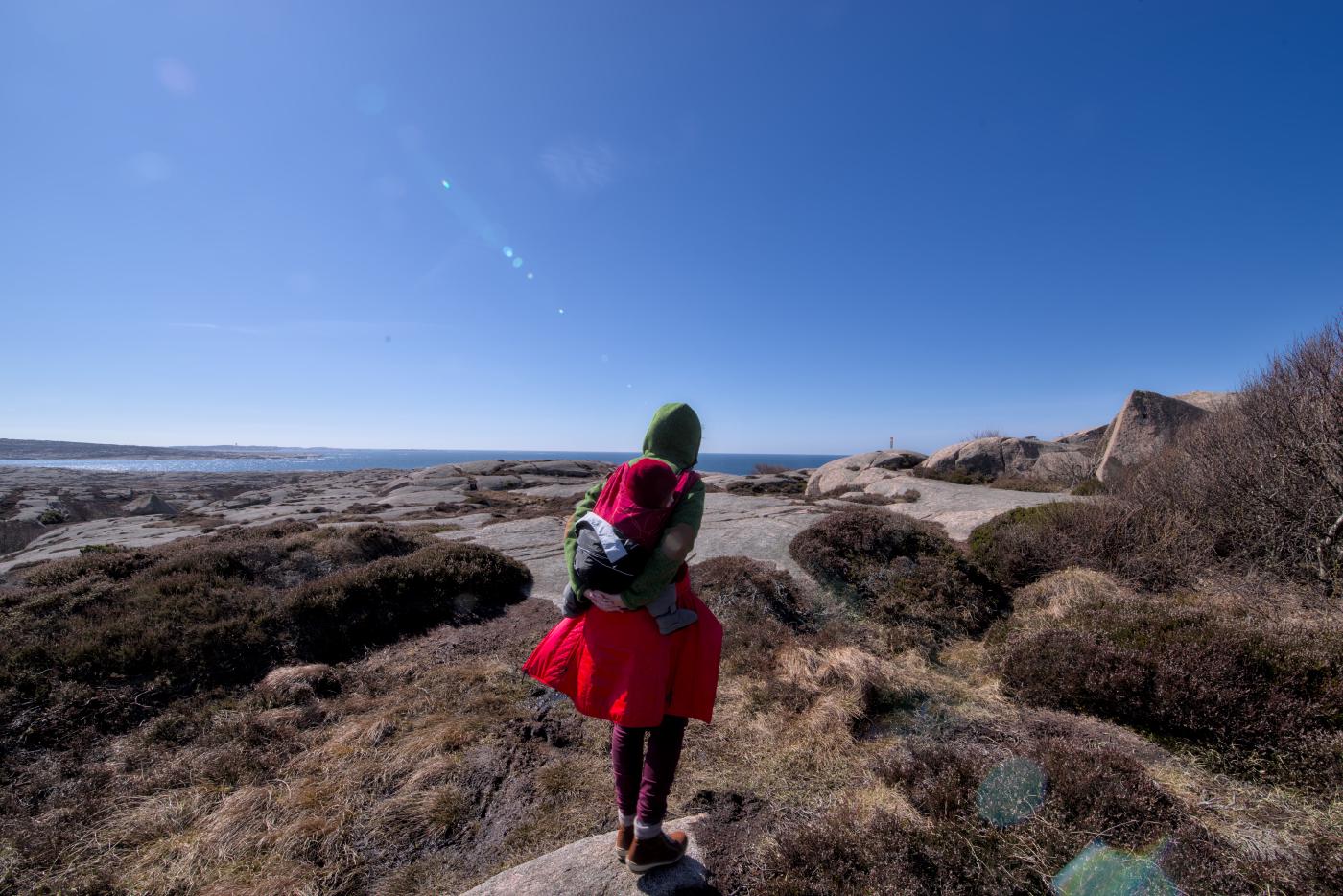 And it is indeed much easier to walk over these stones, washed flat and smooth by the last ice age.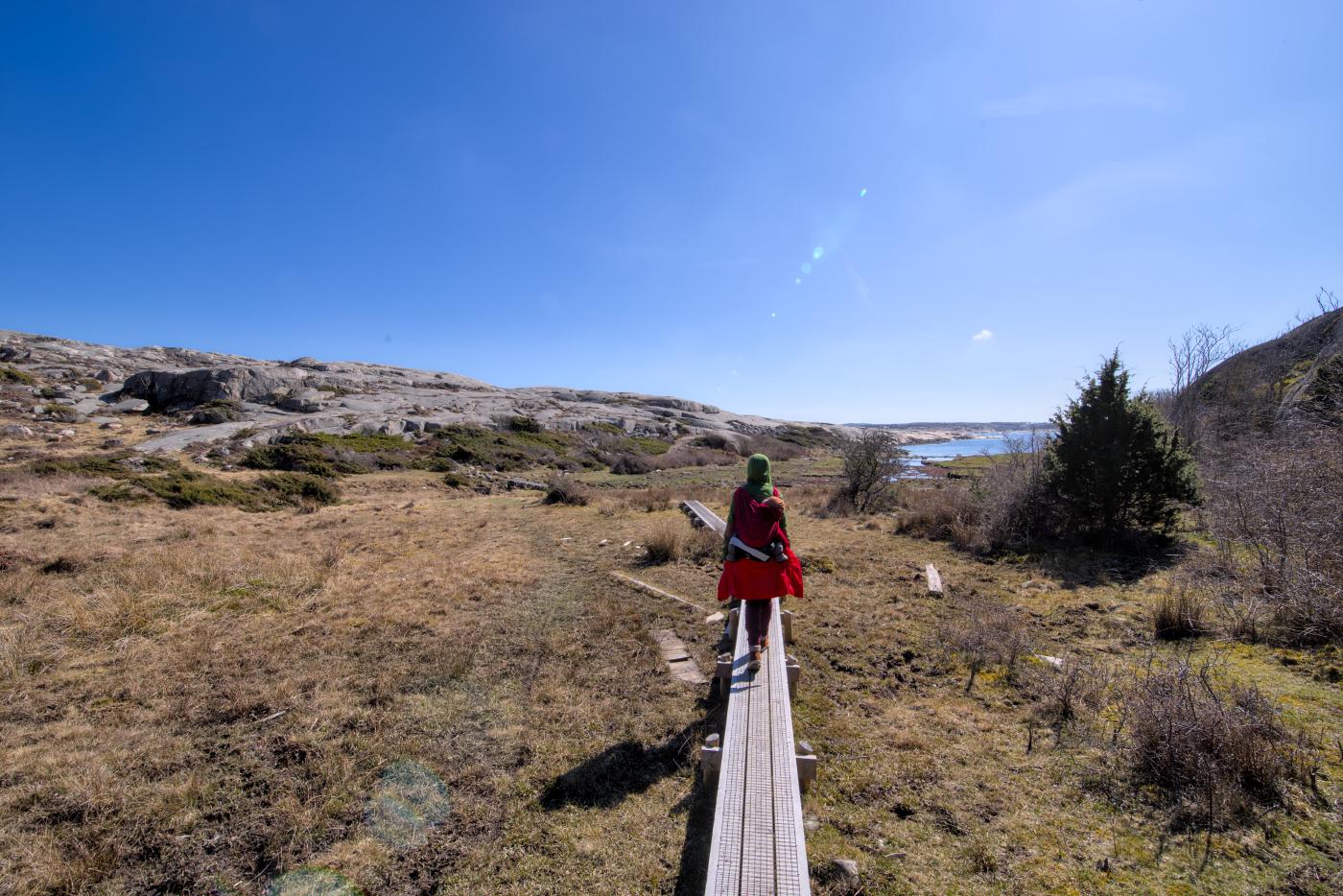 As expected, we shorten our yellow route about halfway and are back at our parking lot after almost 6 kilometers. The last part of the way took us back through a canyon — ok, I don't know if the highest 20 meter difference in altitude justifies the word canyon — through a valley.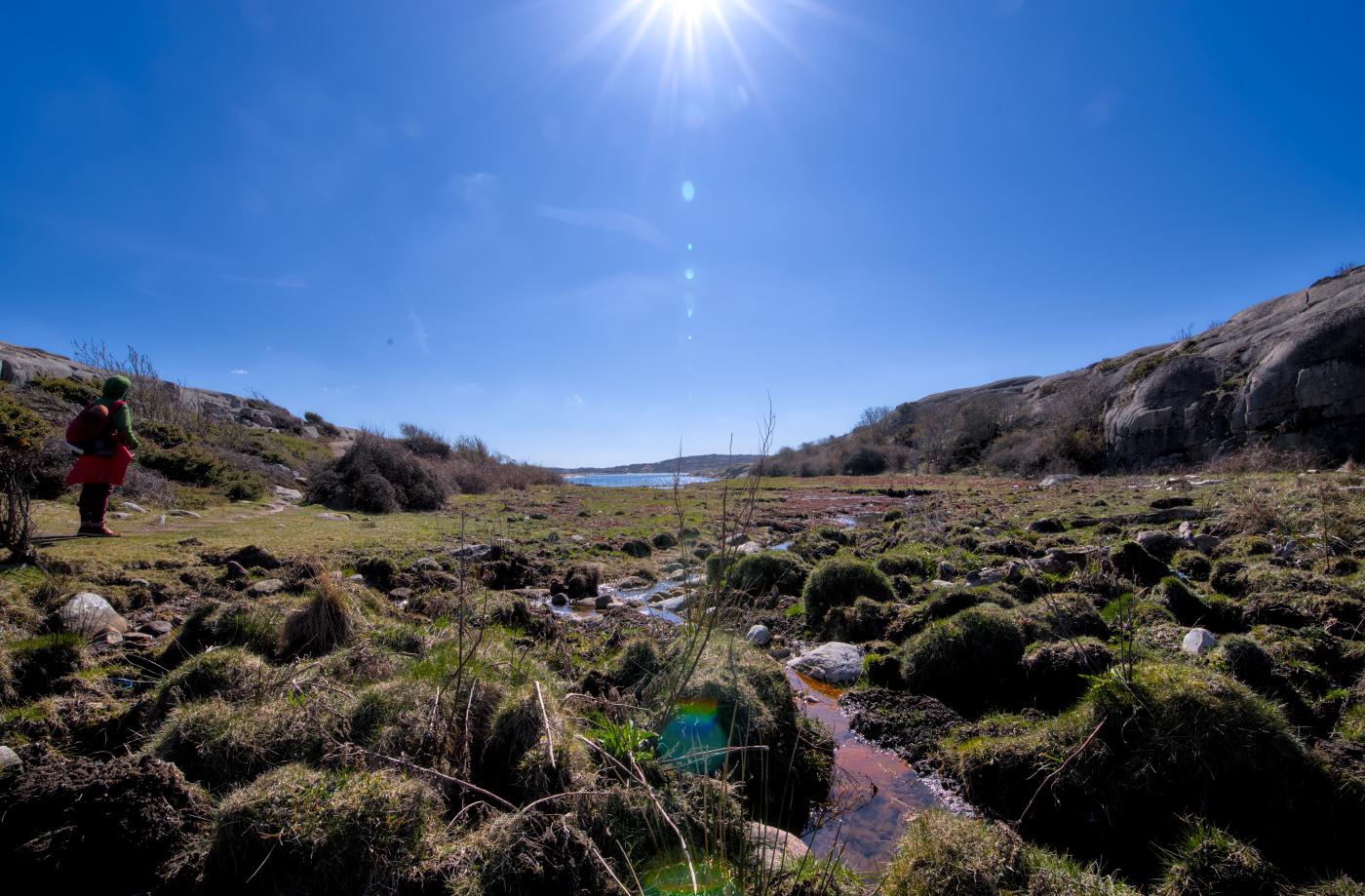 As a result, the path was really very varied overall. At the beginning over meadows and through the forest to a simple summit (Sote Bonde), then through alpine terrain to the coast, there over smooth rocky desert along the water and then back through a valley with a stream. There really isn't anything missing.
At the car we enjoy a coffee and quickly poured chocolate pudding. While we relax our legs on the picnic blanket, we cook the potatoes for dinner in the car.
Tour to Tuvesvik
For the next night we chose a simple parking lot with a nice view. The way there takes us via a larger and two smaller cable ferries.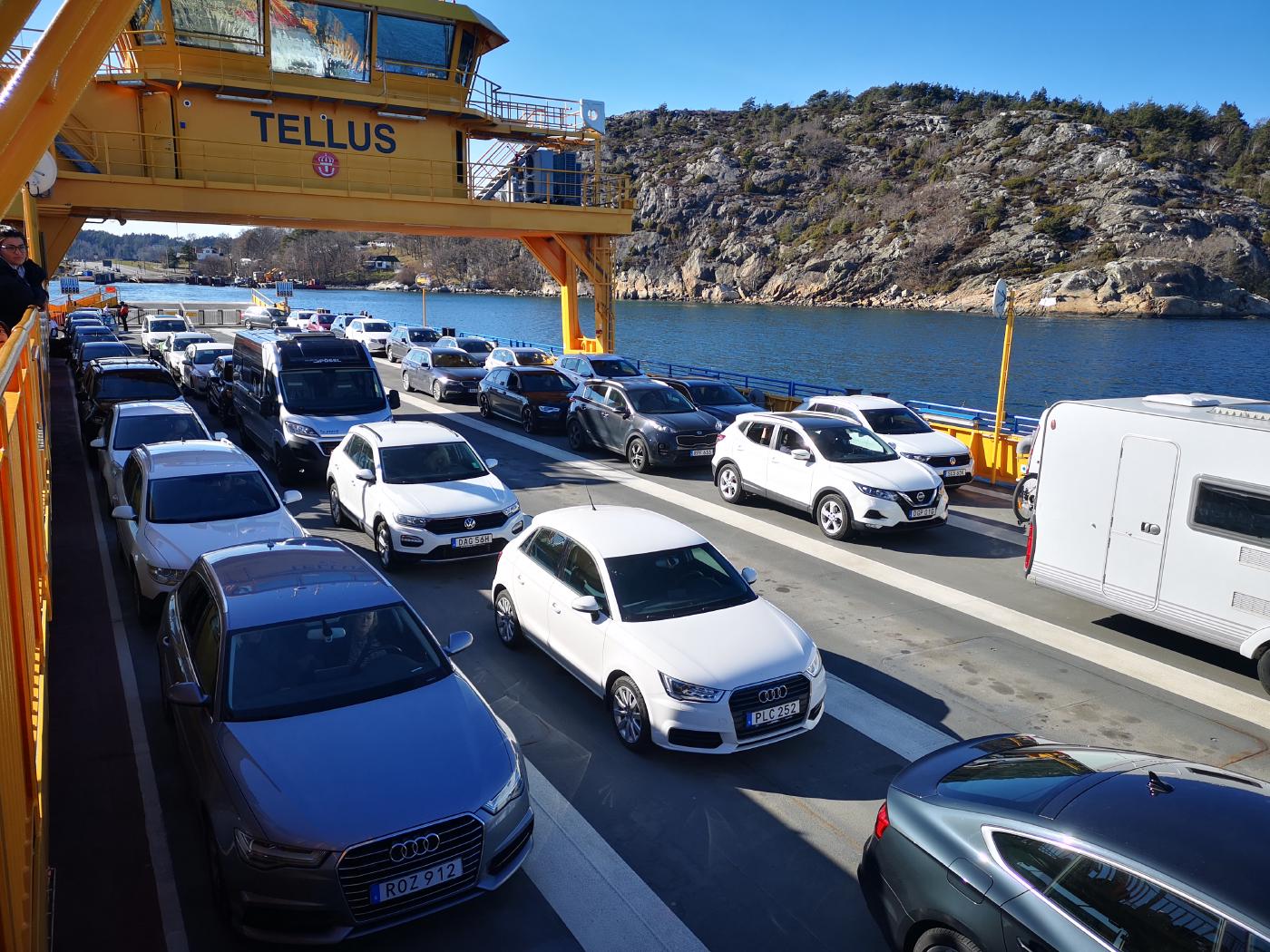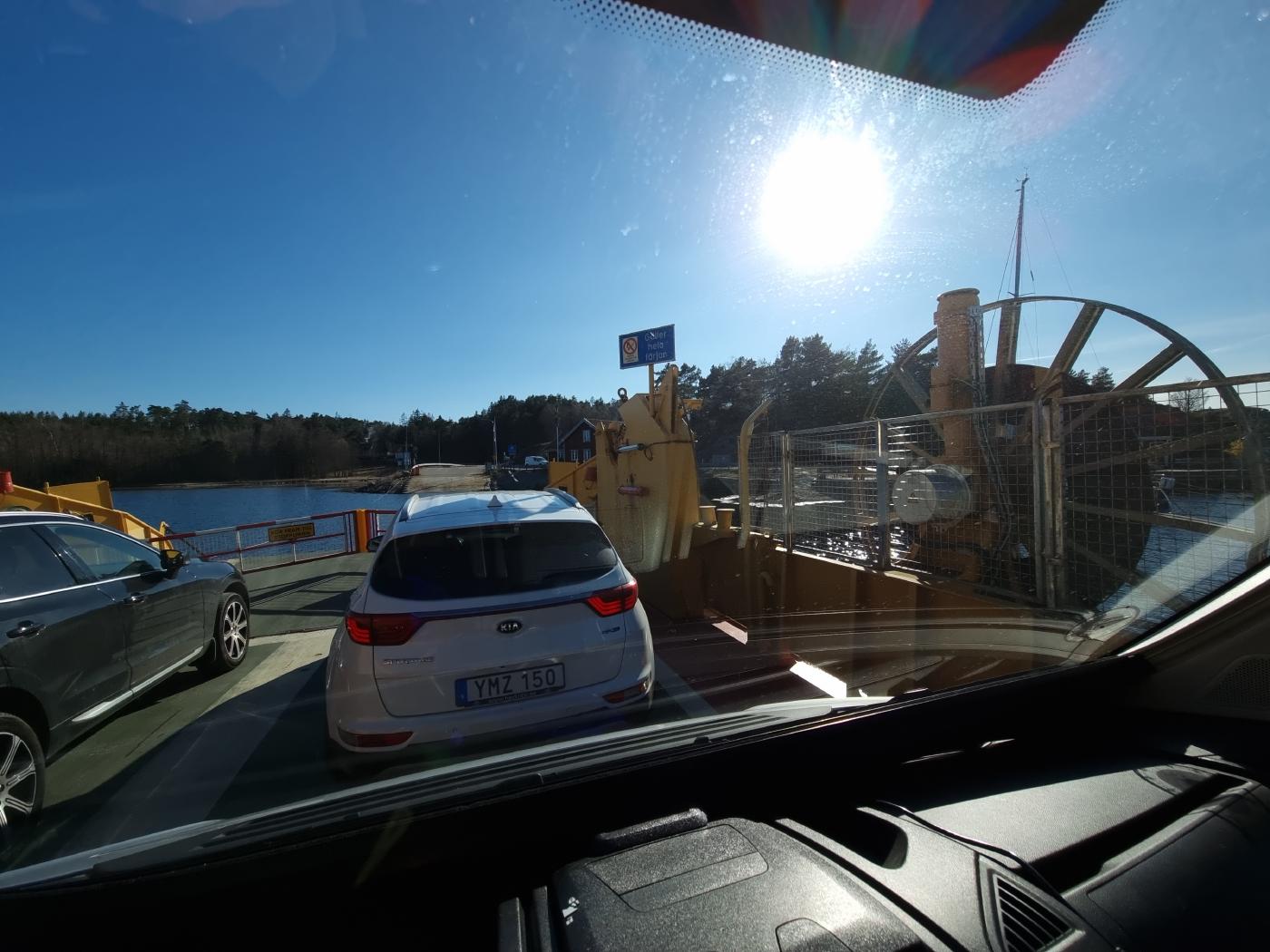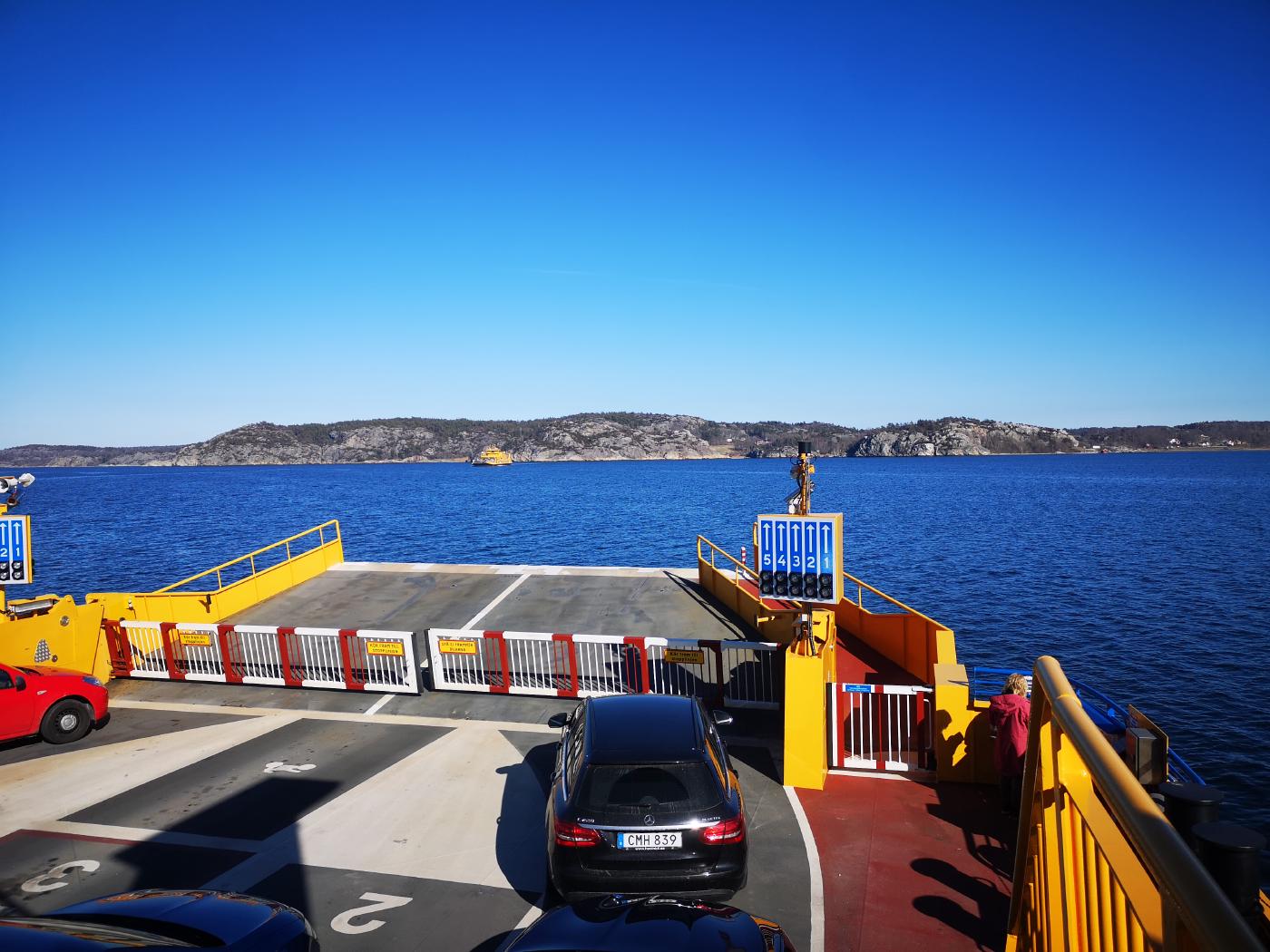 All in all, we needed more than 2 hours for this 70km section. However, the route was definitely worth it. Especially the two islands Flatön and Malö are really very beautiful and have an impressive landscape.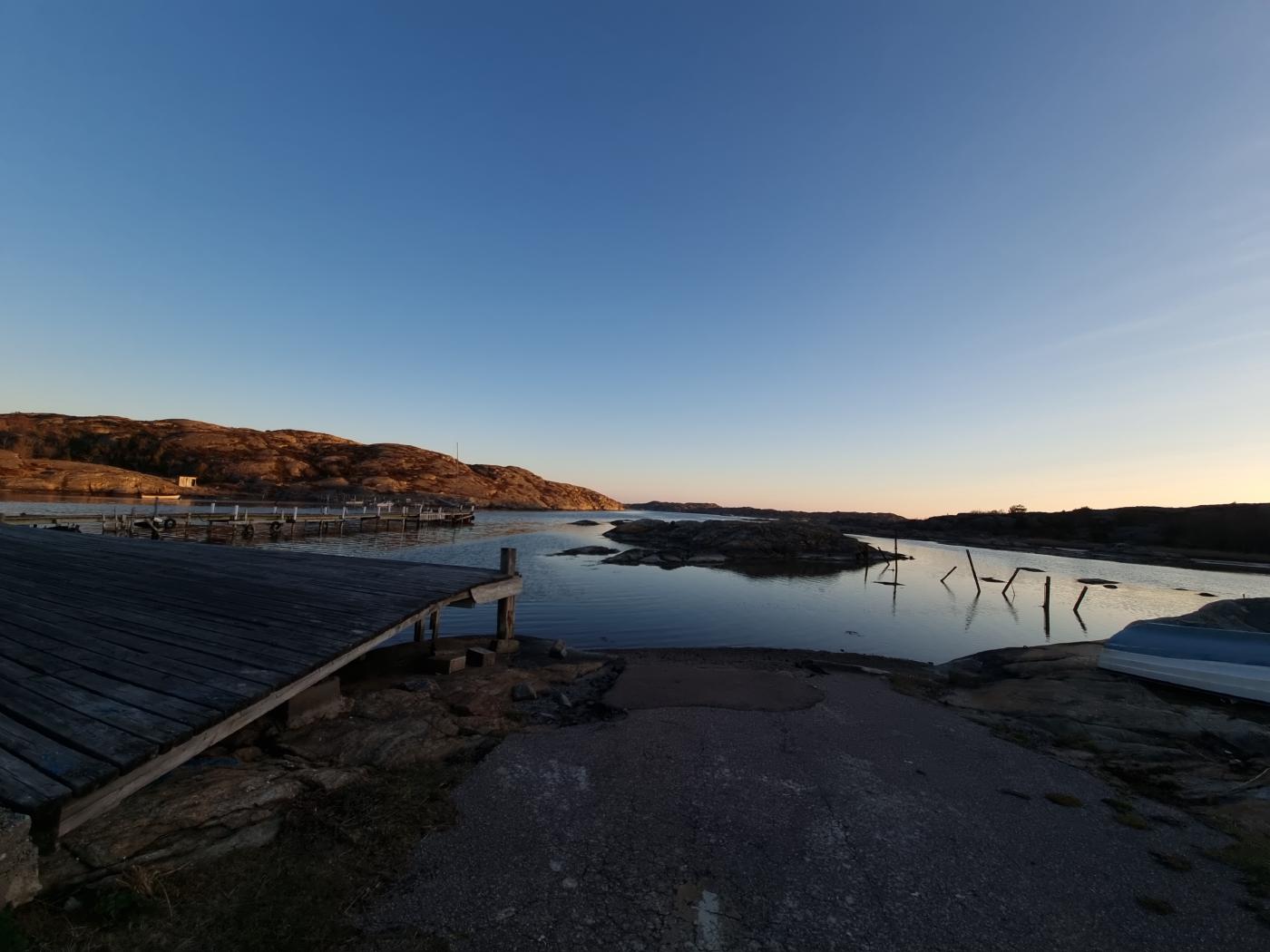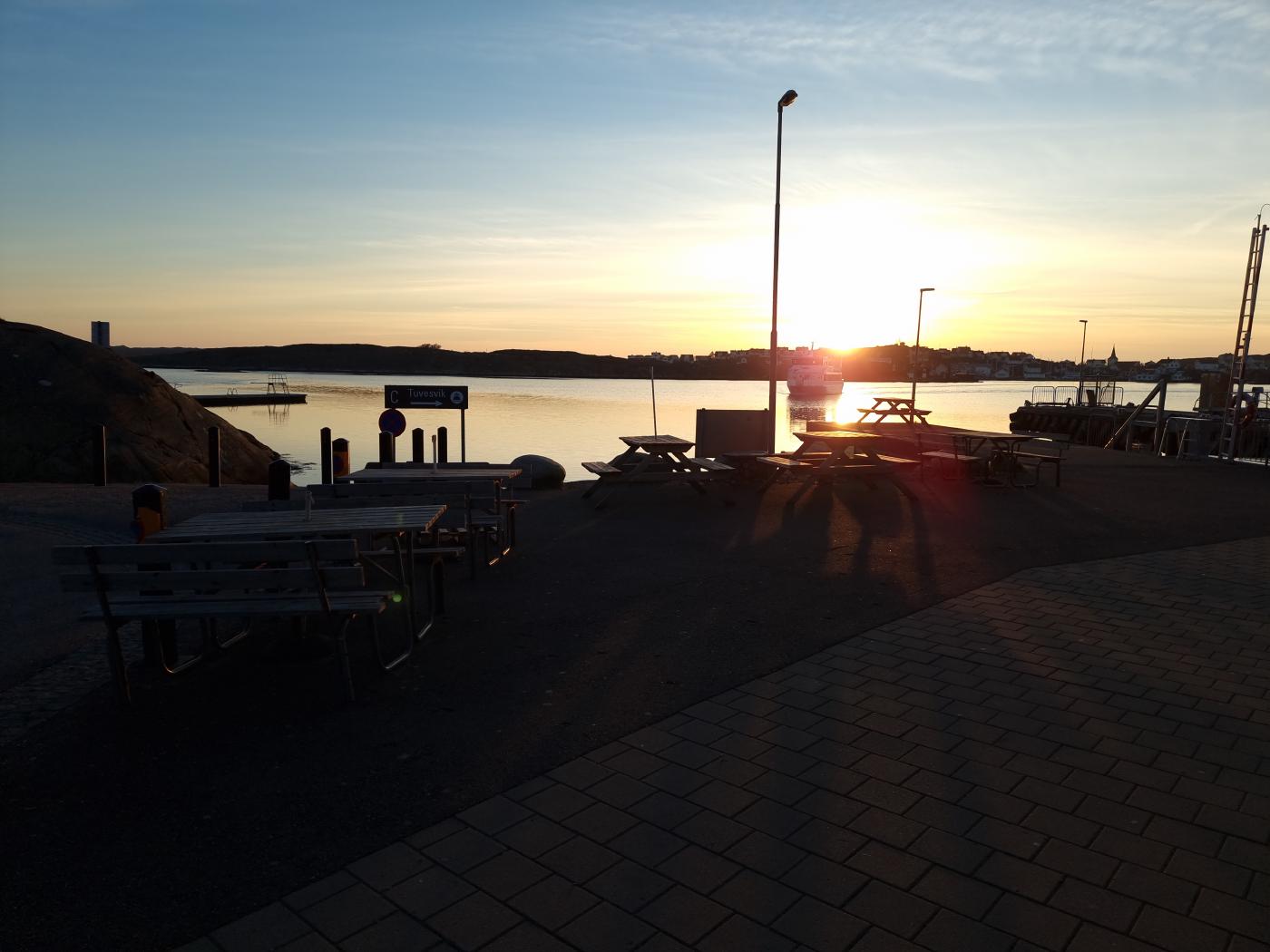 You can see the route from our fourth day here.